Movies to watch this holiday season
There are many movies that are available to watch this Christmas. These movies range from animated to live action, both new and old. This Christmas fans can sit down with their families and watch these movies together without risking anyone getting COVID-19.
"The Santa Clause Movies"
There are three of these movies called "The Santa Clause," "The Santa Clause 2" and "The Santa Clause 3: The Escape Clause." These movies are perfect for anyone wanting something that lasts longer and can be watched with the family. The Santa Clause movies are about a man who suddenly becomes Santa after he accidentally caused the death of the previous Santa. All three movies are available on Disney+.
"Home Alone Movies"
The "Home Alone" movies are classic Christmas movies that started being made in 1990. These movies are "Home Alone," "Home Alone 2: Lost in New York" and "Home Alone 3". "Home Alone" is about a young boy named Kevin McCallister who is left home from his family's Christmas vacation in Paris, France. He navigates his Christmas at home while two men try to break into his home. All three movies are available on Disney+.
"Let it Snow"
"Let it Snow" is a Netflix Original movie that centers around multiple different characters. There are different stories for each set or group of characters in the movie. This movie is perfect if when looking for something that some teenagers might have an interest in.
"The Nightmare Before Christmas"
"The Nightmare Before Christmas" is almost always classified as a Halloween movie but is also very suitable for Christmas for those looking for something spooky to watch that is also Christmas themed. "The Nightmare Before Christmas" is about various Halloween characters taking over Christmas.
"The Grinch"
"The Grinch" is probably one of the most popular Christmas movies with three different versions of the movie. The storyline for them is all pretty similar. The Grinch is a person who lives just outside of Whoville who doesn't like Christmas, though the people of Whoville love it. One year he decides that he will ruin Whoville's Christmas.
There are many other Christmas movies out there ranging from cute and cozy to scary or spooky. If people look hard enough, they can find the perfect movie to watch by themselves or to watch with their families safely this Christmas.
About the Writer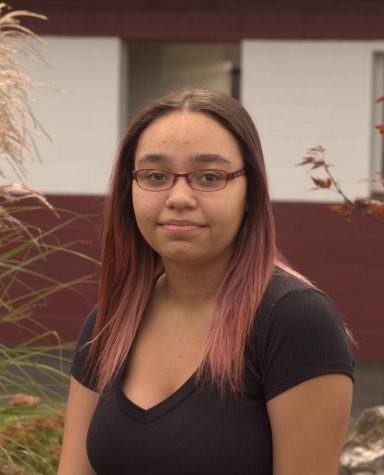 Myah Lear, Reporter
Hi! I am Myah Lear. I am a sophomore and part of the AAHS Mountain Echo staff. I have played viola since the fourth grade. In elementary school, I participated...