Jewish students, families celebrate Hanukkah
December 21, 2020
Many students look forward to winter break because of Christmas, a holiday that Christians celebrate. However, many others, like junior Rachel Scheinberg and senior Alex Thaler, celebrate a different wintertime holiday–Hanukkah.
The Maccabean Revolt was a revolt against the Seleucid Empire and Hellenistic influences on Jewish culture and life, and ultimately granted autonomy to the Second Jewish Commonwealth in 140 BCE. In 164 BCE, Judah Maccabee had led his rebels into the city of Jerusalem, and rededicated the temple there back into a place for people to worship Judaism. Immediately following the rededication, there was an eight-day celebration, where there was only enough oil to keep the candles lit for one night. However, the oil was miraculously stretched out for eight nights, until more oil came to keep the candles lit.
As with many celebrations, Hanukkah has foods that are custom to the holiday. One favorite are latkes, or fried potato pancakes. They are often served with sour cream or applesauce as a "dipping sauce."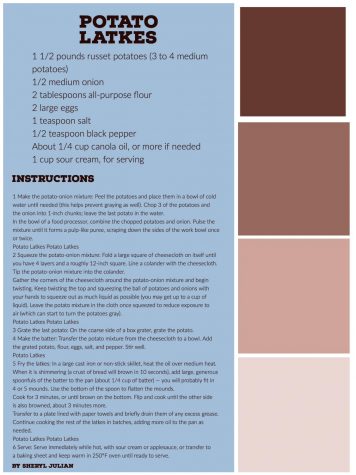 In past years, Hanukkah was a huge celebration for many people and families. Unfortunately for many of these people, a large gathering is not possible right now, as COVID-19 limits the amount of people at any gathering.
"During any other year I'd have a big dinner with my dad's side of the family and dreidel with my cousins… We had to cancel our family gatherings, so I celebrated this year with just my immediate family," Thaler said.
Because of the pandemic, Scheinberg also celebrated a little differently this year.
"This year we kept it small and just celebrated with immediate family, while usually we went to our synagogue to celebrate with our congregation," Scheinberg said.
Many Jewish people see Hanukkah as a time of joy, happiness, celebration and most importantly family.
"It's an opportunity to spend time with family I don't get to see very often," Thaler said.
"
The holiday is all about miracles."
— Rachel Scheinberg
For Scheinberg, Hanukkah is a holiday she holds close to her, and a holiday she always looks forward to.
"The holiday is all about miracles. Miracles that brought many people hope. It's a time where my family is all together, no matter the distance. We seem to always connect whether it's in-person or on the phone. [Hanukkah] means a lot to me," Scheinberg said.