"I'm in"
Senior Adalynn Cherry will attend Washington & Jefferson College after high school. In this senior special blog, Cherry tells why W&J feels like home and expresses her excitement for what the future holds.
Q: Why did you choose to go to Washington & Jefferson College?
A: I chose to go to Washington & Jefferson College because it is close to home, and it is a small school that is well reputed. During my college search, I wanted to find a school that had a small student population so there would be close relationships between students and professors. W&J meets this criteria perfectly. 
Q: What are you majoring in or planning on studying at Washington & Jefferson College?
A: I am majoring in Business Administration and minoring in Entrepreneurship. I am also thinking about adding writing into my curriculum in some form.
Q: What excites you the most about college?
A: I am most excited to meet new people and be in a new environment. I love my high school and my friends, but I think it will be a new beginning for me with exciting adventures. 
Q: Is there anything about college that intimidates you?
A: For the most part, I feel calm about going to college. However, I do feel slightly intimidated about being placed in an entirely new curriculum. The system at Altoona regarding assignments and deadlines is pretty similar throughout every grade, and I am anxious to see how things in college differ from high school. 
"
It is crazy to me that the end [of high school] is near…However, I am very excited to see what the future holds,"
— Cherry
Q: What other colleges were you looking at as other options?
A: I was considering Chatham University, Saint Vincent College, Susquehanna University and Lycoming College. 
Q: Why did you think this college was the choice for you? What about the school interested you?
A: I felt that this college was the choice for me because the campus felt like home when I visited. I could truly see myself there, and all of the people I met were extremely nice. Aside from being the best academic fit, it also felt like the best athletic fit as well. It was really important for me to find the perfect academic and athletic balance, and W&J truly fulfills all of my wishes. 
The Magellan Project, which is a study abroad program offered exclusively at W&J,  is what interested me most. It is a summer program where you present a project to the board and they will fund you to pursue this project and study abroad for several weeks. I know I want to study abroad, and the uniqueness of this program really appealed to me. It allows students to personalize their trip and truly make it fit their desires. 
Q: How do you feel about senior year ending so soon?
A: I feel overwhelmed, and I also feel shocked. It is crazy to me that the end is near. It feels like the past two years have flown past, and I personally do not feel ready to leave high school yet. However, I am very excited to see what the future holds. 
Q: What do you think will be the biggest difference between high school and college?
A: I think the biggest difference will be time management. College is on a completely different schedule than high school, so it will definitely be a big adjustment. However, I think I will enjoy college life better than having eight periods of school seven days a week.
About the Writer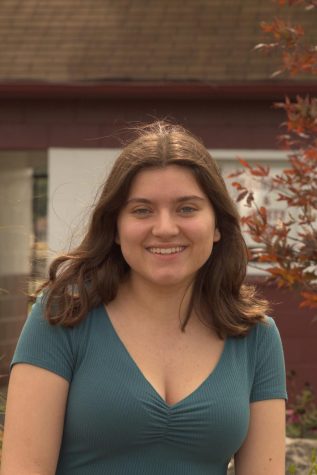 Sydney Wilfong, Associate Editor
I'm Sydney Wilfong, a senior at AAHS. I'm part of the band as a proud tenor saxophone player. On the days I have time, I enjoy writing, reading and...