Teachers adjust to virtual school
After teaching virtually  for almost an entire year, teachers have learned to adjust. Because of having to teach online, teachers had to get creative. 
After the switch to virtual school, technology has been a source for teachers to adapt with challenges. 
"Switching to teaching online has presented its challenges, but part of the job description for a teacher is being flexible. We are constantly adapting lessons as the need arises, so with the help of some new technology tools, the adjustment was easier than I thought it would be," English teacher Jennifer Lowe said.
For some teachers, one of the biggest challenges is not being able to tell if their students are understanding what they are being taught. 
"I have found one of the biggest challenges is not being able to scan the classroom and make a quick visual check of whether students are 'getting it' so that I know how to best move forward. There is an unbelievable amount of information communicated from just not seeing students' faces, but also their body language that gives me the cues I need—cues I had always taken for granted. There's also an energy from being together we feed off of as human beings, and that can't fully be replicated online," Lowe said. 
While teaching online has presented challenges, it has also presented somewhat of a routine for teachers and students.  
"While everyone would, of course, prefer to be in-person and have life back to normal, it's just not possible, so I'm very grateful that we've been able to teach virtually to maintain some sense of normalcy and routine in our lives," Lowe said. 
Finding different ways to teach while online has given teachers a chance to get innovative. 
"Traditional assessments like quizzes and tests are challenging to administer online, so finding alternatives has forced me to be creative in how I teach some lessons and then check for student understanding," Lowe said. 
Elective hands on courses have needed to be resourceful.
"Teaching online is unlike any other task that I could have prepared for and online learning was never something that was taught to me when I was at IUP for education. Relearning how I teach and how to use unfamiliar techniques has been a major adjustment. I have been using the 'adapt and overcome' attitude to do my best to change how I teach art during this foggy time in education," art teacher Eric Hoover said. 
Art students may face struggles with getting the right supplies to complete their assignments. 
"Trying to show proper technique and demonstration has been one of the biggest barriers that I have been trying to get over. But there have been many other hurdles along the way. For instance, students do not have proper working space, correct materials, some students struggle without in-person help, students need the motivation to work on projects and they struggle when they are unable to get what is needed to create their art," Hoover said. 
As virtual instruction continues, student motivation is a consideration.   
"Difficulty in the execution of assignments and student motivation has been some of the biggest changes. It has become increasingly difficult to teach students who are less motivated than ever before. Some of my students that had my intro classes and are now in my advanced classes seem to have fallen into the COVID slump. The overall quality of turned in assignments have followed the downward decline of the quality of work has decreased," Hoover said.
Since school moved to virtual, students do not have the same amount of social interaction as they did while in school.  
"Social interaction between classmates is little to none at all. The school was the only time that some classmates would have the chance to see one another. The missed social interaction which is vital for the next step into adulthood is not happening as it has in the past," Hoover said. "Students were affected by lack of student interaction, and it was evident when they awkwardly returned to my classroom. I feel as though the entire student body has changed in a way that will take time to get back to somewhat normal." 
The lack of interaction with teachers and other students may affect the quality of some students' work. 
"I have noticed an overall decline in the quality product that the students have been producing. I feel that it is a direct reflection of not having peer critique, peer interaction as well as teacher interaction when having an art block. Chromebook education in my eyes will never produce the same results as physically being in a brick and mortar classroom environment," Hoover said.
About the Writer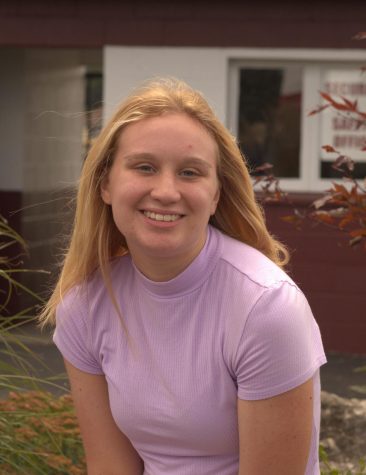 Maddie Cowfer,
Hi, my name is Maddie Cowfer. I am a sophomore, and I write for the Mountain Echo. I first started writing my freshmen year for Livewire. One of my favorite...