Girls' swim team celebrates win against Hollidaysburg
The girls' swim team celebrated a historic win against Hollidaysburg 82-81, winning against the team for the first time since 1997. The boys' swim team suffered their first loss against Hollidaysburg 51-114. The teams competed on Feb. 3.
"Our team is very young, but they are really coming along. We beat Hollidaysburg after 24 years, which puts us at the number one spot in the conference because so far, as each team only has one loss," head coach Nanette Cummings said. 
"We thought the boys' would be beat, but we didn't expect it to be as big of a difference as it was, but I'm really proud of both teams. We weren't expecting the girls' to win either, but we're elated that they did," assistant coach Alex Cummings said. 
Freshman Alexis Fraundorfer took first place in the 200 individual medley (2:34.05) and the 100 butterfly (1:13.64). 
"I swam with every ounce of effort I could. It wasn't my best day as I've had better. I gained time in both of my events," A. Fraundorfer said. 
Other crucial moments in the meet came during the 50 freestyle, 100 backstroke and the 400 freestyle relay. 
During the 50 freestyle, sophomore Kylie Focht placed first (28.65), senior Makayla Murphy placed fourth (33.24) and junior Cassandra Vaughn placed fifth (36.07), giving the team nine points. 
"I felt really nervous because it was a big meet, but I felt excited for the competition. I swam really well for my first three events, 200 medley relay, 50 freestyle and 200 freestyle relay, but gained time on my last one, 100 breaststroke," Focht said. 
During the backstroke, sophomore Emma Fraundorfer placed first (1:11.84), senior Makenna Murphy placed second (1:22.08) and sophomore Hannah Judy placed third (1:29.59), giving the team 13 points. 
"I felt okay, but not at my best while swimming. I added time, but stayed at about the same times that I've been getting," E. Fraundorfer said. 
During the 400 freestyle relay, the Altoona A team, comprised of seniors Sonia Yost and Makayla Murphy and sophomores Kaylynn Manley and Gwyneth Fox, placed second against Hollidaysburg; however, during the event, the Hollidaysburg A team was late to dive off the block by almost 40 seconds. This disqualified all three Hollidaysburg relay teams for that event. This pushed the Altoona A team to first place, gave the girls' eight points and gave them the win. 
The team also celebrated several personal victories as sophomore Patryck Webster beat his best time in the 200 freestyle (2:15.62), sophomore Gwyneth Fox beat her best time in the 500 freestyle (6:38.27), sophomore Kaylynn Manley beat her best time in the 100 freestyle (1:13.52) and sophomore Austin Parker beat his best time in the 100 breaststroke (1:26.80). 
Both teams will compete against Westmont Hilltop at home at 10 a.m. on Feb. 6. 
About the Writer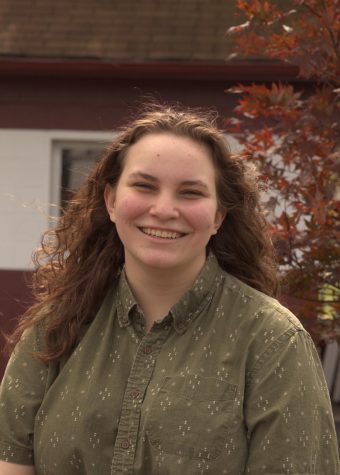 Sonia Yost, Associate Editor
Hey there stranger! My name is Sonia Yost, and this will be my third year writing for the newspaper. Last year I was an associate editor and this is a...