Minimum grade changes to 60%
With school being taught in a virtual setting most of the school year, some students had a difficult time adjusting. Due to many students' grades dropping, the school decided to change the minimum grade to 60% for the first three marking periods. 
This change to grading gives students a shot to conquer any challenges they have faced throughout the year.
 "Changing the minimum grade gives students an opportunity to overcome some of the challenges that they may have faced during the first two marking periods and helps them to stay on track to be able to succeed if they work hard during the second half of the school year," English teacher Alyssa Fasolo said.
Changing the minimum grade doesn't affect how teachers grade their students' assignments. 
"Changing the minimum grade does not affect how I grade assignments. My goal is for students to be accountable for their work, and I do my best to hold them to a high standard," Fasolo said. 
 Even with the new grading policy, a number of teachers offer their students extra credit to help bring their grades. 
"I try to stay as consistent as possible in my day to day teaching while giving students plenty of opportunities to earn credit for their work," Fasolo said. 
The minimum grade change gives the opportunity to have a better grade on their report card to those who might have struggled during the previous two marking periods. 
"Virtual learning presents a unique set of challenges for students, and they have had to make a lot of adjustments throughout the school year already. Changing the minimum grade gives students who may have been struggling during the first two marking periods a chance to succeed and earn a passing average if they work hard the rest of the year," Fasolo said. 
The new grading policy gives the students a chance to pass no matter what direction the rest of the school year goes. 
"There are so many unknowns about this school year, so it is difficult to say what direction the rest of the year will take. I am confident that any decisions our administrators make the rest of the year will be in the best interest of the students and helping them succeed," Fasolo said. 
This change gives students who had trouble adjusting to online learning a change to pass the school year.
"I think because of the circumstances it may help students who started out the year not doing so well. The minimum grade of 60% may allow more students to pass courses for the year if they can start to work hard from here on out," math teacher Natalie Trimmer said. 
This also may seem like a disadvantage for some students who don't turn in their assignments. 
"I feel that it helps them to pass more easily; however, it doesn't necessarily feel right to have students receive a 60% if they haven't done anything for the marking period," Trimmer said. 
The return of in-person learning may also give students more of an opportunity to improve their grades along with the grade change. 
"I hope that in person school will improve grades because students will have to be more accountable. Also, developing a rapport with teachers can help motivate students, and it's much easier to build relationships when we're in-person," Trimmer said. 
About the Writer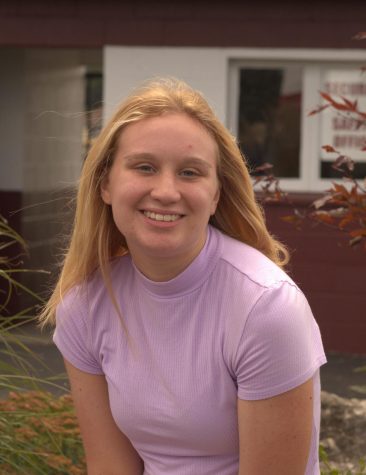 Maddie Cowfer,
Hi, my name is Maddie Cowfer. I am a sophomore, and I write for the Mountain Echo. I first started writing my freshmen year for Livewire. One of my favorite...