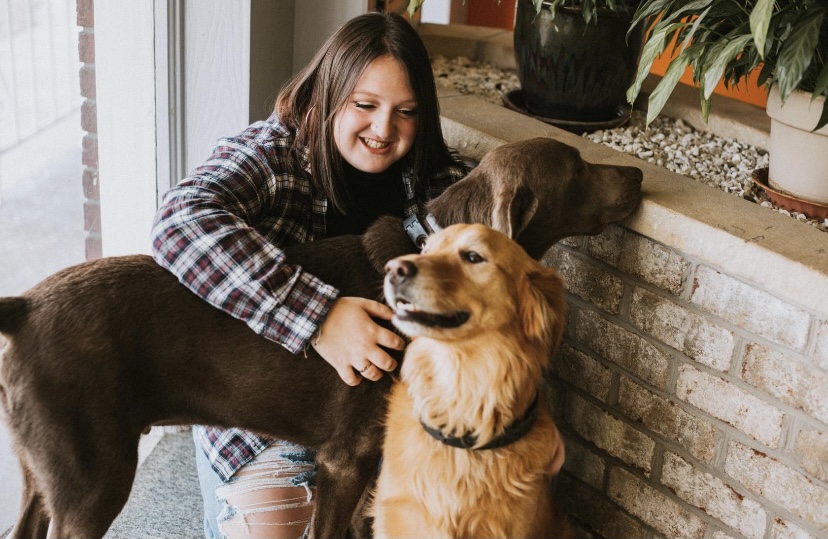 Ericka Selfridge accepted into Vet Tech institute
February 25, 2021
As students announce their plans for college, senior Ericka Selfridge is on of the few Altoona graduates to have the opportunity to attend Vet Tech Institute in Pittsburgh, Pa.
Q. What made you want to be a vet tech? 
I have had a love for animals since I was very little. In eighth grade I found out about this school [Vet tech institute Pittsburgh PA] and I have been researching this ever since. (Vet tech institute Pittsburgh PA)
Q. What will be your official job title? And what will you be specializing in?
I'm going to be a Certified Veterinary Tech, which means you take the board test and pass it. (VTN Veterinary Nation Exam) We cover anesthesia, animal dentistry, imaging, laboratory procedures, surgery and farmology. 
Q. What was required of you to be accepted into this school? 
Graduated high school, achieve high math and science grades, minimum age of 17, must have scored at least a 19 on the admissions test and demonstrate a good attitude for a career in veterinary technology.  
Q. Why is this school so hard to get accepted? 
You have to have really high grades, the curriculum is very challenging, the time required to study is enormous, and the responsibility of providing care for the animals living on campus. There's also parts where you have a pager, and they will call you if something is going on with the animals and you will have to leave in the middle of the night to care for them. There are also some times where you won't have weekends because you'll be on kennel duty where you will be stuck at the kennel all weekend. Classes are 8 a.m. to -5 p.m. from Monday through- Friday.
Q: What do you think will be the biggest difference between high school and college? 
 I feel that in college I will have much more independence than I had in high school.
Q: How do you feel about senior year ending so soon?
I'm honestly really upset about it. Senior year is supposed to be one of the best years of our lives. All the fun things planned, field trips, dances, theme weeks, games with our friends. It all got taken away from us so fast. I can't believe senior year is only months away from coming to an end. 
Q: Why did you think this college was the choice for you? What about the school interested you?
I believe this college was best for me because it is a college that only focuses on what I want to be. The class sizes are a lot smaller so teachers will actually know who you are compared to larger schools where the class sizes are huge and the teacher doesn't know your name the entire year. It's a lot of hands on work. They have two days of lecture a week and the other days you're in a lab room. What interested me most about this school was the fact that it's a school for exactly what I want to be. I've always wanted to work in a vet office and always thought I'd have to go to a bigger college and have to worry about a lot more classes like my gen-eds but this school focuses on you and helping you get a career that suits you.
Q: What other colleges were you looking at as other options?
I was looking at Penn State, Saint Francis or Lock Haven. 
Q: Is there anything about college that intimidates you?
 My biggest fear for college is getting lost and not being able to find my class and being late on the first day. 
Q: What excites you the most about college?
The friends I'm going to meet and every night before I go back to my dorm; I get to go into the kennels and check on all the cats and dogs. And even better we are allowed to have cats in our dorms and the kittens they have in the kennel are adoptable, so they usually will let students adopt a cat.