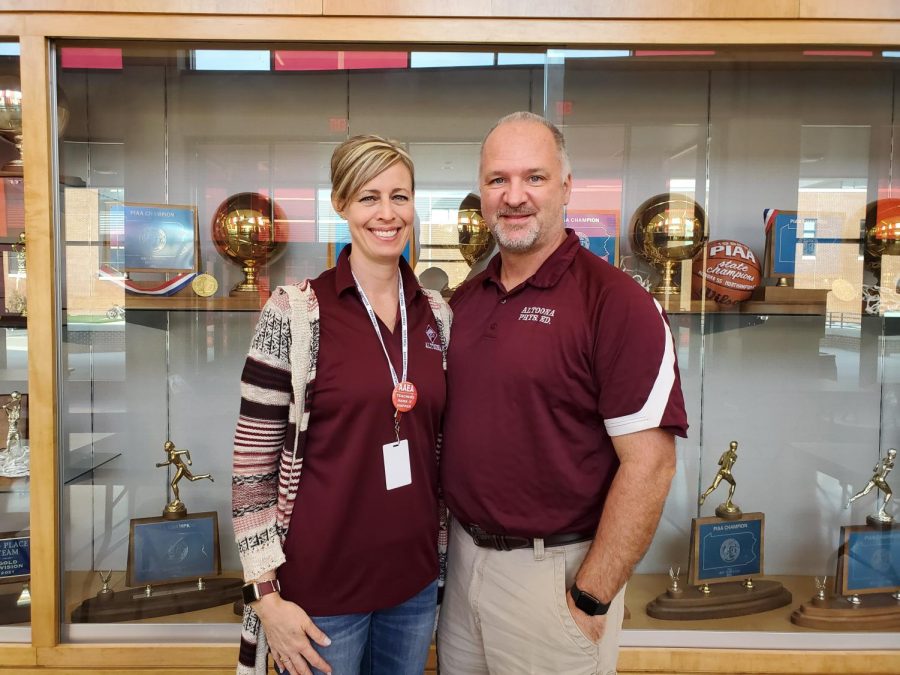 Palfeys
Amy Palfey teaches health and has been teaching for 26 years. She spent 15 years teaching elementary school physical education then moved to the junior high and came to the high school this year. Tom Palfey teaches physical education and has been teaching for 28 years. He started teaching at Hollidaysburg Junior High and taught principal Andrew Neely when he was in eighth grade. He then taught elementary school in Altoona for eight years then came to the high school.
If the Palfeys didn't become teachers, they had other options in mind.
"If I didn't become a teacher I probably would have chosen a career in the path of psychology or counseling because I really find that interesting," A. Palfey said. 
"In high school I really loved mechanical drawing so I started out [in college] as a mechanical engineer. The day that they got rid of the by hand drawing and went the electronic way I got out. I figured that I just liked mechanical drawing, and knew that I also liked sports so that's why I ended up choosing this path," T. Palfey said. 
The Palfeys met at Penn State in the White building.
"I had a boyfriend at the time, so I was not interested, but he was really nice and a good friend. He was a super nice and kind individual and he was athletic. He was also family oriented which was really important to me because my family means a lot to me," A. Palfey said.
"She noticed that I was interested when I stopped talking to her. I set a date. If she wasn't going out with me by then, I would stop. And that got her attention. I thought she was tall and sleepy," T. Palfey said. 
The Palfeys enjoy working in the same environment, although they don't see each other that often during the school day.
"It is neat for me because he would come home from teaching and would have stories to tell and I could never relate because I was at a different level, but now I can relate. We look down through the window during lunch and that is basically the only time we see each other," A. Palfey said. 
The Palfeys wanted to make sure that at least one of them ended up teaching in their hometown.
"This is her home school and I think it was important that one of us ended up in our hometown. I didn't mind moving and this has been a great hometown to grow four kids and have a family and live comfortably," T. Palfey said. 
Because of the Palfeys working together, they always make time to discuss how they can make things better for their students. 
"We often have discussions on how to better our profession. We also both take on student teachers to try to help with the next generation. Our youngest son has decided to be a health and physical education teacher as well. It is nice that when he talks about his day I can relate because I might know some of the people in his stories," A. Palfey said. 
Some of their best memories are elementary field days.
"Out of the 10 elementary schools we had six of them, so it was always cool that we got to do that together," T. Palfey said.