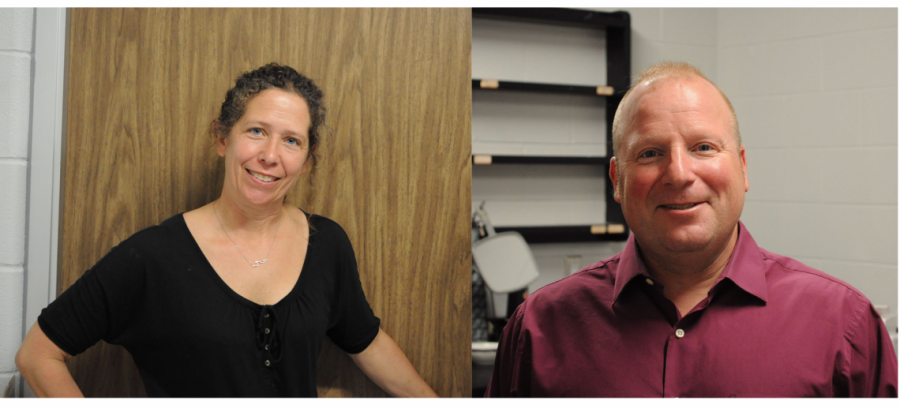 The Stoudnours
After teaching at the high school for 24 years, biology teacher Kelli Stoudnour will be retiring at the end of this school year along with her husband and chemistry teacher Eric Stoudnour who has taught at the high school for almost 29 years. 
While E. Stoudnour has worked at Altoona for all of his years of teaching, K. Stoudnour worked at both Tyrone and Chestnut Ridge High School before teaching at Altoona.
Despite K. Stoudnour's appreciation for her time at the previous schools, she feels as though Altoona provided the best advantages and opportunities.
"They [Tyrone and Chestnut Ridge] were great districts to work for: small, quaint and everyone knew each other. A disadvantage was there were not as many opportunities and variety of activities and classes to take like here at Altoona. The opportunities that students have here at Altoona are amazing," K. Stoudnour said.
The Stoudnours have spent many years teaching at the school, and they have formed many memories that they will remember and cherish, even while retired. 
"My memories include all of the wonderful people we have worked with. The students at Altoona are so lucky to have such wonderful, dedicated and committed teachers," K. Stoudnour said.
"Way too many [memories] to mention after 28 years of bliss. However, I will say the friendships with colleagues, relationships with students and the adults they have become and spending every waking moment with my wife and kids through their high school careers have been quite special. I feel very blessed to have lived my dream of being a teacher for so many years," E. Stoudnour said.
Regarding their students, both E. Stoudnour and K. Stoudnour will miss their students the most, helping them and mentoring them as they have done for many years. 
"We will miss helping kids and shaping their lives. As all of my fellow teachers know, we are here for the kids first and foremost and it is truly more rewarding than you can imagine to have a positive influence on their lives. We are sure every one of us can think of a teacher that has influenced us in a positive manner…Go ahead and take 30 seconds to think about yours… now reach out to them and tell them. It will make their day," E. Stoudnour said.
With students that are either virtual or in-person, the Stoudnours want to wish good luck to the students that they may not have the chance to say goodbye to. 
"It has been a pleasure knowing you all. I thank you for all you have taught me through the years as I have possibly learned more from you then you did from me," E. Stoudnour said.
"I wish all the students the best in everything they do! Hard work and dedication will take you far. Good luck everyone," K. Stoudnour said.
For their retirement, the Stoudnours are looking forward to travelling across the country and even travelling internationally.
"We love to travel both in the US and abroad. We just purchased a new off road camper set up, so we plan on living off the grid traveling from the Arctic Circle to Mexico and everywhere in between. In addition, we will spend some time outside the US seeing the world," K. Stoudnour said.