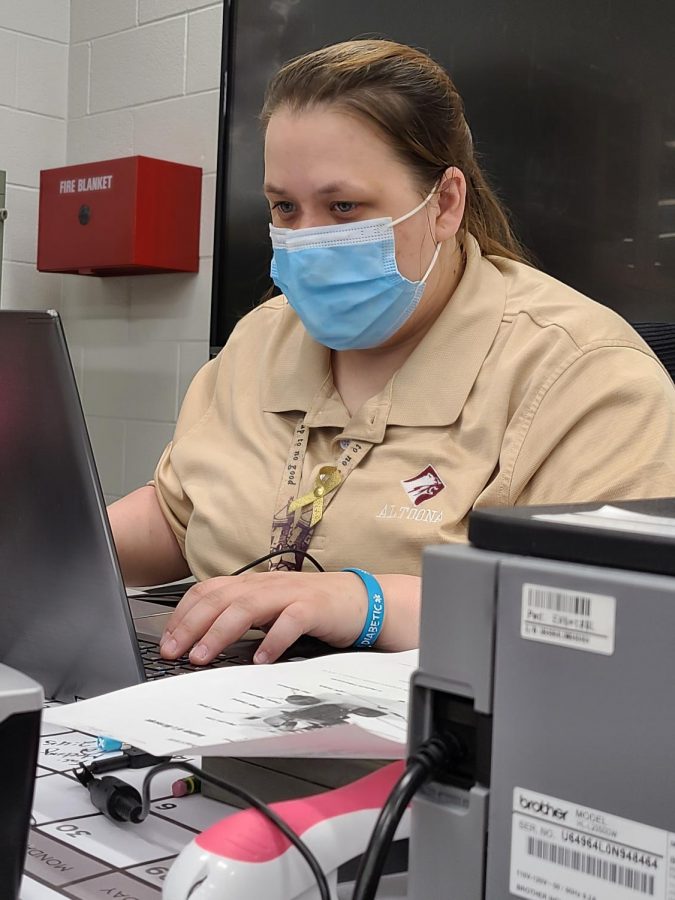 Megan Kutruff
Q: Where did you go to high school and could you describe your high school experience?
A: I went to Altoona Area High School. I had a great experience in high school. I became a teacher because of who used to be in the next room over. I had some really good teachers. It was just an overall great experience.
Q: How have the first few weeks of school gone for you?
A: It's been all right. I used to teach in York PA, so it's a lot better than it was up there. All my students have been great so far; there were some obvious hiccups, but I think this is my most successful year so far.
Q: If you could describe your new classroom in one word what would it be? 
A: Hands-on. All of the activities I have my students do have them getting involved in the activity. I hated just sitting in my desk listening to my teaching and just talking. I want my classroom to be interactive.
Q: Could you describe your prior teaching experience?
A: It was very eye opening. Everything was completely different then what I was used to but I made it work. On top of that, I was in a city environment, and I had a lot of difficult students. Trying to balance both of those was a huge learning curve for me.
Q: What got you interested in the subject you teach and what was your favorite growing up?
A: As a student here, I took microbiology my junior year then I took AP biology my senior year. Between the two of them, all of the hands-on activities and interactions just clicked for me. My favorite was of course biology. All the hands-on interactions really got me interested in class.
Q: What brought you to Altoona to teach? 
A: I wanted to come back home; I missed my Mountain Lions.
Q: What inspired you to become a teacher?
A: Mrs. Stoudnour was my inspiration to become a teacher. I always wanted to do something in the science field, but I could never find exactly what I wanted until I took microbiology.
Q: Why did you choose to teach high school?
A: I prefer the higher levels of science, and when you're in high school I feel like you pass the drama and immaturity. You're getting ready for life outside of high school.
Q: What would be a suggestion you have to make AAHS better?
A: There's a lot of things that could be improved but one of the biggest ones is the eight periods. I like eight periods because then you get more classes in, but I don't like eight periods because trying to do hands-on activity we just don't have the time in the day. Periods are about 40 minutes, but until we get in and ready and cleaned up it's only about 30 minutes. I would rather have more time with my students then more students.
Q: If you could teach another subject what would it be and why?
A: If I could teach another elective it would be human systems and diseases just because all my experiences in life have pointed to something in the science field.
Q: What is your go to snack or lunch item to bring with you to school?
A: I have the same lunch everyday. I have a ham sandwich with cheese, a cheese stick, grapes then I either bring a bag of chips or a bag of pretzels. I always bring a soda with me as well because I need my energy to get me through the remainder of the day.
Q: If you could choose one fast food restaurant to be in the school cafeteria what would it be and what would you order there?
A: Definitely Chick-fil-A. I would order either a chicken sandwich or chicken nuggets, grilled of course with their Chick-fil-A sauce.
Q: Who has been the most help to you as you have started this new job?
A: Honestly I can't even name just one person. The whole biology department has been wonderful from day one. As soon as I was introduced to everybody, we were immediately welcomed into the biology department. Everybody been nothing but helpful. They're always first to ask if you need anything and always first to help as well.