Free lunches continue despite supply chain problems
This year, school lunches continues to be free for all students.  In order to make lunch happen, there is a lot that goes on behind the scenes.  
Students have had mixed emotions about the lunches and the decisions made about changing the lunches. A main topic students have been discussing is the usage of plastic trays instead of Styrofoam ones. There have been supply chain issues around the country, causing accessibility to get the usual Styrofoam trays to go down. 
"We cannot get the disposable trays; at the minute they have quadrupled in price. They used to cost us $23 just for a case of those disposable trays. It was $123 when we quoted it today [Oct. 5, 2021] so there's just a huge price increase," budget manager Sue Franks said. 
"Styrofoam never decomposes.  Paper will decompose over time,"  sophomore Shannon Hicks said.
"The trays save the school money and are easier to clean," sophomore Kirstyn Hood said.
"They (plastic trays) are very large and bulky.  I feel like I am going to hit someone,"  sophomore Marlee Baum said.
"I don't like them because of the little cups for condiments instead of being able to put it all on one tray.  There may be more germs although I am sure they put them through a hot wash,"  freshman Jace Baronner said.
The quality of lunches has been debated by students around the school often. However, the school's lunches meet the USDA standards that are required for food.
"I feel pretty good about the food, but I have to freely admit that I only eat it about once or twice a week so I don't eat it every day. But what I've had I think is pretty good quality; it meets all the USDA standards for food. It has a lot of nutrition in it, and I think it's pretty good," Franks said. 
'It's nice not having to worry if you have enough money or if you brought food to school, " sophomore Paige McGuire said.  "I wish there was a larger variety  but wat we do have is pretty nice."
Although free lunches exist some students still pack.
"It's quicker and I can eat what I want and not be limited in option," freshman Ava Steinbugl said.
"I think it's very basic and difficult to have things you like because it's the same for everyone,"  Hicks said.
All students have the ability to get lunches and breakfast for free. The decision was made by the state accepting a waiver given by the government. 
"Because of the pandemic, the USDA has extended a waiver that allows all students within the United States to eat, Pennsylvania accepted that waiver, So all students across the country are eating school lunches for free," Franks said. 
Returning to free lunches next school year depends largely on what the government says and if they will send out another waiver.
"If the government offers the waiver again, we will accept the waiver again but right at this very minute we will probably be in the 2022-2023 school year we'll go back to paid lunches," Franks said. 
Leave a Comment
About the Photographer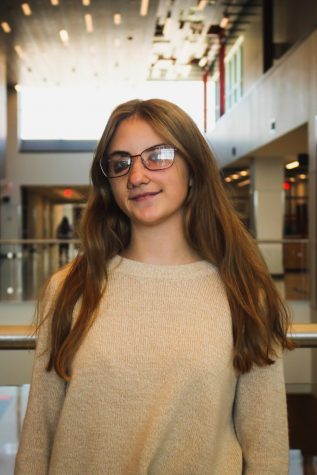 Lillian Roberts, Reporter
Hey! I'm Lily, and I am a sophomore here at AAHS. It's my first year writing for the Mountain Echo. I started last year in the Intro to Pub class, and...