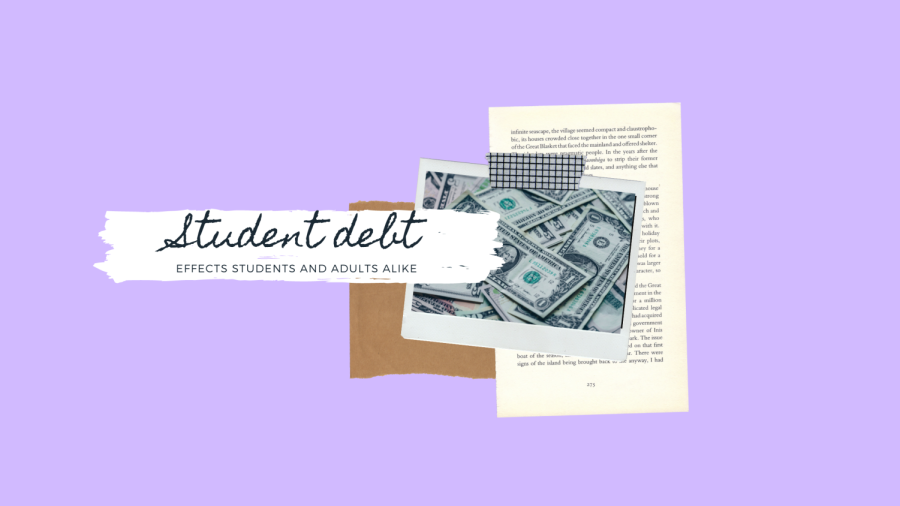 Student debt effects students, adults alike
Student debt affects some students, depending on if they go to college. According to educationdata.org, approximately 44.7 million students suffer from student debt, whilst 42.3 carry balance from a federal loan. 
Student teacher Samantha Drakas decided to start her teaching journey at Penn State University, main campus in State College, Pa. 
"My major is secondary education with a specialization in English, and my minor is English. English I decided to minor in because I want to teach English, so it went along with that. I decided to major in education [because] I always wanted to be a teacher and then when I got older I was like 'Oh maybe I wanted to do something else.', but my second year in, I knew teaching would be good for me," Drakas said.
Senior Lily Humertson also will be attending college. 
"I plan to attend the University of Pittsburgh next year," Humbertson said
Student debt is commonly debated. 
"I do [think it should be free]. It is hard enough to find what you want to do without the added pressure of thinking about the money you are wasting if you would want to change professions," senior Emma Dietrick said.
The main question comes along for the seniors and student teacher, 'Is student debt worth it?'
"I think it depends on the profession you plan on getting after school. If you're going to come out of school making a lot of money, then yeah, because you'll be able to pay off your debt pretty quickly. If you're not going to be making a lot of money but you still need to get a degree in something specific for your career, then I would probably recommend a community college or somewhere cheaper and then going to a school you specifically want just because people don't talk about how much debt our generation is going to be in, and it's really scary but debt is downplayed a lot. I would just recommend that if you do want to go to school you think about money more than you do about what's the best school or the prestige of school," Drakas said
Most agree that student debt is worth it, especially if someone is in a profession they enjoy. According to zippia.com 50 percent of workers dislike their profession. 
College lasts for different amounts of years for each individual student and career. Whether someone is going for their Ph.D with eight years of college, or an associate's degree with only two years, there is still going to be debt for both parties.  
"I think those are the students who are putting in a lot of time and effort into their career that they will excel in, and who most likely have been dreaming of pursuing that career for a long time," Humbertson said.
"I think the more years you go to college typically relates to the amount of money you make so they would be making more money to pay off the extra year," Dietrick said.. 
"Well, one, if you're interested in a career where you don't have to go to college for it, one hundred percent go for that because you can just start making money instead of putting yourself through unnecessary schooling and having to pay for it later. I think that if it's holding you back from doing something that you really want to do, you should find a way to do it still but maybe just in a cheaper way, so just explore your options. Explore ways you can get different scholarships, all that kind of stuff," Drakas said. 
Getting out of debt is an issue Drakas will face after finishing college.  
"As a prospective teacher, I'm not going to be making a ton of money unfortunately, but I plan on getting a summer job and just budgeting really well because typically I'm really good at saving money when I need to. I'll probably just plan out everything I need to get paid each month and then whatever I have left I'll live with," Drakas said.