Students discuss opinions on music
What is music and how do students utilize music?
September 12, 2022
Would you rather listen to music every day for the rest of your life or never again?
Sorry, there was an error loading this poll.
Students such as freshman Cevin Dively, sophomore Ulana Fellabaum, and juniors Makenna Elder and Ethan Strawmire all listen to music. 
But to start off, what is music?
According to Britannica music is: "art concerned with combining vocal or instrumental sounds for beauty of form or emotional expression, usually according to cultural standards of rhythm, melody, and, in most Western music, harmony."
Their tastes are all different, ranging from punk and rock to pop and rap. All differentiated genres. 
These students listen to music for varying reasons, such as how it makes them feel.
"I listen to music because I like the way it makes me feel. When I listen to music, I feel like I'm in another world and the music kind of drowns out reality," Elder said. 
 "I put on music when I get up and take it out when I go to bed. I love listening to it, especially on the bus. It's so calming and there's something about listening to music as you pass time," Strawmire said. 
Not every student uses the same streaming platform to listen to their music. Some of the students use Spotify, Apple Music, Youtube/Youtube Music, Soundcloud and more to listen to tunes. 
"I used to use Spotify, but I didn't want to pay for premium so I kind of use Youtube music. I like how you can man playlists on Spotify and Apple [Music], but it sucks that you have to pay for it, so I just use Youtube," Dively said. 
On the contrary, Elder uses Spotify to stream music. Elder also uses Spotify Premium.
"I have the premium version. I don't think I would like Spotify as much without premium. I decided to get it so that I didn't have to listen to ads and I could play whatever song whenever I wanted," Elder said. 
There are music genres such as, pop, rap, indie, death metal, R&B, soul music, country, k-pop, grunge and more.
Recently 50 students from the school were polled, and these were the results of their favorite music genres.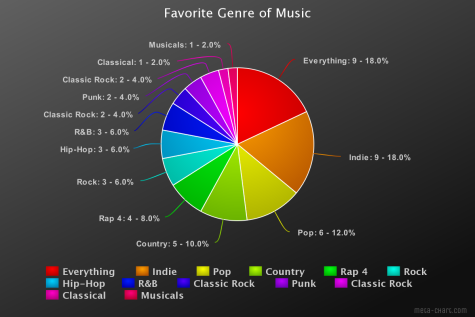 "My favorite genre is rap. I like rap because it's upbeat and I like a lot of different types of rappers. I found it mostly through my brother who listened to it nonstop when we lived together," Fellabaum said. 
According to Britannica, rap is a "musical style in which rhythmic and/or rhyming speech is chanted ("rapped") to musical accompaniment."
Another style some students enjoy is indie pop. According to Rateyourmusic, indie pop music is: "Indie pop is a genre characterized by Pop conventions and structure, and a melodic, lighthearted sound. Artists generally use typical Rock instrumentation (drums, guitar, bass, vocals), although some artists deviate from this, sometimes including electronics, piano, strings, or even eschewing guitar altogether."
"I like indie pop and normal pop: it's kind of slower and always puts me in a good mood. It depends on my mood because if I'm having a really rough day, I can go home and listen to some slow jammy stuff. If I'm having a good day, I can go listen to pop or a ton of other stuff," said Dively. 
Some artists create albums of multiple songs for their audiences. 
"My favorite album at the moment is Currents by Tame Impala. I don't know the meaning but I prefer it because I can listen to it on repeat and not get sick of it," Fellabaum said. 
"My favorite album is You'd Prefer an Astronaut by HUM. The song is just so good and the guitars in that album are just amazing and the singer has such a good voice," Strawmire said. 
Concerts can happen worldwide. Some artists decide to not tour and some do.
"Yes, I have been to a few concerts. I went to the Hella Mega tour which was Green Day, Fall Out Boy and Weezer. I also go to most of Abstentious' concerts around Altoona. I'm going to another concert in a couple days that's gonna be a bunch of punk bands. Concerts are amazing. It's really cool to see people perform live and see the crowd all hyped up," Elder said. 
Music can affect people in varying ways. Some people say their life changed for the better, or had been generally improved with music. Some disagree with stating that their life stays average. 
"Music hasn't really changed my life drastically but it definitely influences me on how I act and do things and even the way I look and dress," Strawmire said.
Dively and Fellabaum stated that music had changed their lives for the better.
"I feel like it has made it more positive. When I was little my aunt and uncle would be in the car together and we'd always have music playing. It's very important because I believe that if I'm having a bad day it can just always make me feel better. It's always there," Dively said.