Challenge Program awards students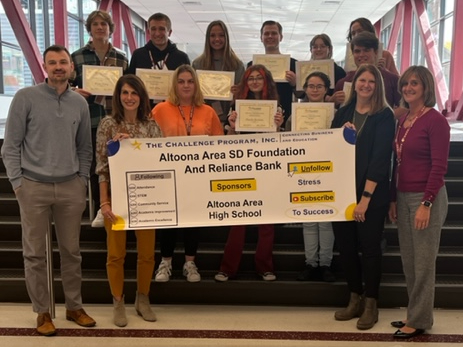 The Challenge Program, Inc.  awards students for their education efforts through financial support and rewards students for devotion toward their education. 
Junior Julia Kline was grateful to be chosen as an award winner. 

"I understand that it was a great opportunity to be recognized and given the award," Kline said.

Kline heard about the Challenge Program during last school year. 

"I decided to pick up an application for service hours, knowing that I had a lot of hours to contribute to the application," Kline said. "After writing down my hours and getting confirmation signatures, I simply turned the paper in and ended up winning."
Junior Wyatt Young is thankful for a program that recognizes students for their work and success in school. 

"I feel very rewarded about receiving the STEM (science, technology, engineering and mathematics) award because I was one out of the ten award winners in the school," Young said. "It makes me feel that I am not only doing it for myself, but for others in the community that support me."

Young had to be successful in STEM classes to become eligible for an award. 

"I did feel that I did well in them last year, and this was the only thing I needed to be eligible for the STEM award. I did not apply for the reward I got, but was nominated by my teachers," Young said.

Senior Ian Palilla was recognized for the Challenge Program award in the area of community service.  

"Having the opportunity to give back to others is something that is really important to me," Palilla said. "Although community service is not performed for personal recognition, I appreciate the chance to show that kids my age are capable of making a difference."

In order to become eligible for the community service award, Palilla had to submit a list.

"The list consisted of year-long community service activity and the hours involved," Palilla said.

Senior Coby Dawson also won an award in STEM. 

"I always strive to do my very best in school, and it feels very good to be recognized for the long hours I put into doing my school work to the best of my ability. In my junior year, the year for which I received the award, I was in two AP classes, German III and three Honors classes, so, even with the study hall I was allowed, staying up until 2 a.m. had become my modus operandi, my normal mode of operation by the end of that school year and pushing through two or three days without sleep was something I expected during testing weeks. Winning this award, in addition to all of the knowledge I gained from my classes, makes me feel like the hard work and long hours I put in were worth it," Dawson said.

Dawson enrolled in multiple classes and tried his best to earn the award and get him to where he is now.

"To be eligible for my award, I had to score the highest in a science, technology, engineering or mathematics class, since I won the STEM award," Dawson said. "As far as STEM classes go, I had taken AP Chemistry, AP Statistics, honors Algebra III / Trigonometry and honors Physics, so I'm guessing a high score in one of those made me eligible."

Junior Emeline Feathers is excited to be given an award. 
"I feel proud of the award, and I am grateful for all the congratulations I have gotten from teachers and my friends," Feathers said. "It was a little nerve racking to be on MLTV though."

Feathers was selected randomly as top 10% of the 2024 class last school year.

"I didn't even know about the award until I went down to Mrs. Fox's office, and she told me I won the award," Feathers said. 
Senior Colin Monahan was also awarded among the other students. 
"I felt proud of myself that I was able to keep my grades to the point where they considered me for this award."
Senior Paris Lawson didn't find out the award was a thing until winning it for attendance.  

"I felt mostly surprised," Lawson said. "After finding out though, it seemed really cool because it's giving everyone who tries in school benefits and a chance to be rewarded for their work."
Lawson had to meet attendance requirements to be eligible for the award.  
"I'm not entirely sure what the process was, but me and whoever else in the school met those requirements were put into a random drawing of who would win the actual award," Lawson said. 
Leave a Comment
About the Contributor
Jaidyn Palladini, Associate Editor
Hello, I'm Jaidyn, and I'm a junior at AAHS. This is my second year writing for the Mountain Echo. This is also my second year as an Associate Editor....