In Tune [#2]
For this week of In Tune, I have an array of songs that I deem musical masterpieces. I know I said in the first In Tune, I would only do one, but, like I said, I listen to new music every day, and I find so many songs I love. I like to break the rules I set. 
Starting this off, "Golden Hour" by JVKE. Listen, it's popular, it's on TikTok. I get it. There's something about JVKE's music that makes me so happy. So far, all of his songs have been an absolute hit. What really gets me is the background music, not necessarily the singing. I am such a sucker for good instrumental beginnings. Golden hour is no exception, and just like the lyrics, the instrumental is just as entrancing. Of course, his voice is beyond gorgeous and the lyrics are amazing. I love how JVKE mentions the album "Blonde" by Frank Ocean because, probably to no surprise, I love Frank Ocean. The rest of the lyrics are so dreamy, it makes me want to be JVKE, falling in love. This song is perfect for drives, night or day, and relaxing to the song. 
My next song is, "The Perfect Pair" by beabadoobee. I don't know what's up with me choosing a bunch of popular songs this time. I didn't intend to, but this song is popular on TikTok. I'm not sure if many know what this song is until they hear it. I've noticed that with this song, specifically on TikTok, the song name is never there; it's always something else. Going back to the music itself, it's extremely groovy in a way. The lyrics are on the verge of being extremely sad, but the background is so fun to hear. I adore Bea and all of her songs. The variety she makes is amazing, and I love hearing "the perfect pair". If someone's like me and enjoys happy background music to sad lyrics, this is a great song for them. From what I take away from this song, it's about a breakup or even tension in a relationship. The thing that sets this song apart from a Taylor Swift breakup/relationship issue song is she doesn't blame a man the whole time. Not that I hate Taylor's songs; it's just an example. 
Most strictly instrumental music is boring. In order to keep me intrigued with a song, there has to be lyrics added or switch some of the parts instead of just playing something the same beats over and over again; it's redundant. I do like some though, like, "Syrup" by Solomon. I can't mention lyrics this time, well, because there are none. Syrup is remarkably catchy. I really enjoy the simplicity of these kinds of songs and Solomon created a wonderful masterpiece. I can understand how this song may not be for everyone though. 
That's all for this week, come back next Friday for the next In Tune!
Leave a Comment
About the Contributor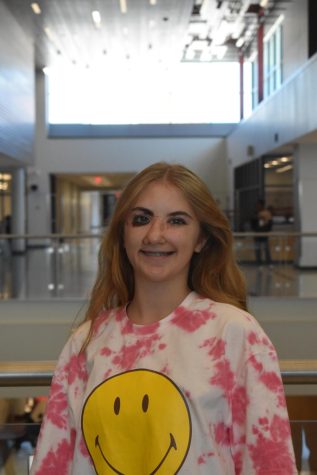 Lillian Roberts, Reporter
Hi! My name is Lillian, or Lily! I'm a junior and this is my second year on the Mountain Echo staff. Things to know about me is that I absolutely adore...