Two Lady Lions injured for season
For this season so far, the Lady Lions have been without two players due to injuries. These two players are Taylor Lane and Brooklyn Barron.
Lane will not be able to play in the season this year. She tore her ACL in early December and will be out until either August or September, depending on how long it takes to heal.
"I still go to games and practices, " Lane said. "It's hard watching and not being able to be a part of helping the team succeed."
Though she may be on the sidelines, Lane still tries to help her teammates to the best of her ability.
"I focus on the game and try to give advice to the girls from what I am seeing," Lane said. "I also help when I am able to at practice."
Barron sustained an ACL injury in her right knee during a summer league basketball game.
"It's heartbreaking because I've been playing with everyone for four years, and I thought I was going to be able to finish out my senior year playing with my team," Barron said.
Barron still attends games and practices with her teammates.
"I'm thinking, I wish I was on the floor," Barron said. "I'm thinking about how I would benefit the team if I was on the floor and how I can even though I'm not on it. I'm still a captain, and I still need to be there for [the team] during the games throughout the entire season."
According to Barron, she may be able to play at least a few games this season.
"It's very exciting, but at the same time scary because reinjuring is always a really bad thing to go through," Barron said. "I feel like it might affect me somehow when I'm playing, just a mental barrier. I still really have some thoughts about it because I don't want to repeat the entire process of surgery and everything in recovery."
Barron has been in physical therapy so she can get to playing as soon as possible.
"It's tiring, but at the same time it's good because I feel like I'm progressing more," Barron said. "I'm a really fast paced person, so the fact that we're always taking it so slow is upsetting because I feel like I can do more things. When it comes down to it, with small things you can't really do as much as you think you can."
Even though she is still injured, Barron tries to participate in practice as much as she can.
"I practice with my team as much as I can, until I get the really okay for my surgeon," Barron said. "I can shoot. I can do some cutting, pivoting. I'm just not really at full game speed yet."
According to assistant coach Amy Palfey, this can be an opportunity for the injured players to reflect.
"I feel disappointed for the athlete, but I also know it is an opportunity for them to learn and grow as a person," Palfey said. "Adversity can make a person stronger."
Because two team members are out, the team has to make some adjustments to how they play.
"Well, especially because I'm a senior and as well as Taylor, they've been playing with us their entire high school years," Barron said. "They had to readjust completely by playing with everyone and getting a whole new rotation and together."
With Barron and Lane out, the team has had to turn to its younger players to play.
"[Zaelinh Nguyen-Moore] and Jaden [Krull] are both now starting players," junior Jersey Hollabaugh said. "I had to step up a lot with varsity and have a lot of positivity."
Leave a Comment
About the Contributor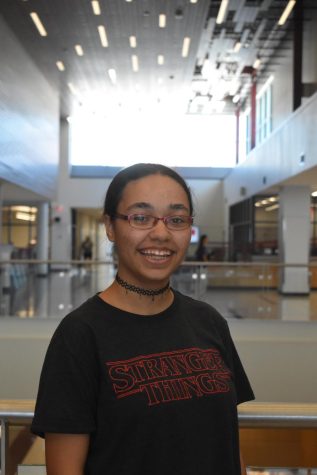 Myah Lear, Media Manager
Hi! I am Myah Lear. I am a senior and I'm the media manager of the AAHS Mountain Echo staff. I have played viola since the fourth grade. After school,...