Moving on up – Seven Junior Academy of Science members move to States
Seven Junior Academy of Science members were awarded first place and are moving on to States on May 15.  The group competed on Feb. 18 at Saint Francis University. The students moving on are junior Jacob Cegler, junior Laney Yost, junior Connor Matosziuk, junior Crow Young, sophomore Josh Lang, sophomore Andrea Slusser and freshman Melissa Krainer. 
"At Saint Francis, the students all did a science research project of their choosing. The students had to collect data for their project and put a presentation together that they had to present to judges," adviser David Borst said. 
The students made presentations based on the scientific method and statistical analyzation of data collected by the student in their experiments. After presentations the students were able to participate in Science, Technology, Engineering, Art and Mathematics (STEAM).
"Presentations are awarded and students are able to receive certificates and medals for all of their hard work on their project and presentation skills," Slusser said.  
Slusser did a physics project on how the cello bow pressurization affects the volume of the instrument. The project focused on acceleration of gravity versus the wavelength frequency. 
After their initial presentations, students were given feedback on how to fix and enhance their projects. 
"I wrote too much," Slusser said. "I definitely put a lot on my slides. My judges from Regionals wanted me to make it less wordy. Make it clear and add more statistical analysis. So, more math. They wanted more real world connections." 
According to Slusser, she didn't think she was going to make it to States. 
"I am really excited to go to the States. It's my first year in the club. I also had District orchestra and that took up a lot of my time, but I was hoping my project was good enough to be a qualifier. The kids I competed against knew more about science than I did, but I knew a lot about my general topic, so that made me somewhat of a competition," Slusser said. 
Slusser used time management and her goals to get her project done.
"I had to work on my project while getting my (driver's) permit and growing my rabbitry. It was tough, but I used a lot of time management to keep getting ready for the competition, along with determination for the goals I was attempting to reach," Slusser said. 
Junior Connor Matosziuk did a presentation on " The Resonance of a Vibrating String" which is the relationship between the tension of a string and the Hertz at which it vibrates.  
According to Matosziuk, he didn't think he was going to make it to States. He thought the grading would be a lot harder. 
Matosziuk also received feedback on his presentation. He has to redo his slideshow because he expected to present it on a board rather than a 30 year old projector. 
"I would also like to dive deeper into the math and specifically answer the questions I got from the judges at the competition," Matoszuik said. 
According to Matosziuk, as soon as he started presenting all his fear went away. 
"The room I was in ( junior and senior physics) only had three of us in there and we were all there 1/2 an hour before the judges got there. So the period leading up to presenting was stressful," Matoszuik said. 
States will be held May 15  at Penn State University 
Leave a Comment
About the Contributor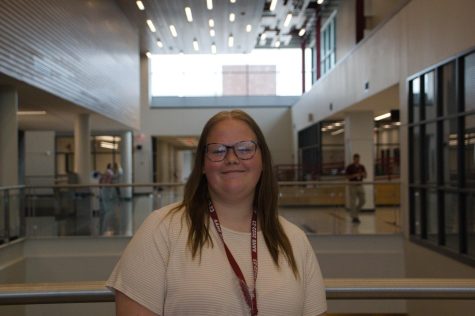 Madalyn Miller, Reporter
Hey! I am Madalyn Miller. This is my second year with publications. I love writing and photography. Other activities that I am involved in at school are ...