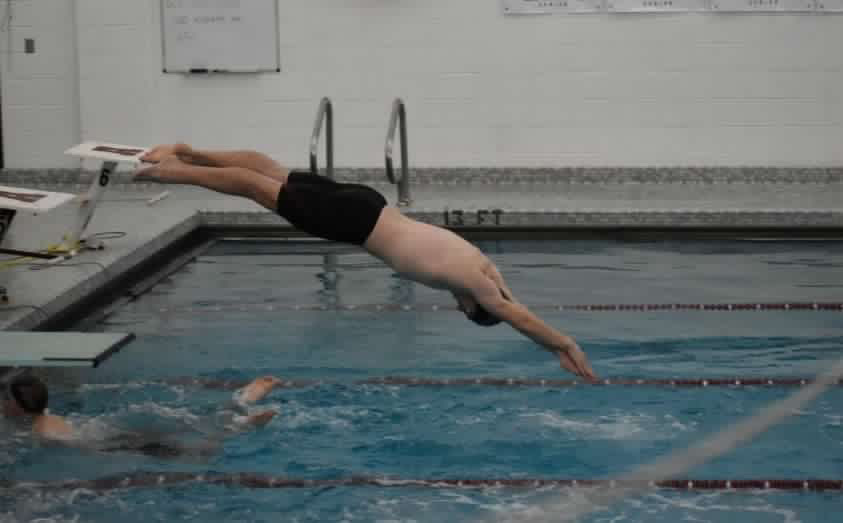 Austin Parker
Q: How long have you been swimming?
A: "This was my third year swimming. I didn't swim competitively until sophomore year. "
Q: Why did you decide to join the team?
A: "I decided to join the swim team because I blew my elbow out playing baseball and couldn't play baseball anymore, but I really wanted to continue playing sports. I decided to swim because I had a few friends on the team, but also because my family is a big swim family. All of my cousins swam at Hollidaysburg and two of them actually went to states and one of them had a school record for a time. My grandfather really wanted me to follow in their footsteps and pushed for me to start swimming at the YMCA, but I was too worried about baseball. So, I figured swimming would be my best bet to continue playing competitive sports."
Q: How do you feel about your senior season ending?
A:" My senior season ending is bittersweet. Swimming came along in a relatively dark time in my life and in a way it felt like salvation. I've made great friends and learned a lot during my time on the team. Obviously, the season is long and puts a strain on my body so it is nice to have a break now but I will miss it."
Q: Are you going to college? If so, what do you plan to major in and will you continue swimming in college?
A:" I am going to Pitt next year and will be studying in their Pre Physicians Assistant program. I'm considering joining the Intramural Swim team to continue swimming competitively."
Q: What is your favorite memory from swimming?
A: "It is hard to pick a favorite memory since there are so many worthy of being "the favorite", but I'd have to say bus rides and districts this year were my favorite."
Q: What is/are your favorite event(s)?
A: "My favorite events are the 50 free, 100 free and the 400 relay (the event of the hour)."
Q: Have you had any challenges or obstacles during your swimming career and how did you face them?
A: "I faced a lot of challenges. When I joined, I was still healing from my elbow injuries and they continued to cause me problems throughout my sophomore and junior years. I ended up having to get acupuncture multiple times a week for months, until the pain was gone. I would also miss a lot of practice for concerts, rehearsals, etc. so I'd have to play catch up for most of the season."
Q: What is your advice for younger students on the team?
A: "Go to practice. Show up everyday ready to work. Give it your all because your results are a product of your work. Listen to the coaches, keep your head down and work. It's a long season too; take care of yourself. Get good sleep, stretch and eat right. But most importantly, have fun. Have as much fun as you can. We're kids, enjoy it, have fun."