Kravetz breaks record
Junior Hailey Kravetz broke the 300 meter hurdle record at the track meet against Carlisle on April 25. Nikki Kerns had set the record in 2012 with a time of 45.38 seconds. The new record Kravetz set is 45.1 seconds. 
Kravetz joined the track team in junior high and ever since being on the high school team, she has been on varsity. 
"I have been playing soccer since I was four years old. During junior high, I joined track in order to maintain shape for soccer. Ever since, I fell in love with the sport. I've been on the varsity track team since freshman year," Kravetz said. 
Coaches saw Kravetz had enough talent to be on the varsity team as a freshman. 
"Depending on your talent level, and where you are as far as training level [is where you are placed]. She is very athletic. So as a ninth grader, she was able to come in and contribute immediately on the team," head coach Paula Foreman said. 
Kravetz went into the meet having no intentions of breaking the record. 
"With the big Shippensburg Invite that Saturday, I went into the race wanting to run a good time yet a smart race to remain strong and free from injury," Kravetz said.
Running a smart race means running it strategically, according to Foreman.
"She knows what she has to do to run a clean race, to get through the hurdles, to have her steps correct. She knows that she needs to have her steps right in between the hurdles. She has the strategies to run a clean race, meaning she has her steps down and she clears all the hurdles," Foreman said.
At practices, Kravetz makes her goals realities. 
"I know she had a goal set in my mind, and she has been determined to make it a reality everyday at practice. Seeing her reaction when she found out she broke the record was probably one of the best feelings I have had as a coach so far,"  hurdle coach Eli Mencer said. 
The girls and boys normally practice separately, but Kravetz has been practicing with the boys to get better training. 
"I've been training really hard this season because I have some really hard goals. I really pushed myself in the indoor season and have been working with the boys to hit better times in practice," Kravetz said. 
Kravetz's goal has always been to break the record. 
"We were hopeful that she would break the record. We know that that's always been her goal. And she still has another year of competition left. So we're hoping that she breaks her own record yet again," Foreman said. 
Kravetz's coaches and teammates have pushed her to be her best.
"The coaching staff and my teammates have played a huge role in supporting me this season. Despite some challenges in the beginning of the year, the coaches have provided me with every opportunity to reach my goals. Coach [Michael] Adams never fails to push me past my limits, especially when I think that I can't," Kravetz said. 
The coaches have been there to train and provide Kravetz with everything she needs. 
"We are responsible for training the athletes and providing them with the resources that they need to advance in their events. And coaches are also there for athletes as a mentor, and to provide support in any way that they might need it. The team becomes a family," Foreman said.
Kravetz comes to meets with a competitive mindset and focused on her events. 
"Kravetz comes to meets ready to compete. It's not often you see an athlete look as determined and focused as she is at a high school level. All I do is make sure that when she or anyone is running that they hear my voice supporting and cheering over their own brain telling them they are tired," Mencer said. 
Kravetz explains that one coach in particular helps with getting her excited about meets. 
"Someone who has greatly pushed me is Mencer. Mencer came to assist the hurdlers this season. He is definitely the team 'hype man' and always puts me in the best mindset during meet days," Kravetz said. 
Leave a Comment
About the Contributor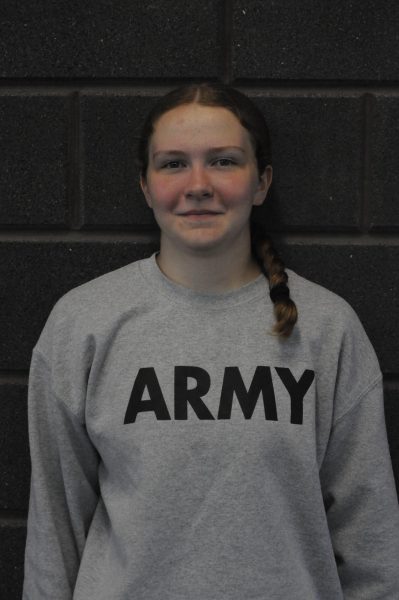 Ash Carini, Reporter
Hey! I'm Ash! This is my second year on staff. My interests are photography, music, running, and drawing. My biggest goal for after I graduate is going...