Sophomore Mary Stoltz holds multiple track records
Sophomore Mary Stoltz has been running ever since seventh grade and holds multiple school records as of this year.
"I started running because I didn't do too well at sports with balls. My elementary school teacher said that I would do well at running because of the pacer test. He said that I was good at pacing myself," Stoltz said
In January 2023, Stoltz broke the indoor track record for the open 800 meter with a time of 2:21, breaking the school record by three seconds.
"It feels nice to have a record for the school that was set fourteen years ago. It makes me feel good about myself because I earned it," Stoltz said.
In April 2023, Stoltz also broke the outdoor track sophomore record with a time of 2:20 in the open 800 meter race.
"Breaking the sophomore record makes me want to set more goals. I look forward to reaching the overall outdoor record,"Stoltz said.
With all the events that Stoltz does in track, the 4×400 meter, 4×800 meter, 800 meter, 1600 meter and the 3200 meter. The 800 meter is still her favorite event. 
"The open 800 meter dash is definitely my favorite event to do in track. I like how fast it is, and I'm a lot better at it than the other events,"Stoltz said.
 Stoltz does both track and cross country and sees an improvement in both seasons. From her ninth grade year to her tenth grade year, Stoltz brought her time down five minutes.
"One of my worst cross country races was a 25:32. That was my ninth grade year, and it was on a bad course," Stoltz said.
One of the many goals that a lot of cross country runners have in their mind the whole season is making it to states. In October of 2022, Stoltz ran a 20:52 5k at Districts, setting a personal record, and was just six places off from going to the state meet.
"It does suck that I was 52 seconds off from going to states. It has always been a big goal of mine. But, I know that being that close to going is going to push me harder and I'll have to do better next year. I set a lot of my goals higher so when I get them I'll feel accomplished," Stoltz said.
Doing a sport means, runners hope for support from teammates and coaches in order to perform better.
"My biggest inspirations are my coaches, Paula Foreman and Tabitha Quinn. They pushed me into becoming better and shaped me into the runner I am today," Stoltz said.
"My teammates also are very supportive of me and help me get through hard runs and hard workouts. They are always there when I don't perform well and I like watching them perform well and meet their goals," Stoltz said.
Many people think that running is one of the easiest sports to do, but Stoltz feels like running is more of a mental sport than anything.
"I think that running is more mental than a lot of other sports. If you tell yourself that you aren't going to be able to run well, then you'll get into your head and won't be able to. Preparing mentally before a race helps me so much more than anything," Stoltz said.
Freshman Emerson Snare just joined cross country this season and has made a close bond with Stoltz.
"Mary always works hard in what she does and inspires me to do good every day. I've gotten so close to Mary, and it has helped a lot coming onto a new team. I'm so proud of what Mary has done, like setting a school record. I'm excited to see what's coming next for her," Snare said.
To end her high school cross country season, Stoltz wants to be in the low 20's or maybe sub 20's in order to go to States.
Leave a Comment
About the Contributor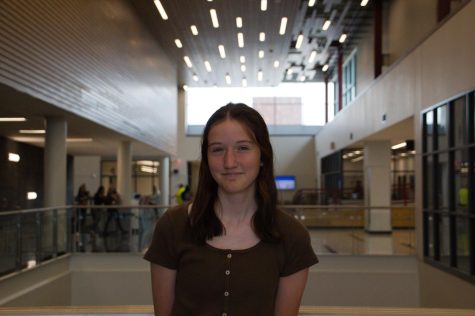 Eva Drumm, Reporter
Hello!My name is Eva and this is my first year on staff.I was a part of the intro to publication my freshman year.This is my second year of going to Altoona.In...