A day with third and fourth grade
A teacher's granddaughter is no stranger to the world of classrooms. Whether she is a student or a teacher, every day is a new adventure. 
Over the past school year, I had the chance to work with my nana at St. Patricks' school. I was given the opportunity to not only observe her working with the kids, but work with them myself. Let's just say, some days all you need is a little bit of elementary school charm. 
Students arrive at 8:45 A.M., and from the moment they arrive, they are in constant motion. 
The third and fourth graders are all abuzz about their upcoming field trip. Next week, they will be heading to Camp Allegheny and Flight 93 for a day full of history and horseback riding.
"I've never ridden a horse before," third grader Jay Hileman said. "Although, I think it is a pony we will be riding, but I am excited to ride one. I never have [ridden a horse], but I have taken care of one." 
"I don't know what I am most excited to do," fourth grader Sam Miller said. "Honestly, I'm there for the lunch because they are serving us." 
Some students; however, don't have anything they are specifically excited about. 
"Whatever is going to happen is going to happen," fourth grader Oliver Wilt said. 
Following the excitement, we have a big fear set in… who will we get to sit with on the bus? 
Never fear, Ms. Decker is letting us sit with whoever they want! Crisis averted. But, which bus will we be on? A normal school bus? Or a bus with one of those big buses with a bathroom on it? The opportunities are endless. 
Students are already planning who to sit with on the ride. 
Violet Krug and Emily Ramish plan to sit together. Mason Boring and Jay Hileman are as well. Some students haven't decided yet, but it hasn't stopped their excitement from growing. 
Next up, students begin to work on math. Fourth graders work with Ms. Decker, while third grade works independently. 
While students are working, I begin to interview those who are done. I love getting to hear what they have to say. Youngsters are always honest and blunt. I wish all people shared the same traits. 
At 10:30, the students head down to the creek to release the fish they had been raising. Students learn how to fish, tie knots and each student releases a fish or two. 
While students are learning about nature and fish, I take time to read through the interviews I have done with each student. All of Ms. Deckers' students are moving up next year, but not all of them are changing teachers. 
Almost all of Ms. Decker's students are excited for the school year to be over, but they all have different reasons. 
"I can't wait to be 11 years old," fourth grader Ari Holmes said. 
"I'm excited for our Christmas and Halloween parties," third grader Braden Sensabaugh said. 
Although students are excited for next year, they still have things they love about being third and fourth graders now. 
"I love being with Emily," third grader Violet Krug said. 
"I love being with Violet," third grader Emily Ramish said. 
Ramish and Krug met the summer before third grade at Delgrosso's Amusement Park. Once Krug knew Ramish had no intention to harm her, they became inseparable. The two aren't only best friends but third cousins. Nothing better than cousinly love. 
Students are ecstatic for the end of the year, some more than others. 
"I am a little bit excited," fourth grader Morrison George said. " I like doing things during the day, but I don't like homework." 
"I get to go on a lot of vacations this summer and finish writing my story," third grader Neso Anokwuru said. 
During my interviews, I wanted to know if the students had anything they wanted to say about themselves or school that they wanted me to put into my story. Of course, I had some interesting answers. 
"In the classroom, I have five books anyone can borrow," Miller said. 
"I like this school because it is a Catholic school," Boring said.
"My favorite part of recess is playing on the swings," Anokwuru said. 
Finally, after students go to lunch, they begin to work on grammar and religion. Finally, a little after 3:00 p.m., they are released from school. 
An hour later, after some grades are put in and the room is cleaned up, teachers begin to leave. It was another great day at St. Patricks' school. 
Leave a Comment
About the Contributor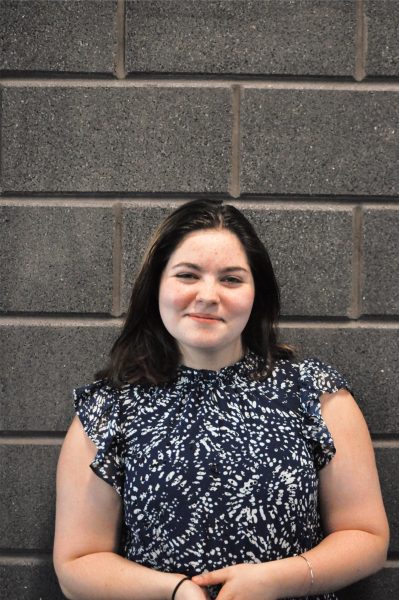 Madison Aboud, Associate Editor
My name is Madison Aboud and I am a sophomore at AAHS. This is my second year on Mountain Echo staff and my first year as an Associate Editor. In Jr. high,...