Senior Reese Wilber makes States
On May 16, senior Reese Wilber traveled to Districts with one thing on her mind: States. Wilber has been a distance runner for four years and has never made it to the State finals. That was until her senior year.
The State qualifying time for the 1600 meter race is 5:10. Wilber's personal record before Wednesday was 5:12. Wilber knew she had to shave off two seconds to get to her goal. 
"Taking as little as two seconds off a mile is hard. Going into it I was nervous because you never know what your race is going to be like. Even if you think you could do good you might not. You can never tell what race you're going to have until you're in it," Wilber said.
One of Wilber's biggest competitions, other than herself, is State College.
"State College has a great distance team with a bunch of good girls running. I knew going into the race that if I stuck with them I would be able to meet my goal," Wilber said.
Wilber ended her high school season at Mansion by running a 5:09 with leading girls from State College running a 5:05. Wilber ended in third place advancing onto States.
"It felt good to get in the low fives by the end of my senior year. Taking three seconds off of a mile time is pretty good," Wilber said.
States will be held at Shippensburg University, and Wilber will be running at 9 a.m., May 26.
"I'm excited to be running at States for track. I've gone to States a couple times for cross country so it's a good accomplishment. Making States for track is really hard for distance. Running a 5:10 is a hard accomplishment to make," Wilber said.
Wilber has been to many big track races in her running career, so she already knows what the environment is like.
"I've been to Nationals for indoor track and Penn Relays with my 4×400 meter relay team, so I already kind of know what it's going to be like, but there's going to be a lot more people at States. It's always nice going to big meets whether it's indoor, cross or outdoor. I like seeing a lot of good people running. I know there's going to be good competition," Wilber said.
Not only did Wilber make States for the 1600 meter race but the 4×800 meter relay also got second at Districts.
"I'm proud of my relay team, and I'm glad my last race with them we got second in the district. It's bittersweet, I'm excited to go to college, but I'm going to miss my teammates," Wilber said.
Leave a Comment
About the Contributor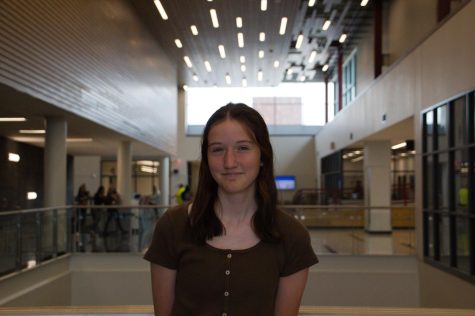 Eva Drumm, Reporter
Hello!My name is Eva and this is my first year on staff.I was a part of the intro to publication my freshman year.This is my second year of going to Altoona.In...