As the Senior Vice Commander of the Blair County War Veterans stood in front of over 2,000 high school students at the pep rally on August 25, Lloyd B. Peck felt a sense of homecoming. 
"It's good to be back at Altoona High School. It feels like home. Like I'm 19 again," Commander Peck said.
When he was just a junior in high school, Commander Peck left school to join the military. However, he still looks back on high school with a fond smile and memories of a lifetime. 
"It's like old times. We used to sneak out and go across to the restroom. When we'd come back, we'd get caught by the assistant principals and be given detention," Commander Peck said. 
Although high school left fond memories, his memories of the Korean war are much more serious. During his time in the military, Commander Peck served in the Army and the Marines, both during his time in Korea. 
"When we faced those 120,000 Chinese and Korean soldiers, it was no picnic," Commander Peck said. 
For 17 days, soldiers fought against the Korean and Chinese. Conditions were dehumanizing. 
"It was awfully cold, and we had no hot food," Commander Peck said. 
Though he faced many challenges and fears throughout the war, nothing could have prepared Commander Peck for the day when the exchanged prisoners returned. 
"Some of them were in bad shape, but we treated their prisoners better than they treated ours," Commander Peck said. 
After returning home from the war, Commander Peck went on to marry his wife, Judith (Judy) Peck. 
"We've been married for 54 years, and I wouldn't trade for anything in the world," Commander Peck said. 
Commander Peck's biggest source of inspiration is his wife and their love has only blossomed over time. 
"We've had our bad days and our good days. We hope to be together until we are both deceased and are gone from this world," Commander Peck said. 
Commander Peck hasn't stopped being an active member of his community and has contributed his time to many activities since returning home. 
"What haven't I been doing?" Commander Peck said. "I did Blair County Honor Guard, I've done 356 funerals where I played taps. I commanded a war veterans council and I was responsible for the Memorial and Veterans' Day parades for 16 years." 
Since serving, Commander Peck feels there has been a shift in the military. 
"I don't like the way the military is being treated today. I feel the military has downgraded and it has made our military weak. If we had to fight a war, I don't think we'd be able to do it," Commander Peck said. 
Commander Peck always planned on joining the military. 
"I hope that all who go into the military never go to war. But, if you do, pay attention to basic training. It is very important and will carry you through," Commander Peck said. 
Due to entering the military during his junior year, Commander Peck was never able to receive his diploma. Through the Operation Recognition Program, Commander Peck was able to do so, 75 years later. 
"In 1948, I left high school to go and serve my country. Now, here I am, 75 years later, receiving my diploma," Commander Peck said.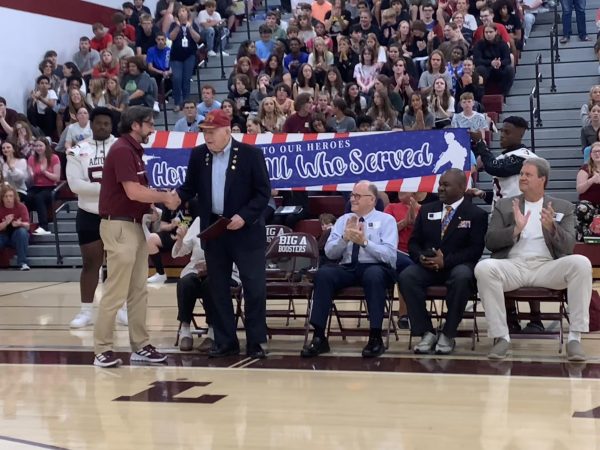 Senior William Wertz is currently enlisted in the Army. He was present in the gymnasium when Commander Peck was given his diploma. 
"Watching Commander Peck receive his diploma was a once in a lifetime opportunity. I felt really proud to be a part of the school who was able to give it to him," Wertz said. 
Commander Peck feels his time in the military changed him as a person. 
"It turned me from a boy into a man," Commander Peck said. 
When first asked, Commander Peck turned down the offer to receive his diploma. But was eventually persuaded by Paula Foreman to do so. Commander Peck is thankful to Foreman for having him get his diploma. 
"Receiving my diploma today meant the world to me," Command Peck said.