Crowded hallways. Packed cafeterias. Congested auditoriums. High school life may be new to freshman Dilara Dileo—but it isn't to all of her classmates.
"[The freshmen class is] large, it's about 720 students. I think maybe 70 to 80 of those are in ACA, but it's larger than any other grade—certainly larger than what we're used to," ninth grade counselor Tiffany Johannides said. "Some of it is due to retention, meaning kids who did not pass. So it's very busy. I've been here three years—I was in a different district before that—but this is probably the busiest I've seen it."
Johannides oversees ninth grade students with last names L–Z while her colleague, Michelle Beard, oversees ninth graders with last names A–K.
"The number of kids that moved over from eighth grade was only about between 525 and 550. But, the freshman class is over 700 because of the number of students that did not meet the criteria to be classified as a sophomore," superintendent Brad Hatch said.
Graduating classes at AAHS typically range from 500 to 600 students. The surplus of freshmen this school year is partly due to changes in state graduation requirements.
"Essentially, if you look at what the graduation requirements are, it is a certain number of credits, but then you have to have your four years of English. So, if you didn't pass freshman English, you're really behind the eight ball. If you didn't pass and you didn't take summer school to get that credit, then you can't technically be classified as a sophomore, because you can't finish with your class without making up that English credit," Hatch said. "There's also new state graduation requirements, like the pathways for those who are not passing Keystone exams, doing other things, getting early acceptance into college—different pathways you need to meet graduation requirements."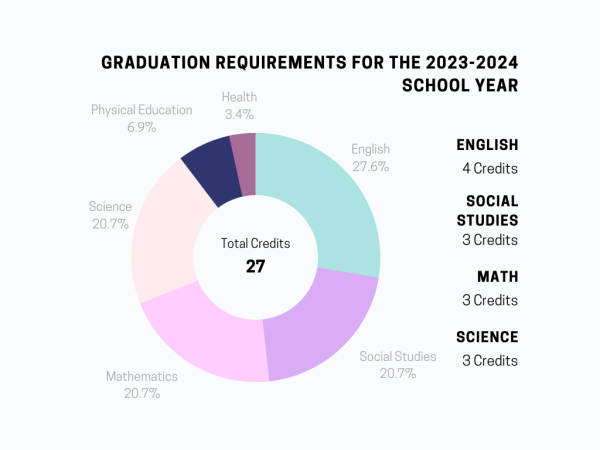 Dileo is starting to feel the effects of the large freshman class size in her classes. For the first few days of school, she had to sit at a lab table because her human systems and disease class was overcrowded.
"Overall, I would say that the [class] size has increased compared to junior high and elementary schools over time. As the size has gotten bigger in some of my classes, it's harder to focus because there's more distractions with more students. Sometimes they're talking a lot or it's just hard to concentrate, so that affects my learning," Dileo said.
Hatch believes that the biggest reason that students aren't meeting graduation requirements is because of attendance.
"You have to be in school," Hatch said. "You have to engage in school, even when you're not here. It used to be that, when you had an illegal day, you couldn't make up the work. You got an automatic zero; we don't do that anymore. You can make up all the work that you miss when you're out, whether it's an excused or an illegal absence. Students just aren't doing it, and I think there's a lot of things that contributed to that. I think attendance in general, whether it be at work or at school, has become something people view as an optional thing. It really can't be. If I have students that attend school, miss a handful of days, but they're [mostly] here, they're going to pass, and they're going to do enough in class. When you start missing instruction and missing a lot of time, no matter how smart you are, it is very, very difficult to get caught up." 
Along with graduation requirements, other factors have contributed to the large freshman class size.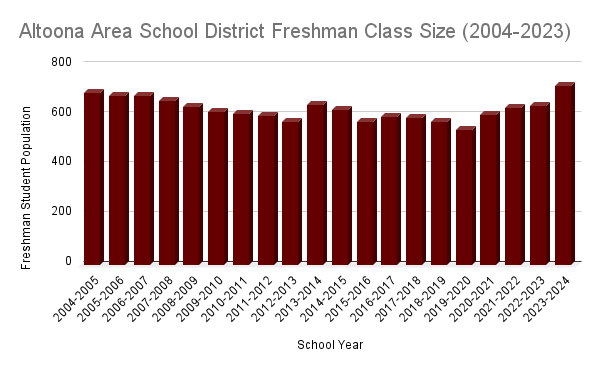 "I think a lot of the new students that we had returning this school year were outside cyber school students that are coming back to us, which we're really happy about," Beard said. "From what I've gathered, the retention and the qualifications for how you move on to grade levels has changed, so I think having some students that are still qualified as ninth graders that in previous years may have moved on to 10th grade [contributes to the class size], and I think any given year on a regular basis, you're going to have some fluctuation. It might just be one of the years that it was a bigger class already."
Students who didn't meet the requirements to move on to the next grade level have opportunities to make up for their missed credits during the summer and throughout the school year.
"[Students can] do credit recovery. They can do summer school and some other things. You can actually have kids who, in the middle of this year, if they take credit recovery and are passing, could be reclassified as a sophomore mid-year. It depends. So we look at high school two ways: you have a class, but then it's a matter of whether you are on track or not on track to graduate. So, we now have a lot of opportunities for kids who are not on track to catch up, whether it be through taking additional cyber courses, credit recovery in the summer or credit recovery during the school year," Hatch said.
Dileo is becoming acclimated to the new high school environment, but she feels that one thing would benefit her learning.
"Personally, I prefer smaller classes just because there are less distractions, which allows me to be more focused on the work that I'm doing," Dileo said. "Also, I think with smaller classes, it helps to be closer to the class and also have a closer connection with the teacher and other students, which personally makes me feel more comfortable asking and answering questions."