"I'm excited to decorate the plow because I am really into art, and I think it would be cool to see something I made go around on a snow plow," fifth-grader Molly Laird said. 
"I love spending time with Mrs. Chirdon and Mrs. Hoyne, and I have loved art for my whole life," fourth-grader Jacob Baker said. 
"I love doing art with my grandma. I do crafts with her all the time, so I am really excited to decorate the plow," fifth-grader Eliza Evans said. 
Six elementary students from McAuliffe Heights will be participating in the Paint the Plow contest. The Paint the Plow contest is an event where elementary students decorate snow plows that run around the city. Mayor Matt Pacifico started this event in 2017. 
"PennDOT started the Paint the Plow contest between some high schools, so I thought it would be a cool idea to replicate it but on a smaller, more localized scale," Pacifico said. "I wanted to get the elementary students involved with an art project they could see being driven around the streets of Altoona on a snow plow." 
The plow was dropped off at the school the week of Oct. 2. Students will have approximately a month to work on the project, before they are put on display on 17th Street, across from the Boyer Candy Outlet. Three other schools are participating, so four plows will be on display. 
"People driving by [Boyer Candy Outlet] can see the plows," Pacifico said. "Two awards will be given: Fan's Favorite and Judge's Pick. The people will be able to vote on their favorite on my Facebook page and that will be the official voting site. Three official judges will choose the Judge's Pick. The winners will get to walk alongside their plows in the Christmas parade." 
Amanda Chirdon and Maureen Hoyne are the student council advisers at McAuliffe Heights. They have assisted with two winning plows in the past. This year, they will continue to help the students throughout the process. 
"This contest was a community outreach program that Mayor Pacifico invited different schools to participate in," Chirdon said. "Each year has a theme. This year's theme is 'We are Altoona Proud'. The students will decorate the plow in a way that shows their Altoona pride."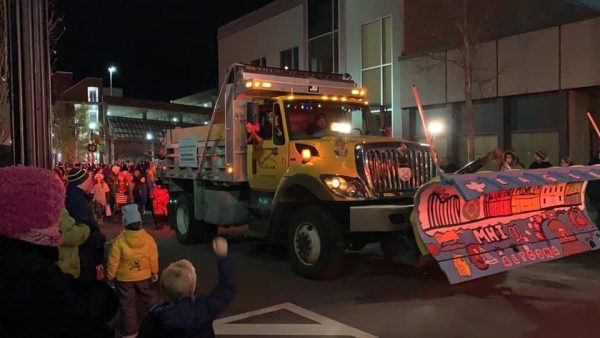 Throughout the process, students will be introduced to new art mediums such as painting and drawing. All adults involved are hopeful of getting more students interested in art through this project. 
"I think we can really get some of the kids introduced to art through this project," Pacifico said. "I think having a robust art community really makes a thriving city. The hope is that this project will ignite an artistic passion in some students they may not have known they had before." 
"I like doing art with my friends and teachers. I love art so much, I could do it all day, every day," fifth-grader Gabby Evans said. 
Students are entirely in control of what the plow looks like. There are five fifth graders and one fourth grader in charge of designing it. 
"We actually aren't allowed to help them during the process," Hoyne said. "They design, draw, paint it and do everything else on their own. We are really just there to be there with them and make sure it is getting done." 
"I am really excited to see my art be on the plow because I just really love doing art," fifth-grader Devon Minnoia said. 
Voting will take place during November on Mayor Pacifico's Facebook page. Winners will be announced shortly before the Christmas parade, where they will be displayed.