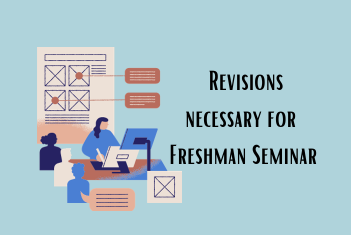 Although this class aims to have a positive effect on students, administrators need to make changes to the class for the students to find it successful. 
The usage of time during this class portrays an obvious flaw with the program. Students and teachers alike have admitted they do not always use their time productively. The class aims to teach students how to be good leaders and be independent. However, students will use the class as a study hall instead. Although administrators might believe it would be better to mandate the period is only used for the program, it may be better for them to embrace the current situation. Instead of having the class be used strictly for Freshman Seminar, it could also have a study hall element to it where students are able to focus on other work they need to do. This would also help freshmen ease into the transition of workload from junior high to high school. 
There have also been complaints about the length of the course. Introducing new students to the building should only take about a week at most. Many of the other activities and lessons also do not need a whole year to explain. If the course was shortened to only half of a year, then teachers would not have the option to allow students to do other work. They would have to hold a lecture every day  to fit all of the necessary curriculum. The modification of making the class only one semester would also allow freshmen to take other desired classes. Having an elective take up a whole year takes away a full credit that they could be using for different skills and knowledge. 
The Freshman Seminar class also proves to be unnecessary for some students. Although freshmen are all new to the buildings, they can figure their way around quickly. Some students who are more mature than others might find less value in the class. Teenagers, especially younger ones, all develop at different rates. Some freshmen are already mature enough to organize themselves while others are still pushing each other in the halls. To solve this issue, administrators should allow recommendations from eighth grade teachers. If they believe a student does not need to be put in the seminar class, they can file a recommendation to the counselors. The student can then choose to not participate in the class if they desire to do so. 
There has also been discussion surrounding the topic of introducing a class focusing on the "Leader in Me" program to all students, regardless of grade. While this can have positive effects, it takes away a lot of useful time from students. Some students already have trouble fitting all of their preferred classes into a schedule as it is, and this addition would only make it harder. Additionally, the information being taught during this class might not be useful to a majority of students. Juniors and seniors are already on their way to reaching adulthood, and they gain many skills from activities outside of school such as working and driving. If it were to be a required class for all students, it should not be a full-length class. It takes too much time away from students who want to build their education and make themselves well-rounded. There has been discussion on making the class a component of homeroom, which may be a better option. 
Although the Freshman Seminar class does have a positive effect on some students, it is not rational to have the class next year without some revisions. It is not a necessary class for all students, and the time given to the class is useless if it isn't being used productively. To have a successful seminar class administration needs to look into how they can better adapt the class to help all students.