Fagan writes book for senior project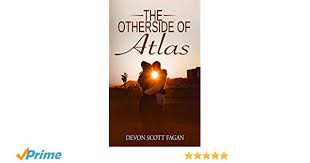 During senior year, seniors are responsible for creating a project that is known as a "senior project." Students are able to choose from a variety of ideas for the project including essays, concerts, charity games and even writing a book.
Senior Devon Fagan decided to write a book for his senior project. The title of the book he wrote is called "The Other Side Of Atlas." Fagan's book is being sold for $15 in Nicole Harris' room during school and on Amazon where it was published.
When Fagan was given the choice to pick his project idea he knew it was going to be a book.
"I was going to write this [book] regardless, and it played out perfectly as my senior project," Fagan said.
One hundred books were sold in the first month while 200 books have been sold since the release of the book. For students who have not read the book yet, there are more copies to be sold.
"Basically, it is about getting over addiction and accepting to love what you have while understanding that everyone is fighting their own battles behind closed doors," Fagan said.
Fagan says this book has a significant meaning to him and his life.
"It's an apology letter to my friend," Fagan said.
According to Fagan, the decision to write the book the way it is now was a challenge Fagan wanted for himself. Blake is the main character in the book who is overcoming adversity.
"I wanted to challenge myself to see if I can write a book in a girl's point of view; I think it would be more interesting to see it play out through Blake's point of view," Fagan said.
Fagan describes the book's creation process as a love-hate relationship.
"I threw away the first copy and rewrote it. I rewrote the first chapter five times; I only ended up using 20 of 29 chapters that I wrote throughout. Definitely a love-hate relationship," Fagan said.
The book's characters and setting throughout the book are from Fagan's personal life.
"A lot of it is from my life, the people around me and my own imaginations. The setting is places from around here but in a bigger setting," Fagan said.
The money from the books is being saved for college. Fagan has started conceptualizing writing a second book.
Students support Fagan.
"I would like to thank everybody for helping me do what I have done and to have the recognition is awesome," Fagan said.
English teachers Megan Lamb, Harris and Heather Tippett-Wertz contributed to helping Fagan through the creation of the book as well as distribution.
"I was more of a listening ear for Devon. He bounced off his ideas, and I would listen and make suggestions," Tippett-Wertz said.
"Devon wrote his book during my creative writing class in the fall. He would submit each chapter to me to review. I would help him to edit the grammar and word choice. I would offer my opinion on how the book was progressing. However, he is such a talented writer that there was not much that I needed to help him with," Lamb said.
"When he finished the book he gave me a copy, and I read every page. When I noticed an error I would put it on a post-it not so he could change it. I went through a whole pack of post-it notes. We also talked about literary techniques and character development, and it was interesting to hear why he did the things that he did," Harris said.
All three teachers had similar reactions to the entire book after it was finished and published.
"I am so incredibly proud of Devon. I think his book is an outstanding accomplishment. He worked very hard on it, so it was exciting for me to see the finished product and his vision fully come to life. I've read quite a few really good cautionary young adult books about addiction, but this is one book that I will never forget. It is an emotionally charged novel that really had an impact on me personally. I think all readers can come away having learned something from this narrative," Lamb said.
"I enjoyed the book; I think Devon did a remarkable job of writing a story that both adults and teens can read and appreciate," Harris said.
"I am very proud of Devon seeing the project to the end. The novel is exceptionally written. Devon worked extremely hard on the entire project," Tippett-Wertz said.
Senior Kierra Moist had a similar reaction to the teachers as well regarding the book itself.
"I honestly fell in love with the story when I read the first chapter," Moist said.
Moist says she bought the book to support her friend.
"I wanted to support Devon and his accomplishments. Overall, I believe the book was phenomenal," Moist said.