Parker Cumming
January 29, 2020
Junior Parker Cumming is a 17-year-old hockey player and currently plays for the Altoona High Hockey team.
"I play for two teams, the Altoona High School team and Indiana Chiefs travel team. For Altoona, I have 11 games played, eight goals scored and eight assists as well as 20 minutes in penalties. We have six wins and five losses. For Indiana, which is a much higher level of competition, I have 12 games played, 15 goals scored, 10 assists and 12 minutes in penalties. We have nine wins, two losses and one tie. My success this year is probably leading by example. Being a captain is a lot of responsibility. I don't really like to brag too much about points, but when we're tired or need a boost, I try to energize the whole team and just keep pushing them to keep battling until the final whistle blows," Cumming said. 
"
"
— If we end the game with a loss we know next time we face that team we're going to make sure they know they got lucky beating us once.
Cumming has been playing hockey most of his life, and is highly passionate about it. When in class, Cumming is often caught talking about previous games or conversing with his classmates about the sport.
"Playing hockey taught me quick thinking and always being on my toes. Whenever you make a mistake in a game, you have to hurry up and fix what you did wrong or what your teammate did wrong, so you don't get scored on. Hockey gets its charm from the constant grind and checking. To me, it's a huge factor in the game, and I love it. I love the fast pace of the game, and being able to watch a play breakout in seconds. That's just one of the things that makes hockey unique. The best part of hockey definitely is not always the best team wins. That's why playoffs are best of seven and not single elimination. I chose hockey because my older brother played when I was young, and when my dad asked if I wanted to give it a shot, I saidyes. I loved it ever since," Cumming said. 
With all of Cumming's experiences, he has a lot of stories to share and memories to reminisce.
"My most memorable moment from a game would probably be my first hat trick (scoring three goals in one game). We were down 2-0. At the start of the second period, I scored my first goal and then moments later I scored the second to tie the game 2-2. And with a few minutes left in the game, we still tied 2-2. I got a breakaway and scored to take a 3-2 lead and completing my hat trick," Cumming said.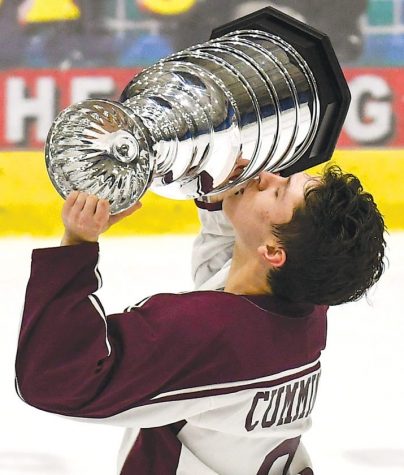 Although Altoona students do play on the Indian Chiefs, the team is made up of high school students from surrounding schools.
"Most of us played travel hockey together before or against each other before we played on this team together, but we all get along when we share the same jersey. The only problem with the team being from all different schools is we don't get the same recognition as the other high school teams. Our hockey team is so much more than just a team. It's a brotherhood, almost all of us have been playing together since we were about six-years-old and after so many years of winning, losing, heartbreak and mistakes we gel together and we all know our strengths. We have many games under our belts and after each game, we learn from it, and we continue to the next game knowing what we have to do. But hockey isn't a very common sport and not many people really understand the rules of the game," Cumming said. 
Like all other sports, hockey requires a lot of time dedicated on and off the ice.
"Most days we have two practices where we get on the ice for two hours. Game days are Tuesdays, Thursdays, Saturdays and Sundays. On the days we only have one practice, my best friend and I go to the gym together. Hockey is such a hard sport whether you're good or not. I don't mind going to stick and shoot alone or the gym alone, but most of the time I go with a few guys from the team. Then after we're done on the ice or the gym, we go out to eat and spend time together. School can also be hard to keep up with sometimes, but I make the most of the free time I have. Whenever we miss a day for a tournament, we have off time in between games and we all sit down and do homework the first night, so we can get it out of the way and keep our mindset on winning and bring home the trophy. My parents also love to go to the games, so whenever I have a game they're always there with me," Cumming said. 
Before each game, Cumming has a few pre-game rituals that he does.
"I have rituals to do before a game on and off the ice. Whenever I'm getting dressed I put on my headphones and listen to music to distract myself from anything outside of hockey. Then whenever I get on the ice, I make sure to warm up my feet, hands and legs to get ready for a game. When the game starts, I like to take it one shift at a time," Cumming said. 
Hockey can sometimes be hard to come by, and it's hard to know who's a good player and who's not. Cumming; however, explains how he rates himself on the ice.
"Honestly, hockey takes up most of my life. Playing hockey is 100 percent the best decision I've ever made. I love the sport to death. If I never played hockey I would've never met all of the amazing people I know today who I've become very close friends with or the coaches that shaped me into the young adult I am today. And I'd probably be trying out other sports trying to find something to do. At this point, I just let my game do the talking. If someone doesn't know my skills, I just get on the ice and show them what I can do. I like to believe hard work and discipline go a long way. Whenever I started hockey, I barely made the team. But after a few years of hard work and training, I'm now a captain of the team. My top three strengths are probably my speed, my wrist shot and probably my determination or stubbornness depending on who you ask. Hockey players are extremely superstitious. For example, after I tape my sticks I don't let my blades touch the ground until I get on the ice. Also, when I'm getting dressed I put my skates, socks and knee pads on starting with the right leg first. Why I do that? Honestly, no clue but it works so I keep doing it," Cumming said. 
Cumming was recently chosen for Altoona's Hockey player star athlete.
"I want the world to know my love for the game, and if you ever get the chance to play, you should 100 percent take it," Cumming said.