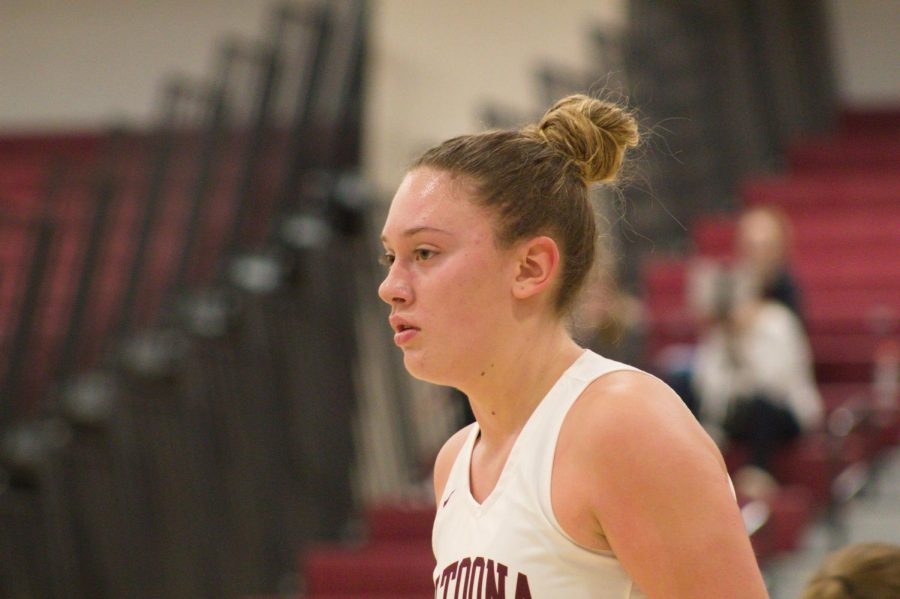 Nothing can break star basketball player Caranda Perea
January 21, 2020
In high school, a sport can make or break a student. With months of practice and preparation added onto hours of homework, many athletes decide that their sports career will end with high school–but not senior Caranda Perea. 
Ever since she was three-years-old, Perea has been focused on becoming a professional basketball player. Perea currently plays on the girls' basketball team while simultaneously having after-school training sessions and taking four AP classes.
As a player, Perea is lauded for her accomplishments in basketball. Due to her skills, Perea has been accepted into George Washington University with a full ride to play divisional women's basketball. However, Perea's rise to success didn't happen within a year or two. Perea has endured years of stress, the ups and downs, to reach where she is now. 
"In seventh grade, my traveling team went to nationals in Florida. I played horribly; I mean I played so bad. My coach was talking to me and was really hard on me. He told me if I didn't get it together that I would never play college basketball. I think at that moment I thought to myself I might not be able to do it, to become a professional basketball player," Perea said.
Instead of being agitated or intimidated, her coach's words inspired Perea to work harder. 
"At that point, I wasn't training so that's when I started religiously training every day, and that's when I started to get better. Performing badly at nationals helped me in a way even though it was hard at that moment," Perea said.
For some athletes, tough love from a coach seems unrewarding while other athletes believe tough love can produce positive results. Perea believes the latter.
"I do think tough love works and that some people can't handle it. I think it's necessary because when you get to college and you want to play college basketball those coaches are going to push you, so you have to be able to handle it. I think for me it worked out. You have to do that at an early age because then when [athletes] get older they just crack and become very emotional when they hear the truth. It's not a personal thing though; it's just the coaches trying to help you," Perea said. 
Today, Perea has a personal trainer whom she trains with every day for an hour. Once the season is over, Perea continuously trains for three hours a day to stay on her game. 
The confidence Perea displays on the court isn't something she's always had. For Perea, to gain her confidence required years of effort and the help of others.
"I think [my confidence] developed over time. When I was younger I just played to have fun and then when I was in seventh grade I got my first letter from a division one college. After that, the more letters you get, the more coaches that talk to you, the more confidence you get," Perea said.
Despite Perea's record and her overall skill, she still believes she can still grow as an athlete. 
"I think there is always room to improve. There's a lot of little things to improve on. I can make my handle better, and I can improve on my attitude, too," Perea said.
With the stress sports can bring, some athletes may struggle to find a way to enjoy the experience. For Perea, she makes it her goal to remember why she loves what she does.
"I think you have to remember why you started playing in the first place. I mean that's with anything like people who do band, people who play soccer–you just have to remember why you started it. For most people, they started their sport because they loved it and because they thought it would be fun. So anytime if you're upset or frustrated, just remember that this is supposed to be fun. That's what I try to tell myself when I get upset," Perea said.
Perea notes the lack of school spirit shown in students in general. Many students don't attend basketball games, especially women's basketball games.
"I think our school spirit in sports is definitely lacking. I mean, no one really comes to the games, mainly the girls' games. I think the parents try and do a good job with it, but when you go to the boys' games, half the school is there. Last Friday, they played Hollidaysburg, and everyone was there," Perea said.
To Perea, the stigma against women's sports is a national problem.
"Especially in America, people are focused on speed and power. That's why the NFL and NBA are so popular because those guys are just so fast and so strong, but with the women's sports, it's more about skill and finesse. I just think the knowledge of the game is not there, and people don't respect the finesse and skill of the women's game," Perea said.
Although many students don't attend the games, college representatives have come to several Altoona practices and games scouting for future players. 
Perea received her first full ride offer in ninth grade. However, the college Perea had in mind had also been watching her since she was in eighth grade, and she soon committed to George Washington University in tenth grade. 
In Perea's life, she shares a close bond with her mother. She even credits her mother for encouraging her early interest in the game.
"It's always just been me and my mom. When I would wake up before her, I would go downstairs and watch TV, and the first channel that would be on was ESPN. I would just watch basketball when I was little every day, and that's how I learned to love it. My mom learned the game with me because she never did any sports when she was younger. She's always been so supportive of me," Perea said.
Throughout Perea's career, her mother has kept in mind the bigger picture.
"[My mother] is always trying to find the balance in my life. Because one day, basketball isn't going to be there, so she doesn't want me to not have anything. She always is trying to tell me that school and being with your friends is important because sometimes I'll forget to hang out with my friends because I'm spending too much time with basketball. She'll just let me know that those things are important too in life. She always makes sure my life is balanced," Perea said.