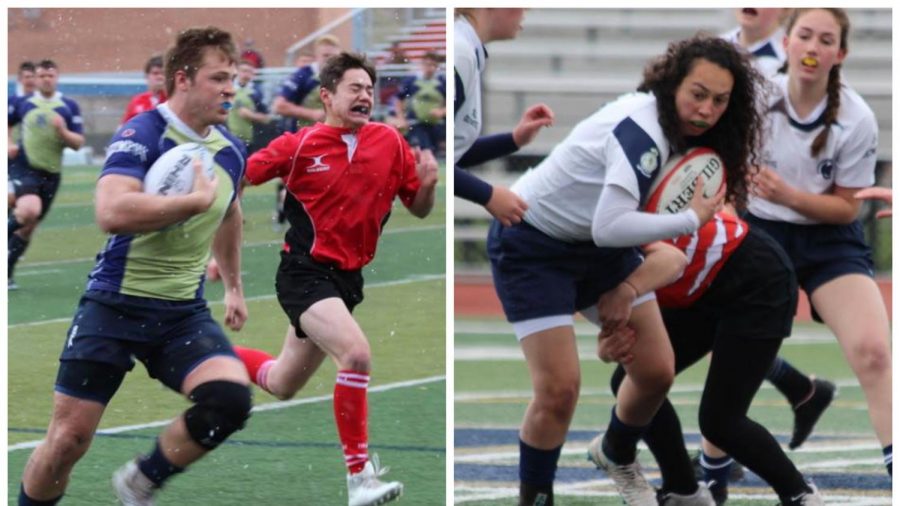 Rugby making its mark in boys, girls sports
February 11, 2020
The British sport of rugby has been around since the eighteenth century but is just now becoming more popular in America. 
Open to students from all over Blair County, Hollidaysburg has both a boys' and girls' rugby team. This spring, the program is looking to expand both teams.
Coach Andy Haines is the coach for the Hollidaysburg rugby boys' team. Haines played rugby throughout his college years and joined several men's teams after graduating. Altogether, Haines has played rugby for 30 years. Haines helped create the rugby program in Hollidaysburg.
"When my son was in eighth grade, a friend of mine, Mark Dellinger, and I started the program. My son didn't like baseball, and he didn't really want to do track and, in Hollidaysburg, those are the only two sports for boys," Haines said.
Along with the boys' rugby team, there is also a girls' rugby team. Haines also helps organize the girls' team with Summer Lauber, the main adviser and girls' coach. Lauber played rugby in college at St. Bonaventure.
For many local students, as well as for many in America, rugby is an uncommon sport, yet Haines claims the sport isn't that different from others.
"[Rugby] is a combination of football, soccer and basketball. It's the grandfather of football–football evolved from rugby," Haines said.
Football and rugby consist of several similarities such as the tackling of opponents, running the ball and the use of touchdowns.
"
Everyone who has played rugby came to the game not knowing anything about the sport. We welcome new players…It's a really easy game, as there are fewer rules than in football, baseball and basketball."
— Coach Andy Haines
Despite their similarities, there are also major differences between the two sports. Except for a mouthguard, protective equipment such as helmets and shoulder pads are not used in rugby.
Yet without the use of protective gear, rugby is still a safer sport than football.
"Football definitely has more injuries than rugby. There's no blocking in rugby, and there are more tackle rules in rugby. You're not allowed to hit people with your head, and if you tackle someone too high you actually might get kicked out of the game. We have found over the past six years of having a boys team that we have fewer injuries than most football players," Haines said.
Many rugby athletes participating in the program are also involved in football. For football players looking to advance their playing ability, rugby offers experience and a way to strengthen those skills.
"Football players that also play rugby tackled more efficiently and safer than those who didn't play rugby. Rugby makes football players tackle lower, using their shoulders and their arms rather than their heads," Haines said. 
In 2018, during Hollidaysburg's football season, the rugby players made 40% of the tackles on their team, and no concussions were reported.
"We have about 20 football players on our rugby team right now who play because they feel that it makes them a better football player in the fall," Haines said.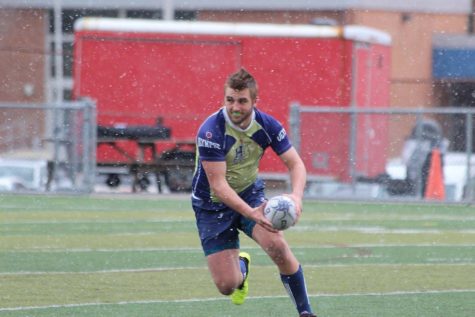 However, rugby isn't just made up of football players, as it consists of all different athletes and even boys and girls who don't have an athletic background. 
"We have wrestlers, and we have a couple of kids who don't do any other sport. On the girls' team, we have some soccer players, softball players, girls who do track, we have a couple of girls who do basketball and we have some that are in the band. There's a combination of kids who play other sports and kids who don't," Haines said.
Whether an experienced athlete or not, rugby is a sport that requires no prior training and knowledge.
"Everyone who has played rugby came to the game not knowing anything about the sport. We welcome new players. We never make fun of guys or girls that don't know the sport because it's not a common sport. It's a really easy game, as there are fewer rules than in football, baseball and basketball," Haines said.
Rugby pulls students from across Blair County. The rugby teams have athletes from Altoona, Bishop Guilfoyle, Hollidaysburg, Bellwood and Bishop McCort.
Despite the different backgrounds, Haines finds that players easily bond over the sport.
"Once the kids start practicing together and get to know each other, they forget what school they went to and just become friends," Haines said.
The reason many players connect within the sport is due to Haines' coaching approach and style with the team itself.
"I want the kids to have fun. We are a very player-centric team as well. The captains and leaders of the team get together and see who's going to start. We have very little politics–actually almost zero because it's such a player-driven sport," Haines said.
The rugby teams practice two days a week, this way students with jobs or commitments to other out-of-school activities can easily manage their schedules.
Because rugby isn't as demanding or overwhelming as other sports, Haines hopes for his athletes to have fun on and off the field.
"My approach is that sports should be fun. You want to go to practice and have a good time, laugh and enjoy it. There's no yelling–the other coach and I might get excited during a game, but we don't yell like some other coaches," Haines said.
"In life, you need to challenge yourself. Life is about trying new things and rugby is a great sport you can play the rest of your life. Wherever you go in the world–England, France or South Africa–it's a huge sport and rugby players are like brothers and sisters," Haines said. 
For this season, practices for the girls' rugby teams are on Sundays from 3-5 p.m. and on Fridays from 6-8 p.m. at the Hollidaysburg Junior High gym on Hart & Union Street. For the boys, practices occur on Saturdays from 3-5 p.m. and on Thursdays from 6-8 p.m. at the same location.
"If you're looking for a sport where you can make new friends and try something new and get in good shape, then rugby is a great sport for that. If you try it and you don't like it, it's not the end of the world. We have a couple of kids that come out and just decide that maybe it isn't for them and that's okay. But if you never try anything, how do you know you'll like it?" Haines said.
Practices will continue every Sunday until March 1 and every Friday until Feb. 28 for the girls' team. For the boys' team, practices will continue every Saturday until Feb. 29 and every Thursday until Feb. 27.
For both the girls' and boys' teams,  games will begin on March 15 and continue on Sundays.  Times for the girls' outdoor practices are not yet scheduled. For the boys' team, outdoor practices start on March 3 and will continue every Tuesday and Thursday from 5-7 p.m. All games will be held at the 'Tiger Stadium.'