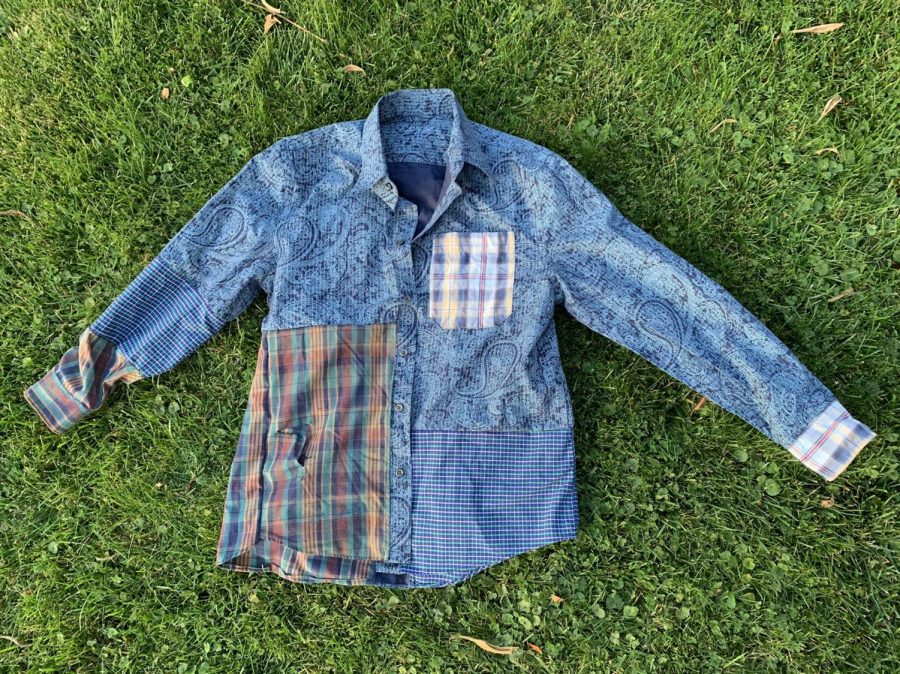 Rylie Whitaker
Students start sustainable clothing businesses
December 10, 2020
As conversations about sustainability have increased, the shortcomings of the fashion industry have fallen under increased scrutiny. The term "fast fashion" was coined to describe the clothing of larger retailers, such as H&M or Zara, which are cheaply sourced and produced, allowing customers to purchase them at lower prices.The issue with this comes when the cheap sourcing of the materials makes them fall apart quickly or the low prices allow consumers to buy more clothes than they need. To combat this issue, senior Rylie Whitaker and 2020 alumna Gretchen Messner have started sustainable clothing businesses. 
Revival By Rylie
Senior Rylie Whitaker started her business, Revival by Rylie, at the end of October. 
"My grandma taught me how to sew when I was little. Two or three years ago I made my first evening gown, and I continued making clothes. I wanted to continue making clothes but wanted it to be good for the environment, so I started this," Whitaker said. 
Whitaker is part of the Young Entrepreneurs Academy, a class that teaches students how to start and run their own business. Students meet with other business owners and meet once a week to discuss the ins and outs of running a business. At the end of the course, students pitch their business to Blair County Chamber of Commerce, similar to "Shark Tank," to ask for investments. 
Whitaker's business focuses on updating items found in thrift stores and sewing items of her own design. 
"Whenever I make something original, I take my sketch and find the fabrics that I want. Then I'll do a first fitting, put it on the dress form and then make a second fitting with any alterations. For revivals, I buy clothes from second hand shops and then alter them in some way so that they are more modern. For example, I bought some flannels of similar sizes from a store and cut them apart and then patchworked them together so that they are more updated," Whitaker said. 
Whitaker operates her business on Instagram @revival.by.rylie and Etsy. 
"I've put a website together four times. It's a lot more work than I thought it would be. I thought it would be pretty simple, but running the website and writing the business plan is kind of overwhelming. But now I feel like I've got a control on everything because I know what my strengths and weaknesses are," Whitaker said. 
Whitaker hopes to expand her business in college to include evening gowns and prom dresses.  
"It really does take a lot of time to make something and that really isn't something that I have a lot of right now. Hopefully in college, I'll have more time. I want to make evening gowns and prom dresses for other students, but obviously with everything going on right now, prom is up in the air and people aren't really buying dresses," Whitaker said.
Leave a Comment
What We Don't Want
2020 alumnus Gretchen Messner launched her business, What We Don't Want, at the beginning of the summer.
"I started my account because of two things: my interest in fashion and my interest in sustainability. I think quarantine really did a lot to me. While I was doing nothing, I got really into clothes and fashion. It gave me a lot of joy. When things started to open back up again, I began thrifting a lot more. I also used that time to learn a lot more about sustainability and how good thrifting is for the environment. New clothes use so many resources and factories [that] pollute the Earth. The combination of those two things inspired me to start my account," Messner said. 
Messner operates her business on Instagram @whatwedontwant. It focuses on reselling thrifted items and creating custom "bundles" for customers. The "bundles" are packages of clothes Messner will put together at the customer's request, similar to companies like Stitch Fix or Trunk Club. Depending on the size of the bundle, the customer will receive shirts, pants, jewelry and accessories tailored to their liking. 
"I'll go thrifting three to four times a week, and I look through everything. And I mean everything. I'll go through the men's section, women's section, shoes, jewelry, accessories, everything. I try to pick out things that I think would sell well or pair with a bundle. Right now, the weather is getting colder meaning that more people are requesting sweaters and coats. Graphic tees and Y2K fashion is also really popular. If you went somewhere like Urban Outfitters, you could easily spend $50 on a singular shirt. With my bundles, you are getting a lot of product, so I feel that everything is very reasonably priced,"  Messner said.
Messner plans to grow her business by placing ads on Instagram in the future. 
"My current giveaway has given me a lot traction and more people have seen and followed my account. I'm majoring in exercise physiology at Saint Francis, so it is definitely a conflict of what I want to pursue," Messner said. 
Although Messner's plans for college are different than the business she has now, she has learned some valuable life and business lessons from starting her business. 
"You have to be really patient. You have to be willing to put in the time and effort to get where you want to be. I've learned to have fun with it and I really enjoy it. The whole thing is a learning experience for me," Messner said.
Leave a Comment