Local band discusses how they formed, releases debut single
For most people, music is an enjoyable yet momentary experience. But for those who seriously practice an instrument or have aspirations of making it big in the music industry, it can be something more than that. This is the case for Bruce Boring, Mitch Caprio and senior Jace Ebersole. 
The three formed Befell, a metalcore and hardrock band, in September of 2020 with Boring and Caprio on guitars and Ebersole on drums. 
Boring, a 20 year old from State College, got his start in music in sixth grade. 
"AC/DC was my favorite band, and my dad played the guitar so I asked him to show me a few chords. I picked up on it pretty quick, so I started learning AC/DC tunes and taking lessons. I took lessons for about two years and have been teaching myself ever since. Then I took piano for about a year and then discovered drums, so I started taking drum lessons. I only played AC/DC on guitar for about two years and then my dad showed me Metallica which really provided a challenge for my guitar playing and helped me get better," Boring said. 
Similar to Boring, Caprio, a 24-year-old from Bellefonte, also got his start in music through family. 
"My dad and pap got me into it because they were also musicians. I started playing drums when I was six and then played the guitar when I was 13. I didn't start practicing the guitar too much until I saw Avenged Sevenfold live in high school and they blew me away and that was the moment that I decided I wanted to play lead guitar in a band," Caprio said. 
For Ebersole, being in a band has been a goal for quite some time. 
"I got into music before I can even remember. From what I was told, I had wanted to play the guitar, but it's difficult to get a guitar for such a young child. Then I picked up drums and then guitar and then the bass. I mainly focused on the drums because it is generally easier to find a guitarist, and I knew that as a drummer, I would be more wanted. I got really into music around freshman year and learned how to cut frequencies, mix music and layer everything together. For me, it was a really cool surprise and I was shocked when I was asked to join Bruce and Mitch. They had played live and had experience," Ebersole said. 
Prior to Befell, Boring was a drummer for the band The Rest which played original punk songs and helped Boring improve his drumming speed. The Rest would eventually lead Boring and Caprio to meet. 
"It was the night of The Rest's final gig before the other two went to college. My drums were still in the back of my car, and I went to Sheetz for dinner. When I walked in, I saw a guy wearing the same AC/DC tour shirt I was. We started talking, and he said he had a band and they were looking for a guitarist. I gave him my Instagram, and he DM'd me about two weeks later and gave me their practice spot. I walked in and saw the guy I met at Sheetz and met Mitch," Boring said.
After several years of trying to start a band, Caprio and Boring found Ebersole through word of mouth. 
"I found out about Jace through a mutual friend and was relieved to find out that we all had the same music taste, that he was into making original music, and could actually play the drums. Now I feel we've finally got something good," Boring said. 
The band started to write songs remotely in September of 2020 and then met in October to record them.
"There were a few songs that we wrote together over FaceTime, and then there were other songs that just needed to be finished. We started with the instrumental and then went into the lyrics and vocal patterns and recorded them at Mitch's house. Whenever you're recording, you want to go through each section as its own take and then blend them together to get a bigger sound and add harmonies to make it fuller," Ebersole said. 
The band name came from a combination of factors. 
"We had trouble finding a name that both wasn't used and sounded good. The actual name comes from a Trivium song called 'Brave This Storm,' and in it, they use the word befell. We thought it sounded pretty cool and went with it," Ebersole said. 
The band released their debut song, "Terrain," on Jan. 1. The song is available on YouTube and Bandcamp. 
"When mixing the intro to Terrain, the buildup on the demo was very different and the guitars were basically untouched. The harmonies were both mono and were rotating on the panning constantly, but I wanted more width. So I figured to add a more widened effect a flanger would make it sound bigger as well as keep the harmonies panned hard instead of moving," Ebersole said.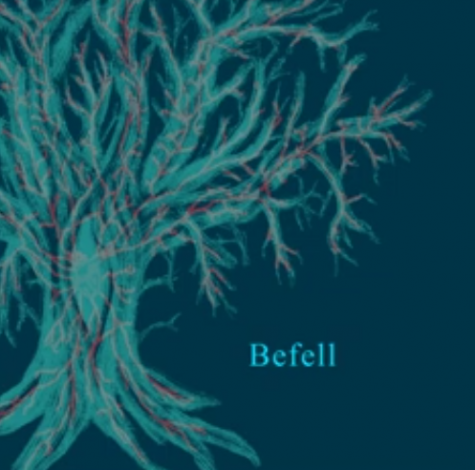 The album art was created by senior Noah Mayer, a computer programming student at the GACTC. The piece can be viewed as two different images if it is viewed with a blue filter or a red filter. 
"Jace wanted a tree and heart and I saw a double exposure mural and branches that looked like veins so I just merged the two. I've done another one for Jace before this and I also made two other pieces of album art for another student musician, Chris Pérez," Mayer said. 
The song will be available on all streaming services on Jan. 12 and the full album, "Uproot," will be released on Feb. 12. 
"We only have one song out so far but we are planning on doing another in a few weeks and then an EP in a few weeks, which will be a great way to gain traction," Ebersole. 
After high school, Ebersole plans on attending the Conservatory of Recording Arts and Sciences (CRAS). CRAS is an audio recording, sound engineering and music production school in Arizona. 
"Unless something major changes and the band really takes off, I'm going to participate in their nine-month program. We are going to write songs remotely and use the recording equipment at the school so that we can continuously release music," Ebersole said. 
Right now, the band is in need of a bassist. Any bassists interested should contact the band via Instagram @befell_band. The band can also be followed on Twitter @BandBefell and TikTok @befelltheband. 
Leave a Comment
About the Contributor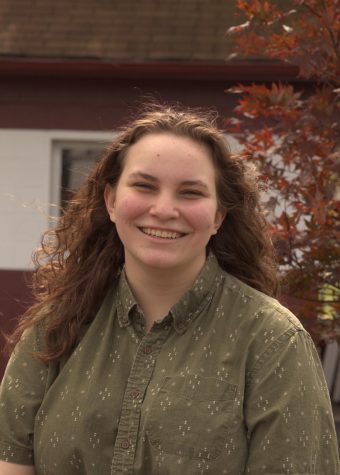 Sonia Yost, Reporter
Hey there stranger! My name is Sonia Yost, and this will be my third year writing for the newspaper. Last year I was an associate editor, and I'm thrilled...