Students to return to building Feb. 16
Principals Andrew Neely and Jason McGinnis answer repeated questions about how normal everyday activities will work in the new building.
February 11, 2021
With the return to school on Feb. 16, students and parents question basic things about the new school such as how the nurse's office will work and where to take student excuses. Principals Andrew Neely and Jason McGinnis plan for a smooth transition from virtual learning to in-person learning, but still want students to remain safe and healthy from COVID-19.
The schedule for returning students is different than it was in the fall. Now, Group A will be in-person on Monday, Wednesday and alternating Fridays. Group B will be in-person on Tuesdays, Thursdays and the opposite alternating Fridays.
"Any student wishing to change their mode of instruction from in-person to virtual learning and vice versa or to switch groups needs to have their parent contact their assistant principal to have it changed," Neely said.
Another change is that students will not have to sign in via Google Forms as usual. Attendance will be taken in first period.
"For students who don't have a first period, they will sign into homeroom the same way as if they had a course first period. No different," counselor Tracey Biesecker said.
When students returned in the fall, they didn't receive IDs and questioned if they would be getting them all this year.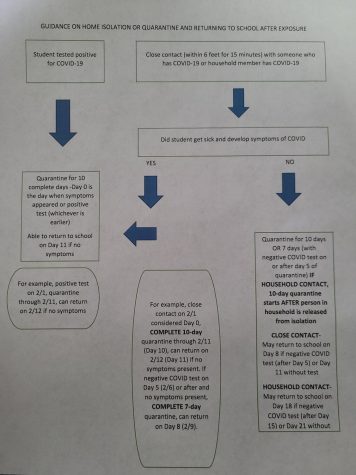 "Upon returning, students will be given an envelope that has important information as well as their IDs and lanyards. We will resume to normal operations," McGinnis said.
Another change to the new building is that there isn't an attendance office. There is now an attendance secretary in each principal's office.
"There is no attendance office. Students will go to their assistant principal's office to drop early dismissal notes, and they will take their excuses there as well," Neely said.
There is no longer a nurse in the A building, and students will need to go to the new building in order to see the nurse.
"Nurse visits will be the same as in the past. Students will fill out their pass and report to the nurse's office. They are located on the first floor of the B building next to the main office," McGinnis said.
If the school reaches a number of five positive cases, students will return to the virtual setting.
"We wouldn't be sending the students home for a whole marking period. I'm not sure how long students would be virtual because this changes based on a number of factors. I think in most cases it is only a couple of days," Neely said.
Many students and parents hope that the school board would consider sending all students back.  
"The school board would consider sending everyone back when our region is out of the substantial category in regard to cases of COVID-19," Neely said.
McGinnis is excited to see students back in the building, and many students are excited to see their friends.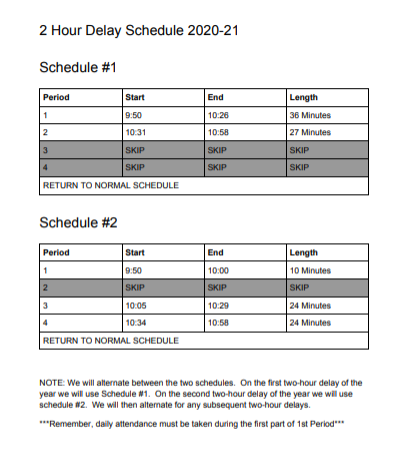 "We look forward to the 16th and we are working on that plan of return. We have reviewed and revised our plan to ensure this is as safe as we can make it. We want the kids back, but we also want to make sure that we are doing it safely," McGinnis said. "If anyone has questions I encourage you to reach out to your assistant principal who can further guide and direct you."
There is also a change in the two hour delay schedule. On the first two hour delay of the year, school will begin at 9:50 a.m. and third and fourth period will be skipped. On the second two hour delay, school will begin at 9:50 a.m. and second period will be skipped. These will alternate.