Splish, splash, they're having a blast
Students continue annual water gun competition.
With many school traditions getting canceled this year, students found it necessary to uphold certain yearly activities. On Feb. 20, the 2021 Altoona Assassins game was announced. This year, seniors Bob Mancinelli and Scott Lawhead found it important to continue the non-school affiliated game. 
Altoona Assassins has been a lasting tradition for students.
"I didn't get to play my sophomore year, and after seeing everyone have fun, I knew I needed to play the next time I could," senior Riley Steinbugl said. 
"I wish I knew how long it's truly been around. After talking to some AAHS alumni, I would guess Assassins has been played for at least five to eight years," Mancinelli said. 
Although the game is typically played every year in the spring, last year's game was canceled following the loss of classmate Devon Pfirshing.
"The shooting last year was a terrible event. Assassins was even cancelled. We wanted to be respectful to all those affected, and we feel bringing the game back provides a sense of normalcy, as well as a way for kids to have fun in an appropriate way," Mancinelli said. 
Mancinelli and Lawhead created a new Twitter account for this year's game to share rules and videos. 
"Twitter has traditionally been how Assassins is run. We decided to continue the practice because it is convenient and widespread," Mancinelli said.
"Players were required to send in videos of them eliminating their targets, so we keep track of who was in and out. We then posted those videos on the Twitter account," Lawhead said. 
This year 90 students played. 
"We initially only got a limited amount of participation. We attributed the lack of enthusiasm to virtual schooling, so we opened up registration for an extra week and allowed late entries for an additional cost. This increased the pot by 50%. The winning team will be awarded $650," Mancinelli. 
Mancinelli and Lawhead randomly assigned teams their targets. 
"The game is a simple single-elimination bracket. We put all the names in a Google spreadsheet for each round and randomly select teams' targets using numbers assigned to each team," Mancinelli said. 
The game has lasted five weeks, with there still being multiple rounds left. 
"Starting Twitter beef with other people in the game was my favorite part this year," junior Erik Rhodes said.
"My favorite memory this year was getting my targets out the first week. It was so refreshing being able to have a normal activity to participate in this year," Steinbugl said. 
Many players found difficulty with their targets still being virtual. 
"Something I didn't like about this year's game was just how this year's game was harder as some players were virtual. It was complicated because they wouldn't leave for school in the morning, and after school, I would have softball, so I never had a good time to get them," senior Kendra Houp said. 
"
…it is an enjoyable time for many students, especially during this ever uncertain year."
— Bob Mancinelli
We understand that assassins can be chaotic. However, it is an enjoyable time for many students, especially during this ever uncertain year. Additionally, there are no consequences to the game aside from potentially getting squirted with a water gun," Mancinelli said. 
This year multiple students suggested Mancinelli and Lawhead run the game.
"Student section came to a group consensus that Scott and I should do it, so we did," Mancinelli said. 
"We would love for people to understand that managing the game takes far more time and effort than one would anticipate. Scott and I spent hours upon hours dealing with the game structure and various controversies. It was not a cash grab for us," Mancinelli said. 
Mancinelli and Lawhead had multiple favorite parts of running the game. 
"I don't want to speak for Scott, but I think we both enjoyed the leadership aspect of being a game master. Following the game has been fun given our complete knowledge of the bracket," Mancinelli said. 
"My favorite part was seeing all the videos of people having fun," Lawhead said. 
About the Contributor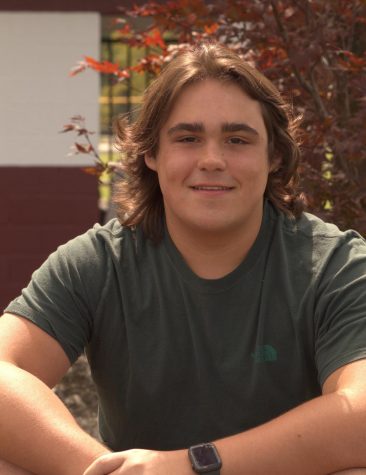 Ben Blackie, Editor In Chief
Hi! I'm Ben Blackie and I'm a senior at AAHS. This year, I am the Editor in Chief of the Mountain Echo. I took on the role my junior year, and I'm...