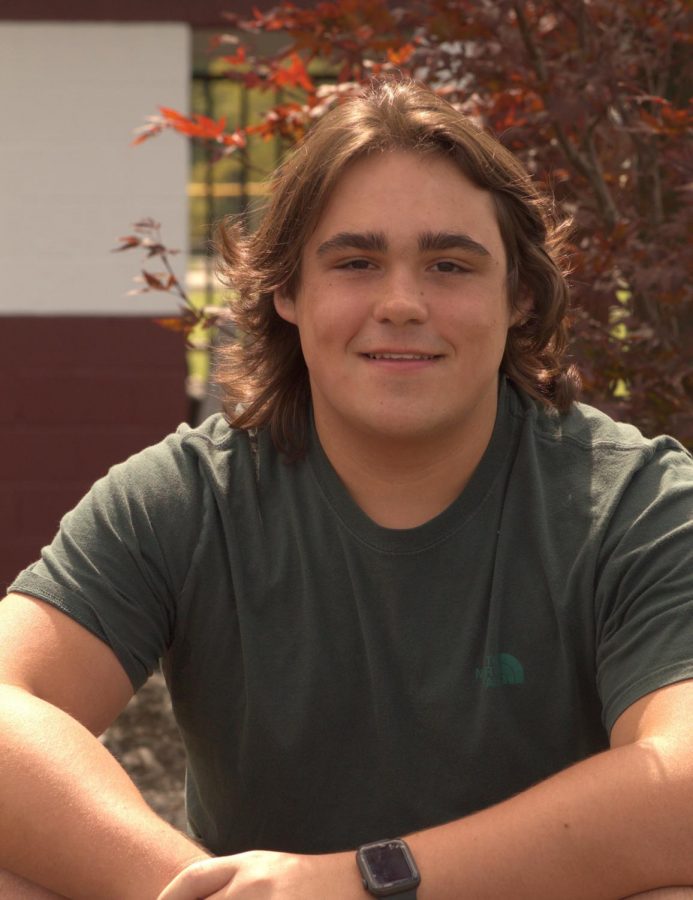 Hi! I'm Ben Blackie and I'm a senior at AAHS. This year, I am the Editor in Chief of the Mountain Echo. I took on the role my junior year, and I'm excited to see what this year's staff and I can accomplish. My interests include photography and social media. I enjoy portrait and landscape photography. My favorite thing about portrait photography is being able to express emotion through the picture. My favorite part about photography is the editing process and being able to transform an image into something better. If you're interested in seeing my work you can visit my website,
https://www.benblackiephotography.com/
, or my Instagram, @benblackiephotography. After high school, I hope to become a high school teacher and pursue photography as a side job. Besides being involved in news writing, I am also a part of the yearbook staff, student council and football. On offense, I play guard and on defense, I play defensive end. I recently finished the show 'Shameless' on Netflix. My favorite movie is 'Dark Shadows.' I enjoy all types of music, but my favorite genre is alternative rock/indie. I also enjoy creating playlists on Spotify to suit different moods or feelings I may be in. 
Ben Blackie, Editor In Chief
Jan 22, 2021

Athletes return to practices, games

(Story)

Jan 15, 2021

I Simply Love

(Story/Media)

Jan 08, 2021

Perez learns more about his heritage

(Story)

Jan 08, 2021

Senior athletes stay in shape during shut down

(Story)

Dec 18, 2020

Student council membership surges

(Story)

Dec 18, 2020
Dec 16, 2020

Harrington assumes new role as assistant principal

(Story)

Dec 11, 2020

Students express feelings of virtual education

(Story)

Dec 09, 2020

New camera policy introduced

(Story/Media)

Dec 03, 2020

How do you feel about the school board's decision on being full virtual?

(Story)

Nov 18, 2020

Fetter expresses love for journalism

(Media)

Nov 18, 2020

GACTC remains hybrid since August 

(Story)

Nov 17, 2020

Girls' soccer team remains undefeated throughout season, advances to state tournament

(Media)

Nov 10, 2020

Staff details orientation plans for students coming back

(Media)

Nov 10, 2020

Football wins D6 championship

(Story)

Oct 27, 2020

Girls' soccer ranked #1 in state

(Story/Media)

Oct 09, 2020

Covid restrictions don't restrict school pride

(Story)

Oct 02, 2020

Football gets chance to go 2-0 against rival team

(Story)

Sep 30, 2020

School district allows 33% capacity at sporting events

(Story/Media)

Sep 24, 2020

Football prepares for first game despite Covid-19

(Story)

May 21, 2020

School makes plan for 2020 graduation

(Story)

May 11, 2020

How are you protecting yourself from Covid-19?

(Story)

Apr 27, 2020

Student workers deemed "essential", "non-essential"

(Story)

Apr 14, 2020

School district collects masks for on-site employees

(Story)

Apr 06, 2020

What's one thing you miss or enjoy about not being in school?

(Story)

Mar 23, 2020

AASD closed two more weeks

(Story/Media)

Mar 09, 2020

Students create bracelets to memorialize Pfirshing

(Story)

Feb 21, 2020

Winter sports wrap up

(Story)

Feb 07, 2020

ACT to be held Feb. 8

(Story/Media)

Feb 05, 2020

School board to decide major changes for 2020 year

(Story)

Jan 16, 2020

Girls' 4×2 team sets new record

(Story)

Jan 14, 2020

Student body lacks involvement in school, sports and activities 

(Story)

Jan 13, 2020

Gymnastics meet 12/9 and chorus concert 12/13

(Story/Media)

Jan 03, 2020

Fall sports wrap up special edition

(Story)

Dec 20, 2019

Winter sports teams look ahead for 2019-2020 season

(Media)

Dec 13, 2019

Gymnasts win home opener

(Story/Media)

Nov 27, 2019

Livewire and Mountain Echo November parties

(Story)

Nov 26, 2019

School district says "No" to virtual snow days

(Story/Media)

Nov 15, 2019

Boys' soccer team captures District VI Championship

(Media)

Nov 15, 2019

Mountain Echo begins fundraising

(Media)

Oct 29, 2019

Miller retires after 40 years with football program

(Story/Media)

Oct 28, 2019

Should teenagers be allowed to trick or treat?

(Story)

Oct 03, 2019

World wide group makes impact on high school teens

(Story/Media)

Sep 19, 2019

Boys' soccer game 9/18

(Story/Media)

Sep 13, 2019

Girls' soccer game 9/12

(Story)

Sep 12, 2019

Football prepares for next game.

(Story)

Sep 11, 2019

Fall sports stay hopeful for 2019 season

(Story)

Sep 06, 2019

Sept. 5 soccer game vs. Hollidaysburg

(Story)

Jun 04, 2019

Violent Ends features 17 YA authors

(Story/Media)

May 17, 2019

What's your favorite summer memory and why?

(Story/Media)

May 16, 2019

Krug, Palfey make changes to Keystone week

(Story)

May 13, 2019

Beaten, bruised, breaking records

(Story)

May 02, 2019

Mountain Lions perform "Little Shop of Horrors"

(Story/Media)

Apr 23, 2019

Blood thirsty plant terrorizes florist

(Story/Media)

Apr 12, 2019

Altoona to host Mountain Lion Tennis Classic

(Story)

Mar 15, 2019

"On My Mind" benchmark focuses on students' mental health

(Story/Media)

Mar 08, 2019

Where is your favorite place to eat and what do you get?

(Story)

Feb 13, 2019

Indoor track gives athletes winter competition

(Story)

Jan 29, 2019

Games club gives students platform to hang out

(Story)

Jan 04, 2019

This Is Where It Ends should be new must read

(Story/Media)

Dec 19, 2018

TSA club prepares for upcoming regional competition.

(Story)

Dec 17, 2018

Student council experiences big apple

(Story)

Dec 10, 2018

Santa Claus keeps busy this time of year

(Story)

Nov 27, 2018

Should Christmas music be played before Thanksgiving?

(Story/Media)

Nov 21, 2018

Students, clubs raise money for turkey fun

(Story/Media)

Nov 07, 2018

School needs multiple changes to make environment more modern, comfortable

(Story/Media)

Nov 06, 2018

Fire alarm boxes need plastic shields installed

(Media)

Oct 30, 2018

What is your favorite thing about fall?

(Story)

Oct 20, 2018

October school board meeting held

(Story)

Oct 11, 2018

TSA club prepares students for careers in technology

(Story)

Oct 11, 2018

Yearbook staff begins 2018 work

(Story)

Sep 22, 2018

Girls' tennis team gets second shot at Hollidaysburg rival

(Story)

Sep 22, 2018

2018 Yearbook class begins work

(Media)