Students' offer thoughts about Covid-19 vaccination
As Thompson Pharmacy partnered up with the school, more students are getting vaccinated. Through Thompson Pharmacy, the school was able to provide vaccination shots to any student who signed up.
Some students made the decision on their own that they wanted to get vaccinated once they were allowed. 
"When I got my vaccine, it was right when I turned 18, so it felt good to make my own decision. It didn't feel any worse than a flu shot," senior Jacob Corso said. 
Students expressed different motivations for vaccination. 
"I think everyone who wants to get vaccinated should. Especially since it will help us attend graduation and give us a sense of normalcy," Corso said. 
The vaccination clinic was held at the school on the first floor in the blackbox theatre area. 
"Thompson's vaccinating students is great in my opinion. It's good that kids like us get to become immunized and prepare to be back in school at the start of next year," Corso said. 
Since students are getting the vaccine, some may feel safer going into public and some are ready to get back to normal. 
"I am very glad I received the vaccine. I feel a lot safer being out of the house and around other people because there's a much lower risk of me making others sick," senior Sarah Graham said. 
The Center for Disease Control has  recently changed recommendations for fully vaccinated individuals.
"I think it's a personal choice, but lately it seems like the more people that get vaccinated, the more life becomes a little more normal. Immunity is like a team effort," Graham said. 
Some students believe that once they are vaccinated they shouldn't wear a mask anymore, others disagree with not wearing a mask. 
"If I were the CDC, I would not have announced that vaccinated people can stop wearing a mask. It creates a lot of issues because the recommendation relies on the honor system, and this pandemic has shown that many people don't care about doing what's responsible or having empathy for someone else's health," Graham said. 
The school district still requires the use of masks while in school. 
"Personally, I will continue to wear my mask indoors as a precaution. I think vaccinated people should probably be safe to go maskless outside, but I don't know about inside in crowded public spaces," Graham said. 
About the Writer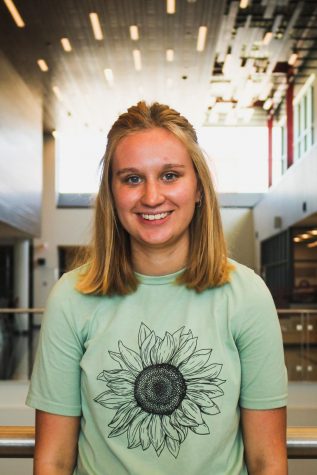 Maddie Cowfer, Reporter
Hi, my name is Maddie Cowfer. I am a Junior, and I write for the Mountain Echo. I first started writing my freshmen year for Livewire. One of my favorite...