"Jane Eyre" is my all time favorite book and here's why
"Now I remembered that the real world was wide, and that a varied field of hopes and fears, of sensations and excitements, awaited those who had the courage to go forth into its expanse, to seek real knowledge of life amidst its perils." – Jane Eyre 
I read "Jane Eyre" for the first time when I was nine years old. To this day, I can still say this book is my all time favorite. 
Charlotte Bronte wrote "Jane Eyre" under the pseudonym Currer Bell in 1848. At this time, it was difficult for women to manage to have their stories published, especially one as scandalizing as "Jane Eyre" turned out to be. Hence why the novel was published under a male name. 
150 years after the original publication of the novel, "Jane Eyre" still strikes a cord with many readers, myself included. 
Since my first time reading "Jane Eyre", I have reread the novel many times, and it continues to inspire me. 
"Jane Eyre" is a coming of age novel about a young girl named Jane Eyre. Her parents died when she was a baby, and she went to live with her aunt and uncle. Her uncle's dying wish was that his wife raise Jane as one of her own children. 
Starting when Jane is ten, the readers see what her life has turned out to be. Her aunt and cousins are abusive and cruel towards Jane, and she feels like she doesn't belong anywhere in the world. Finally, her aunt has enough of her, and she is sent off to Lowood Institution. 
When Jane is 18, she decides it is time for her to go out on her own. She spent eight years at Lowood, six as a student and two as a teacher. Jane longs for a change of pace, so she decides to advertise to become a governess. Her call is answered, and she quickly takes a position at Thornfield Hall.
While Jane is there she meets the arrogant and headstrong master of the house, Mr. Edward Fairfax Rochester. Jane and Rochester are quick to form a friendship and begin to fall in love. But, Mr. Rochester has a secret that if revealed could ruin his entire life. 
When I read "Jane Eyre" for the first time, I fell completely in love with it. Needless to say, I was obsessed. I watched every movie adaptation, read many retellings, had t-shirts and sweatshirts and went to the point where I was even listening to the musical. 
Now, after having reread "Jane Eyre", I still love the novel dearly, but for different reasons. 
When I first read "Jane Eyre", the love story between Jane and Rochester was my favorite part and what kept me invested. Although I love the relationship between the hero and heroine of the novel, rereading the story I have grown to love both characters for who they are separately, as well as together. 
Jane Eyre is a strong and independent feminist. She was ahead of her time and didn't care what society thought about her. She decided what she wanted for her life and nothing would stop her from attaining it. 
The amount of self respect that Jane has is immeasurable. She doesn't let other people role her and she knows her personal limits. When she has to make decisions, she doesn't back down from the difficult options, even if it is the last thing she wants to do because of what it will cost her. 
In my opinion, Jane is one of the bravest heroines in all of literature. She is such an inspiration to not only myself, but all readers. 
To say Edward Fairfax Rochester has had a rough life would be the understatement of the century. Rochester has been through a lot. He has made many mistakes in his life and suffers the consequences every day of his life. 
Rochester makes many choices that aren't always good, but he does them with the best intentions at heart. He isn't the typical hero. It could be argued that Jane and Rochester had a role reversal. Instead of Jane being the damsel in distress, Rochester is.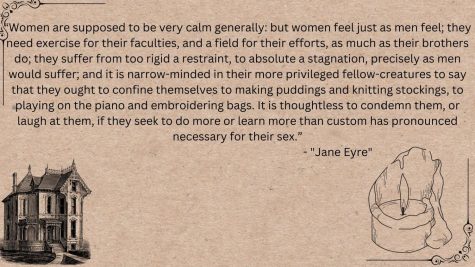 "Jane Eyre" is incredibly feminist for the time period of which it was written. Jane says and does many things considered unacceptable for the time period of the novel. However, no one can deny the raw truth and depth of what Jane says. 
"I care for myself. The more solitary, the more friendless, the more unsustained I am, the more I will respect myself."
"Jane Eyre" defies society stereotypes in everything it does. Jane is a governess who falls in love with her employer. Mr. Rochester is twenty years older than Jane, but they still manage to make their relationship work. Jane doesn't let a man decide who she is or how she wants to live her life. Even though she is poor, she refuses to live a life where she has to accept charity in order to survive. She will do whatever it takes to make it on her own. Most importantly, Jane respects herself. 
"Jane Eyre" is a story of love, empowerment, adventure, friendship and self worth. 
"Jane Eyre" is for the lost. For the romantics who dream of an epic love story. For the feminists who wish to be understood. For those who dream of escaping the monotony of their lives. "Jane Eyre" is for those who will never let anyone but themselves decide what they are worth. 
View Comments (3)
About the Contributor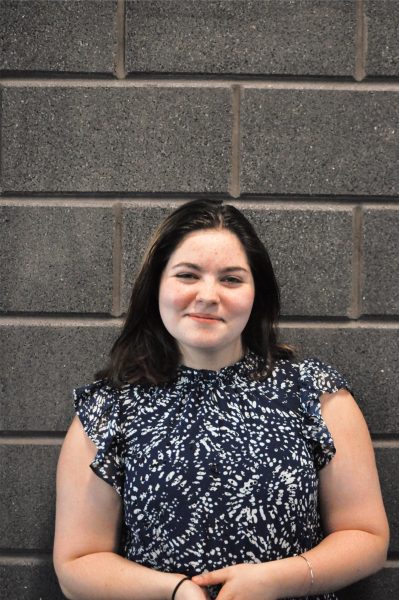 Madison Aboud, Associate Editor
My name is Madison Aboud and I am a sophomore at AAHS. This is my second year on Mountain Echo staff and my first year as an Associate Editor. In Jr. high,...