Eighth graders take advanced math classes
Four eighth graders at the junior high school were recommended to take higher math courses that would put them into the high school for one period. These students come to the high school everyday to be able to take their Algebra II class.
The students leave their third period at the same time as everyone else; they then walk across seventh avenue and walk through the main doors. They always get to their fourth period class on time and are often the earliest ones there. At the beginning of the year, they had a supervisor to walk with them, but they now walk by themselves.
The eighth graders have expressed their feelings on taking these classes along with being in a class filled with upperclassmen. 
"I was a bit nervous with all the people that are here, but as the year went through, I learned my way around and got used to it. It's a bit weird going to classes with people older than me, but since it's just a year it's not that bad. I have the other eighth graders in my classes that I talk to and work with on partner projects sometimes," eighth grader Isabella Abbott said. 
Some teachers will recommend these students when scheduling comes around so then they know the children and their work ethic. Current eighth graders who are now taking honors Algebra II classes were recommended to take higher education classes in sixth grade. Since then, they have taken a math class a level ahead of their grade if teachers recommend them to do so. Students who are now being recommended to take higher classes typically start in fifth grade after the grades were changed for schools in the school district.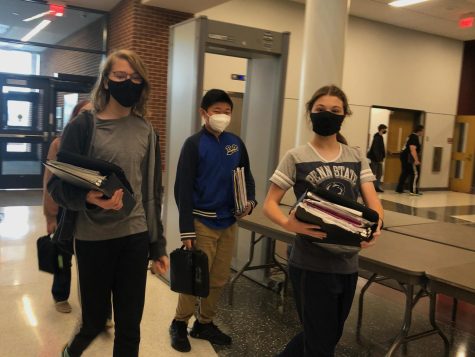 Some students even advance far enough to the point where they have taken all the math classes provided at the high school. If these students still desire to take math classes, then they can choose to go to Penn State Altoona. 
"They've already taken honors Algebra III, trig, AP calculus, and AP stat, so there's nothing left for them here for them to take. That's when they go to the Altoona campus. The school district doesn't pay for that so a student must provide their own transportation, and parents need to pay for the classes. We will put it on their transcript," counselor Sue Fox said. 
Some students don't realize until after they've gone to high school that they want to be advanced in math classes. Fox said that it's often difficult to do so as all classes are consecutive, but students would be able to take geometry along with an algebra class. 
"You could take geometry with an algebra class in the same year. Probably Algebra II and geometry at the same time and then that could get you further advanced if you want to be advanced. Two math classes in a year is pretty difficult, but it's possible," Fox said.