Physics Competition awards top students
On Tuesday, March 15, the annual physics competition took place in the Science Commons after school. 
"This year's scholarship challenge was for students to build a catapult," physics teacher David Borst said. "We gave them a box of supplies that they knew ahead of time what they would be able to use if they wanted to practice at home. Things like paint stirs, rubber bands, straws, a piece of wood; things like that. Then they had one hour to produce a catapult. They had a half an hour to test it and dial it in. and then they had three trials in the competition. Their furthest distance determines their score."
The competition was started by alumni Francis Wisniewski. After he graduated, he became successful and gave back to the school through scholarships. However, he didn't want the scholarships to be awarded through an essay, so he made it hands-on.
"So what I really like about the physics scholarship competition is the fact that it levels the playing field," physics teacher Jason Geis said. "And what I mean for that is students who weren't the best at math, weren't the best with the terminology, but they still may have learned the basic principles of physics, they can succeed in this competition as well."
This year, 13 teams participated. The top five received money for furthering their education. Maximilian Krier and Jake Hicks placed first with a distance of 11.14 meters and won $2,500 to split between them.
"So, I feel pretty good about it, I love money," senior Maximillian Krier said. "That's why I did this, just for the money. Not for fun or anything else, I just really love money."
"We really didn't plan it out at all," senior Jake Hicks said. " We just kind of went like 'ok, we're going to do it,' and then we won, and it looks like a torture device. But I mean it still worked, and we won." 
Four other teams placed in the top five:
In second place, with a prize of $2,000, was Luke Rokosky and William Secriskey.
In third place, with a prize of $1,500, was Jake Adams and Connor Reimer.
In fourth place, with a prize of $1,000, was Kaleb Spriggs.
In fifth place, with a prize of $500, was Dillan Dantos and Cameron Crawford. 
Next year, students who have passed or are passing physics with an 86% are encouraged to participate in the competition.
Leave a Comment
About the Contributor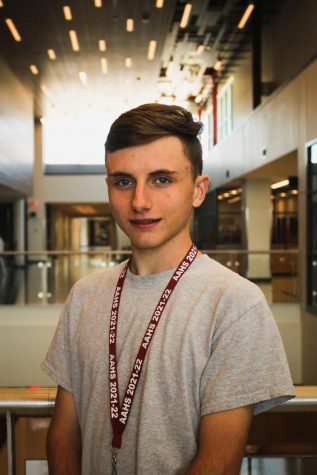 Connor George, Business Manager
Hey, I'm Connor George, and I'm a senior this year. I've been on the Mountain Echo staff for three years, and did Livewire for one year in junior high....