Fall play sign ups increase
The Drama Club hosted auditions for this year's fall play on Sep. 19 in the auditorium. A crew sign-up sheet was also posted with the different types of crews, including props, costumes and makeup, lights, sounds, stage crew, set building and set design.
The plot of "Puffs" consists of a group of kids who feel like they don't belong. Over the course of the story, they realize they all have something to contribute, and they are special.
"It is for people who are fans of the wizarding world, and also for people who maybe make fun of it and aren't necessarily fans of it, but will find the humor funny," drama director Ben Cossitor said.
Cossitor has had Puffs on his radar for the past couple of years but has just been waiting for the right year.
"This year seemed to jump out just because we had such a great turnout last year, so I knew we had the numbers to pull it off. We were also due for this kind of screwball comedy where we just kind of go up on stage and have a blast," Cossitor said. 
This is one of the largest cast and crew turnouts for the fall play the Drama Club has had.
"We had a lot of interest this year, which is awesome. I think there was interest in the play title because it's a pretty well known topic but also coming off the last really good year. So it kind of all came together," Cossitor said. 
Some of the possible factors to why there was such an increase of sign-ups this year are due to the topic of the production and because COVID-19 is no longer such a large issue.
"You know, coming out of the weird years, I think we're slowly getting more and more kids that are interested in actually coming out and doing things where maybe they were afraid things would shut down again and just kind of stayed at home before," Cossitor said. 
The play was originally done with 11 actors all of which were in charge of doing multiple things.
"It actually kind of worked out that we could split out the parts a little bit more and have more kids involved by taking some of the 20 parts that were played by one person and instead having 10 parts played by two people so that it kind of actually worked out I think better because of that," Cossitor said. 
In order to create a set design, the director has to note important things from the script that have an impact on the plot of the story. 
"So for this particular play, I knew that we needed a lot of doors because there's a lot of doors involved in the action and having people coming from different places. And then after that, you start just kind of getting ideas based on the setting which is supposed to be the wizarding school," Cossitor said. 
Cossitor is in charge of designing the set while someone else is in charge of constructing it. 
"He drew up a pencil sketch, and I drew something up on the computer with the measurements and looking at our stage is to figure out exactly how big the walls need to be and where we're going to put the doors, so that's more my side of it," set constructor David Borst said.
Along with cast sign-ups being one of the largest groups, the crew sign ups this year were also significantly higher than previous years according to both Cossitor and Borst.
"We will probably do the painting crew one day and the building crew the other because it's hard for me to do both all at once in two different shops, but it's a great problem to have.," Borst said.
Junior Ethan Eisenhart is set to play the lead character, Wayne Hopkins.
"I think students are learning to accept their creative side, get more out there, join clubs and just be more a part of our school," Eisenhart said. 
Eisenhart noticed the interest in the show and the club.
"I definitely think that a lot of "Harry Potter" fans have joined the drama club just for this reason, but I also think the play is just a fun way to act and get to know each other," Eisenhart said. "Rehearsal could be more difficult just to get everyone's attention. But also it can make things easier with the help of a lot of people just working together."  
Puffs will be performed on Nov. 11 and Nov. 12 in the auditorium.
Leave a Comment
About the Contributor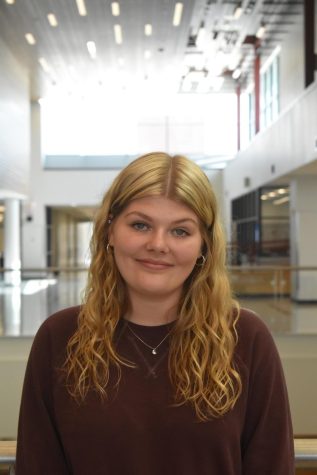 Stayley Drenning, Reporter
Hey! I'm Stayley Drenning, and I am on the AAHS Mountain Echo staff. I've enjoyed writing for as long as I can remember, and I am so excited that I can...