Sports groups bond with food, fun
According to athletes, maintaining good relationships with teammates and bonding with them is what makes a good team. 
"It's important to bond so you build team chemistry. In order to be a winning football team, you have to have good teammates that you get along with. It's one of the most important things in any sports team. That's how your team runs," senior Alexander Yost said.
Junior Noah Fries believes building a connection with the volleyball team brings them together. 
"Team building helps to build a connection with your teammates. Volleyball has always been a family thing for us. I still talk to the guys that graduated whenever I was a freshman because it helps us be how close we are now," Fries said. 
Sophomore Alannah Irwin believes team bonding builds trust between teammates.
"I think team bonding is good because when the team gets along, specifically with soccer, the game play is typically better since there is a better level of trust with each other," Irwin said. 
Setting bonds
Fries has been playing volleyball since his freshman year, thanks to his brother Caleb Fries. Fries also wishes to continue in college. 
"During  my freshman year, Caleb went to one of the local open gyms and he told me to go. When I went, I fell in love with the sport," Fries said. 
The volleyball team bonds over practice or hanging out at parties. 
"At the beginning of the year, we do team bonding. At practice, we just screw around and have fun playing games. Nothing to do with volleyball, just fun games. We'd have parties, play volleyball and just build chemistry," Fries said. 
Fries wishes to be able to hang out with his volleyball friends, without the activities being volleyball related.
"I wish we would just get together more just to hang out without doing volleyball activities. Just going to the mall or something to have fun and learn more about each other's personal lives," Fries said.
Tackling team bonding
Yost has been playing football since he was in kindergarten. According to Yost, bonding with teammates is important. The football team bonds after completing a goal of 320 rushing yards per game.
"All the linemen and players that ran the ball to get the [rushing] yards get to have a little pizza dinner. We don't hang out as much as you think we do because we have football practice, then go home to do homework. We try to fit in time with one another. We'll try to get there early in the locker room and we'll always mess around, then we mess around too. To and from our away games we mess around on the bus. It's just more of us doing dumb stuff then just hanging out," Yost said.
Yost wishes to be able to sit down and watch National Football League games on Sundays with his teammates. 
"One thing I wish we could do would probably be get together and watch NFL on Sundays. We all take football pretty seriously and take pride in our favorite teams," Yost said.
Running after relationships
Irwin has been playing soccer for ten years and has run track for two years as well. 
"I play soccer because I have played it all of my life and run track because I genuinely enjoy it," Irwin said.
The soccer team travels to watch other teams play. 
"For soccer this year we would have team bonding like going to the Penn State soccer game and the Mount Aloysius game. With track, you kind of just bond at meets by getting to know the teammates," Irwin said. 
Keeping up with teammates
The students can agree they wish to bond with their teammates more often. 
"I wish we could do it more because it's very fun. It helps a lot on the court," Fries said. 
" I think that team bonding should take place more because it helps build bonds within the team that can help with game-play," Irwin said. 
Yost admits to missing being able to spend time with his teammates during heat week, a camp in the summer to help players prepare for the upcoming fall season. 
"I love every single one of those guys. I wish we could have done a lot more during the season. For heat week in summer, you're ready for the season. We get two or three hours in between our final practice after the morning. We would always hang out and just throw a football around. I wish we could have that back but you really can't do more because of school," Yost said.
Leave a Comment
About the Contributor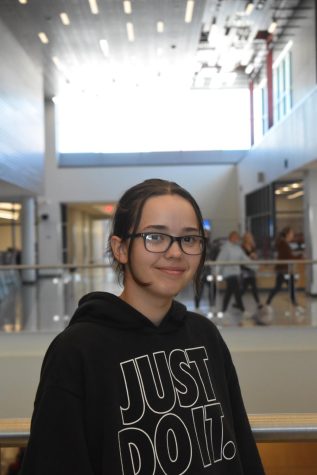 Abigail Shearer, Reporter
Hi I'm Abigail, but you can call me Abby. This is my third year writing for the newspaper as well as my second year being on the Mountain Echo Newspaper...