Vellner runs small business
Before school started this year, sophomore Kiana Vellner started selling art projects that she makes to sell to people within and outside of school.
Some of the things that she makes are bookmarks, stickers, magnets, necklaces, keychains, hair clips and other things as well.
"I really just do anything artsy, and then I use that to get a little bit more funding until I can get a summer job," Vellner said.
It can take Vellner anywhere from 20 minutes to five hours to make a single product, and she pays for all of her supplies out of her own pocket.
"A 20 minute product can be a sticker if it's a very simple design, a very simple bookmark design or things that I've already had half prepared," Vellner said. "Something that would take longer would be a keychain or a magnet because it's made out of resin. Before I finish sealing it, I'll paint the small design, and that's usually what makes it take so long."
Vellner prepares her products in different ways because she offers multiple different items.
"The main thing I use is resin, but I'll also use paints and paper. I'll use packing tape to seal the stickers or bookmarks," Vellner said. "I really just use what supplies I have, and then once [the customers] get the money, I portion it out to put what I want into savings and then everything else into getting more material for projects."
Vellner started creating things even before she started selling them.
"I usually create a lot of stuff. I have made realistic 3D models out of cardboard. I've made swords, owls, costumes and helmets," Vellner said. "For the last few times, I couldn't find anyone to give them to for free and because they're taking up too much room, I had to destroy them, so they went to waste. I didn't want them to go to waste, but I wanted to keep creating stuff, so I just sold the stuff."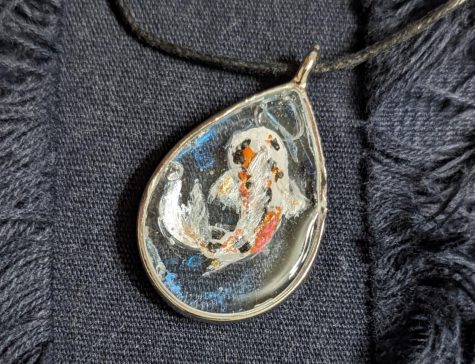 Vellner came up with this idea on her own over summer after she had to destroy one of her projects.
"I just wanted to do something. I wanted my creations to make people happy, and I wanted to be able to do something with them that wasn't just wasting them," Vellner said.
One of Vellner's customers was sophomore Victoria Lafferty. She bought two keychains, a magnet and a necklace.
"I really just liked the stuff over all," Lafferty said. "One keychain was space themed, and another one was a frog. The magnet I got was a hummingbird, and then the necklace was a flower."
Lafferty bought the products from Vellner during a lunch period.
"She gets everything out, and she goes around lunch showing everybody what she makes," Lafferty said.
Lafferty expressed she likes the way Vellner does business with her fellow students.
"If you want something but you don't have the money for it yet, she can hold it. She keeps it as reserved," Lafferty said. "You have a week to get the money, so she's very understanding."
Vellner believes this endeavor will help to benefit her in the future.
"I hope I will get just a little bit of extra money to pay for a car to start off. If I do become successful, it would be good for my resume," Vellner said.
Leave a Comment
About the Contributor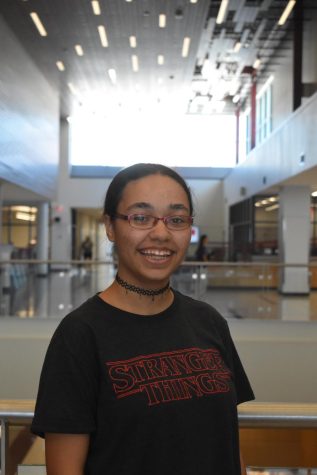 Myah Lear, Media Manager
Hi! I am Myah Lear. I am a senior and I'm the media manager of the AAHS Mountain Echo staff. I have played viola since the fourth grade. After school,...