Students, staff, college admission officer reflect on SATs being not required
Over the course of the last few years, some colleges and universities have made the Scholastic Aptitude Test and American College Testing, commonly referred to as the SAT and ACT, optional to be able to apply.
According to school counselor Rebecca Anderson, this change does have an effect on students. One of the effects is that it gives students more power in their decision on whether to take the test or not.
"It can be beneficial to take the SAT to show colleges that they are doing everything they can to show they wish to be accepted, instead of feeling the pressure to perhaps achieve a required score," R. Anderson said.
According to Dr. Bobby Anderson, Director of Admissions at Saint Francis University, it is good practice for college bound students to take either the SAT or ACT in preparation for college, even if they do not submit their test scores. Standardized college entrance exams were designed to help measure a students aptitude for intellectual stamina, recall, critical reading, reasoning, and computation.
"College curricula are significantly more challenging and rigorous than high school curricula and the ability to read and think critically and to recall information is very important," B. Anderson said. "High schools all have very different course offerings and grading scales. For example, a 3.0 GPA [grade point average] at one school is not the same as a 3.0 GPA at another, and so it is challenging for admissions offices to truly evaluate a student's academic abilities solely based on their GPA. Similarly, it would be challenging to evaluate a student's abilities solely based on a single test score… That being said, however, I understand the reasoning and support the movement that has led many institutions to shift towards test-optional admissions practices, including here at SFU."
Some students may like this change because they wouldn't have to pay the registration fee for SATs and can put that money toward another college cost like tuition or housing.
"I already took the SAT in eleventh grade," senior Katie Hovan said. "I felt good afterwards because all I can do in a stressful situation is do my best, and I tried to tell myself I did my best. I think it's worth taking to try it. There's no shame in having it, even if you don't end up using it."
Even though it is optional for some schools and some students are planning to go to college, taking the SAT could still be beneficial for a student according to R. Anderson.
"I think it can be beneficial for students to still take the SAT in order to see if they are prepared for the rigors of college level work," R. Anderson said. "It can allow them to keep their options open should they change their mind on colleges at the last minute, and the new school of interest happens to require the SAT. I always think options are a good thing, as so many factors can impact this important decision."
According to B. Anderson, a student should research the major or program they apply to because they may still have to send their SAT scores as a requirement for that major or program. Anderson stated that if a student is proud of their SAT scores. They should send them to colleges and universities they could be applying to.
"I would recommend that all students who are thinking of attending college take at least one SAT and/or ACT," said B. Anderson. "With the requirements for test scores being lessened, there is less pressure to perform to a certain level, with the exception of some specific programs and majors. If they're not particularly proud of the scores, they should maybe take some time to prepare and study and take them just once more. Most students do better the second time around."
While some students like Hovan think taking the SAT is worth it, others worry about other things that can be put towards college now that the SAT is optional for some schools.
"The SAT is kind of 50/50," senior Xabier Munio said. "They show if you can study well and do well on tests, but overall your GPA, courses and extracurriculars are the best."
If a person takes the SAT and is applying for a SAT optional school, it may still be beneficial to send in SAT scores according to R. Anderson.
"I believe it would be a good idea [to send scores], since maybe the scores would allow them to receive scholarships or something of that nature," R. Anderson said.
The SAT affects most students differently. Some students have said that they do fine with the testing environments, and others have said that they don't.
"I think that sometimes students feel a lot of pressure when taking the SAT, since especially prior to COVID-19 there seemed to be such a high priority placed on needing a certain score to gain admittance to some schools," R. Anderson said.
For a person not planning on attending college, this change may have no effect on them according to R. Anderson.
"If a student isn't planning to attend a four year college, then the SAT really isn't required," R. Anderson said. "They might want to put their energies and focus into what will prepare them for their future plans."
If a person has any questions about the SAT or college applications, R. Anderson and the other counselors in school are able to sit down and discuss them.
"One last piece of advice I have is to check with your particular school to see if the major you are planning to take would like you to take the SAT," R. Anderson said. "Even if the college might be test optional, some schools or majors recommend taking it."
According to B. Anderson, the SAT is talked about more often, but the ACT is still an option.
"The ACT is often-times overlooked and under-promoted," B. Anderson said. "It's a four-part test that includes a science section. Most schools accept either test. SFU offers the ACT on campus."
B. Anderson offered some advice for college bound students to think about. According to him, students should work with their guidance counselor or admissions counselor, possibly seek out a tutor to help research possible majors, careers and interests.
"I would like to encourage students to not coast in your senior year," B. Anderson said. "Keep taking courses that will keep you intellectually sharp and prepare for college courses. Shadow people in your field of interest or take a career exploration assessment like "Focus 2 Career" to help you learn more about possible careers and majors… These efforts will all help develop your skills in studying and academic preparation. Finally, it's okay to not know what you want to do after school. Take time to figure things out and work with your families and counselors. If you're not sure of your major, apply as undecided/undeclared. You don't have to have all the answers, just a commitment to seek the answers."
Leave a Comment
About the Contributor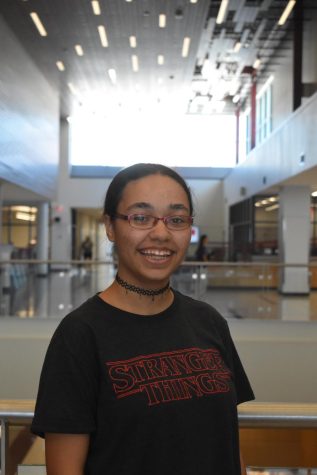 Myah Lear, Media Manager
Hi! I am Myah Lear. I am a senior and I'm the media manager of the AAHS Mountain Echo staff. I have played viola since the fourth grade. After school,...