Mock Trial members talk about invitationals, competitions
The Mock Trial team has been attending invitationals to gain practice and experience. The first invitational was the Cathedral Classic in Pittsburgh at Pitt campus on Jan. 7 through Jan. 8, and the last invitational was the Ben Franklin Invitational at Philadelphia at UPenn campus on Jan. 21 and 22.
Junior Julia Kline joined Mock Trial during her freshman year.
"I've always been interested in the areas of government and law," Kline said. "My aspiration is to become a lawyer, so I thought mock trial would be a good place to start."
After talking with her friends about Mock Trial her junior year, senior Alyssa Clark decided to give Mock Trial a chance.
"I knew my friends who did it, and I remember them telling me how much work it was and how much fun they had doing it," Clark said. "I knew then that I would love Mock Trial and doing it with my friends."
Some of the members find doing the invitationals to be a nerve racking experience. However, both Kline and Clark still enjoy doing it. At invitationals, students get the chance to compete against other schools outside of this area and they get to perform their case a total of four times. They perform it two times as the defense and two times as the plaintiff. Clark enjoys it because she gets to get out and try different things.
"[Invitationals] are incredibly nerve wracking because the teams that we go against are good teams," Clark said. "It's not a regular season. It's practice. People go there just to try out new things, so it's incredibly nerve wracking, but it is a lot of fun to get to go to these new places and explore different schools. I like getting an opportunity to practice before our regular season because it gives us a chance to see what works and what doesn't work."
There are different roles each team member plays in Mock Trial. Kline is an attorney.
"I usually write and memorize an opening statement for whatever side I am representing: the prosecution, plaintiff or defense," Kline said. "Following this statement, each attorney will perform a direct examination of their witness, and then a cross examination of their opposing witness."
While competing, the different members have different things to think about. While the witness may be thinking one thing, the attorney may be thinking differently.
"Honestly, as I am competing, I am constantly thinking of what the opposing side may throw at me and how I can develop our team's case theory the best," Kline said.
Nervousness is a key role when Clark is competing during a competition. According to her, it's one of the reasons that pushes her to continue.
"I'm always thinking to myself, 'Don't mess up, don't mess up, don't mess up,' because when I'm up there, I'm nervous," Clark said. "All I can hear is my heart just beating out of my chest."
While they may travel primarily to compete in the invitationals, the team does get time to do other things other than just preparing.
"I try not to focus on all the nervous things," Clark said. "I tried to think about all the fun stuff we were doing. We were going to have a pizza party on Saturday night. We went swimming, so I tried not to let 100 percent of my brain focus on [the competition]."
Kline and Clark are both proud of themselves and their team for getting three to one in their first competition of the year. This means that they won three of the trials and lost the other.
"I thought, 'Wow, we did it. We have to tell Rich," Kline said. "Rich is one of our favorite attorneys who graduated last year."
Before the Mock Trial does anything, they sing "Piano Man" by Billy Joel. This tradition was started last year while the competitions were still virtual.
"Last year, the rest of my team and I were feeling anxious before a competition," Kline said. "To try to shake this feeling, I started playing some music that I thought everyone would enjoy. I played "Piano Man," and everyone on the team is a Billy Joel fan, so we started singing it as a team before we were moved from the waiting room to the actual trial Zoom. Now we've made it a pre-game tradition."
One of Alyssa's favorite memories from the competition was what she called the "noodle disaster."
"For lunch on Saturday, our trial was later so we were like, 'We're just going to run to this noodle place and get noodles.' So we're all in line. We're all so excited for these noodles. And then people kept saying, 'the line is too long' or 'I want to go to Panera'. We were waiting in line for so long for these noodles, but they were so good. I keep thinking about that," Clark said.
This year, the Mock Trial team has new coaches: Makenzie Negri and Jacob Wilt. While the students are competing, Negri takes notes on how the team is doing so that they can improve their case.
"They are able to make adjustments to their direct/cross-examinations questions to prevent possible objections, but the biggest takeaway would be our team's improvement," Negri said. "Our case has become significantly stronger, and we have made good progress preparing for the regular season."
Leave a Comment
About the Contributor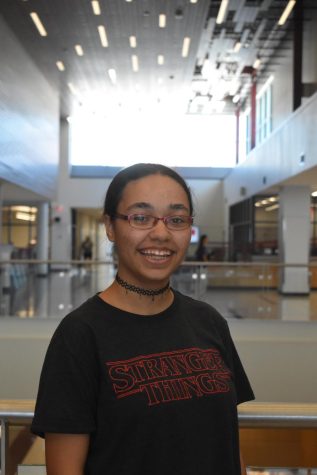 Myah Lear, Media Manager
Hi! I am Myah Lear. I am a senior and I'm the media manager of the AAHS Mountain Echo staff. I have played viola since the fourth grade. After school,...