Bocce Bonding
The story behind the sport
When the bocce team realized they'd beaten Bellwood in their first game, the team was overjoyed.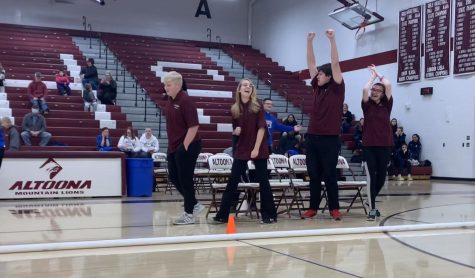 Junior Victoria Wuckovich thought, "We did it!"
Mentor Connor Adams thought, "We won!"
Coach Amy Savino thought, "Our hard work paid off!"
And everyone thought, "We're one step closer to Hershey Park."
The addition of the Special Olympics bocce team to the Altoona sports repertoire this year has brought students of different age groups and abilities together. Coaches Amy and Jeff Savino are thrilled to make this opportunity possible for students and their son, Adam.
It all started a year ago when Amy Savino, a secretary at the junior high, took a look at the surrounding school districts and noticed something.
"I had heard about other local school districts partnering with Special Olympics and playing bocce," A. Savino said. "When I looked into it, I discovered that there were a lot of local school districts involved, but Altoona was not on the list. So it was then that I approached administration. [Jeff and I] really wanted to see this happen for our kids the next season coming up. We just kept pushing and pushing and pushing. The district did respond, and we did have a lot of help with administration and teachers there. It was a joint effort. It was very time consuming, but it's all worth it now."
Sophomore Ronda Finnegan, a member of the team, has a family connection with bocce ball. Her grandma used to play the sport and recommended the team to her.
Finnegan was shocked when she realized that the team had won their first game and admits that she's feeling nervous about the second game coming up on Wednesday, Feb. 1, but she's grateful for the coaches that allow her to improve her skills.
"
The team has opened me to seeing how different people engage in different activities."
— Colton Chathams
"The coaches are very kind people, and they're not rude to any of us. They're respectful. They are kind people. If we don't follow the rules, like to wear sneakers or black pants for practice, they don't yell at us. They're very nice. They tell us, 'Make sure you come to practice Tuesdays and Thursdays after school.' And they're not rude. They're very respectful coaches. I love them," Finnegan said.
Finnegan especially enjoys spending time with Madison Aboud, Colton Chathams, Mycah Long, Connor Adams and Josh Adams. 
Wuckovich heard about the team from a friend. She joined the team in order to have fun and to spend more time with friends, whether at practices after school Tuesdays and Thursdays from 3 p.m. to 4:15 p.m. or at matches versus other school districts.
The team has allowed Wuckovich to meet new people. She enjoys spending the most time with Finnegan, Avalee Batten and Connor Smith.
Batten heard about the bocce opportunity from a teacher. She is most looking forward to the reward for winning all of the games: a visit to Hershey Park. The junior misses visiting the adventure park with her family. Her favorite portion of Hershey Park is, undoubtedly, the roller coasters.
"I go to Hershey Park a lot. It's real fun. I go there with my mom and my dad. My brother, me and him, we love roller coaster rides, especially the ones that go up and down. We love the ones that go down first. There's three of them. The one is super high. The purple one's not that high. I don't like it when they go super high up," Batten said.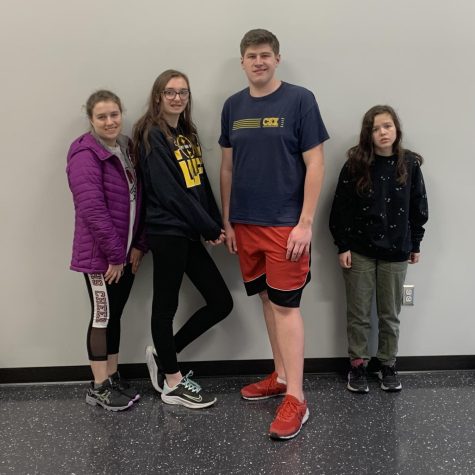 Batten spends time with her new friends outside of school as well. She enjoys watching baseball with her friends and eating pizza, her favorite food.
For sophomore Colton Chathams, this is his first experience with bocce ball. He enjoys seeing everyone excited to play the sport. When he realized that the team had beaten Bellwood, the mentor was delighted.
"It felt pretty exciting because it was the first game that we ever played, so it's fun to have a win for our first game," Chathams said. 
Chathams enjoys spending time with everyone on the team. He feels that his experience so far has changed his view on interacting with students.
"I think the team has opened me to seeing how different people engage in different activities," Chathams said.
The sophomore is looking forward to the first away game against Hollidaysburg coming up soon. He can't wait to see how the rest of the season unfolds.
"I'd like to go as far as possible as we can go with this and win all of our games," Chathams said.
Mentor Connor Adams chose to join the team because his neighbor, Adam Savino, joined. Adams hopes to get to know the bocce team better this season, and like Chathams, enjoys spending time with everybody.
Adams was exhilarated when the team won against Bellwood, and he's exhibiting the same feeling towards their second game.
"I'm excited to try and beat Hollidaysburg [in our next game] because they're our rivals," Adams said. 
This experience has also allowed him to discover a new winter sport besides snowboarding, which he usually enjoys.
"
When I think of our team, I think of family."
— Amy Savino
"[Bocce] just allows me to interact with the students better since I'm busy during school," Adams said.
The junior also feels that he has become a better person through the interactions with the team.
"The team has allowed me to become nicer to people, a lot nicer to people," Adams said.
When A. Savino realized the bocce team had won against Bellwood, the coach was overjoyed.
"It was pretty exciting. It was very rewarding to see how happy it made the kids. All the hard work that they've been putting in in practice. They were just so thrilled to be out there, and I think it was really important to them to win that first game to break the ice. So I felt it was a bit of a relief. I was more excited and thrilled for these kids than anything," A. Savino said.
In A. Savino's eyes, the two words that would best describe the team would be hard-working and committed. 
"When I think of our team, I think of family. They're like a family. I'm just tickled to death to be here and make a difference in their lives. It's just been so much fun spending time with these kids and how thrilled they are to be here," A. Savino said. "It's very rewarding. To see the friendships forming between everybody. Partners are really stepping up to help the athletes and athletes are responding very, very well to them and they're working together really well. It's really heartwarming to see that."
A. Savino hopes that this continues to blossom in the following years.
"I hope this is just the beginning of what the future could be for Altoona High and Special Olympics, being that bocce is the first Special Olympic sport to play for the high school. I hope it's just the beginning, not only for bocce, but for other sports as well," A. Savino said. "Even after our son Adam graduates and has gone, I would like to see this continue throughout the years."
View Comments (2)
About the Contributor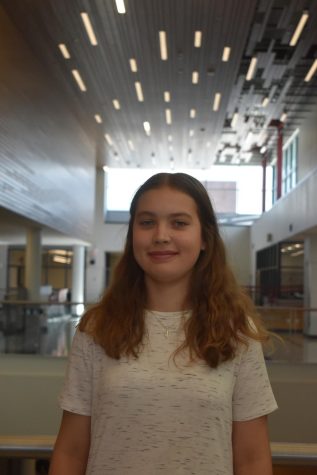 Melissa Krainer, Reporter
Hi! My name is Melissa Krainer, and this is my first year reporting for the Mountain Echo. I am very excited to be a part of the staff this year as a freshman!...