A one-week stay in the UK: Laura Reed travels to London
It all began in a private camp in July of 2022 when sophomore Laura Reed performed dances, cheers and stunts in front of the judges. It all began when the athlete tried out for the All-American Team–and made it.
"It was an optional cheer camp over the summer if you wanted to do it through Universal Cheerleaders Association (UCA). But then there's different [camps]—if you're in a dance group, there's not only just this one. It was a three day camp where they teach you a dance, different cheers and do different stunts with you. At the end of the camp, then you try out for All-Americans to see if you're eligible to go on the trips," Reed said.
Members of the All-American Team may participate in a number of parades and trips, including the New Year's Parade in London and a parade in Hawaii. Reed chose to participate in the New Year's celebrations in London.
On Dec. 26, 2022, Reed and her mother boarded a plane at the Pittsburgh International Airport and prepared for a seven-hour flight.
"We left from Pittsburgh. So that was already a two or three hour drive in itself. And then we had to be there three hours before the flight, and then the flight itself was seven hours—it was seven or eight. It felt like a very long time," Reed said. "But also I watched a lot of movies, so that was nice to catch up on things."
Reed was the only cheerleader from Altoona to attend the trip, but she traveled to the event with a student from Tyrone and a student from Pittsburgh.
"We were in London for a week," Reed said. "When we first got there, they gave us a schedule. So then we went on three different bus tours. We went to Buckingham Palace once and saw a ton of different sights. That was the main thing that we did. But then we had a few free days. One of the things me and my mom did was we went to London's underground train station, and we ended up getting into Abbey Road Studios because both of us are big fans of The Beatles. That was probably my favorite part throughout the trip."
Reed recalls the New Year's Parade as a cold night, but she enjoyed it immensely.
"I think the parade was the most memorable moment because there weren't too many times where I got to socialize with the other girls that were also on the trip. Since we had to be there in the lineup so early on, that was like the chance to make different friends. Some of them I still talk to every once in a while. So, it was just a really cool experience since it's girls from all over the country," Reed said.
"
I think Laura's very hardworking, and she always makes us laugh. She's just a great person to be around."
— Tiara Weatherwalk
The greatest obstacle the sophomore and her mother faced on the trip was the difference between Altoona and London and how this could change some routines.
"Well, there are a lot of differences that me and my mom, I guess, didn't take into consideration. The outlets are different, and they also power things differently. So then, [my mom] went to use a curling iron and then the curling iron melted. The first day we got there it was like one problem after another. That was a lot, but once we got everything situated then it was fine," Reed said.
Reed also ran into an issue with keeping in touch with friends and family; unbeknownst to her and her mother, their phone plan didn't cover traveling to London.
"Our phone only worked when we were in our hotel, connected to Wi-Fi. So there were short periods of the day where we could actually talk to people and text them, but we did keep in contact with them while we were there," Reed said.
Reed departed London on Jan. 2 and returned to Altoona. She collected two souvenirs during her one-week stay: a Beatles tote bag with a yellow submarine and an Oxford college sweatshirt.
Reed isn't the only one who participated in the cheer camp last July. Junior Tiara Weatherwalk and senior Emily Shehan also performed cheers and dances in front of the judges. Both of them also made it on the All-American Team.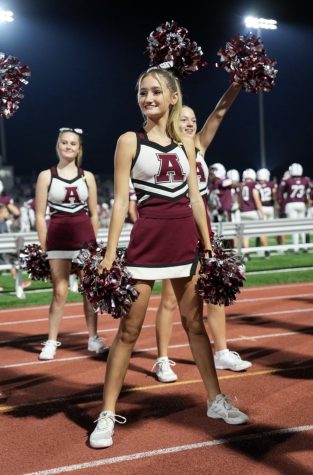 Weatherwalk saved the trips for next year, her senior year. There's a fee in order to participate, and she would like to take part in the activities if she qualifies for the All-American Team again.
"I feel like [making the All-American Team] is a very big accomplishment. It shows that all of my hard work over the years has really paid off, and I feel like it definitely gives me a boost of confidence that I'm good at what I do and that I can do things," Weatherwalk said.
When Weatherwalk found out that Reed was traveling to London, the junior was overjoyed.
"I was very proud of her because I have been with her for a long time. I've been with her since junior high, and I was really proud to see that she got awarded All-American and that she got to participate in that trip. I was very excited for her, and I was very happy," Weatherwalk said.
Shehan also expressed the same feelings towards Reed's accomplishment.
"[Laura traveling to London] was so cool! I texted her. I saw her on the news. It was also the fact that someone local did something that amazing. I was just extremely proud of her," Shehan said.
The two-time All-American qualifier believes Reed is a valuable member of the varsity team and that she is extremely dedicated.
"She is incredibly hardworking. She is very passionate about cheering. I don't think I've ever seen her be lazy about anything. She is very hard on herself though, so I can tell that she puts in the work," Shehan said.
Weatherwalk shares Shehan's feelings about Reed.
"I think she's very hardworking. And she always makes us laugh. She's just a great person to be around. I just feel like she also pushes everyone to do good and to do better," Weatherwalk said. "I think that she has made a really big impact on the team."
Leave a Comment
About the Contributor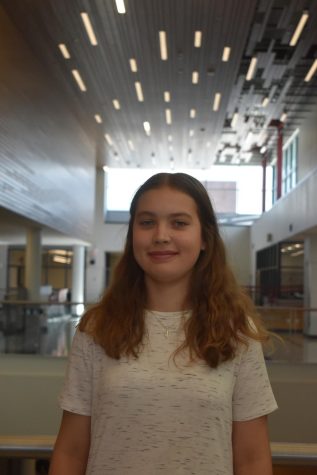 Melissa Krainer, Reporter
Hi! My name is Melissa Krainer, and this is my first year reporting for the Mountain Echo. I am very excited to be a part of the staff this year as a freshman!...