Boys' and girls' basketball teams advance to Districts: Girls headed to State Playoffs
On Friday Feb. 24, the boys' and girls' basketball teams played their championship games at Mount Aloysius. The girls played first at 6 p.m.
"The coaching staff watched a lot of film on Mifflin County. We knew their plays and style of play. We also had the players watch specific clips of Mifflin County to better prepare them for the game," assistant coach Amy Palfey said. 
The starters for the girls' team were seniors Harley McGirk and Brookelynn Barron, sophomores Melana Eyer and Lanie Wilt  and freshman Zaelinh Nguyen-Moore. 
"We did a lot of competition type things at practice to prepare us for the competition that we faced," Nguyen-Moore said.
Mifflin County got the first possession and made a shot a minute into the game.  
"The biggest threat was Mifflin County's ability to rebound on the offensive end of the floor. We needed to be sure to limit their second chance scoring opportunities by limiting their offensive rebounds," Palfey said.
With six minutes left in the first quarter, Wilt made a layup, tying the score. 
"We were trying to limit their runs and their points so we could stay in the game easier," Nguyen-Moore said.
By halftime, Altoona had a 31 to 12 lead. 
"We started off really well, and we started to work more and more as a team as the game progressed. We were patient on offense which also really helped," Nguyen-Moore said.
Altoona won the game and became the District Six Champions for this season. They are moving on to States. 
"We will be playing on Saturday, most likely in Erie, PA. We will most likely face Erie McDowell. They have to win on Wednesday first, but they have a really good chance of winning that game. We will move on in the PA state playoffs whether we win or lose on Saturday," Palfey said. 
The boys' basketball game started at 7 p.m. The starters for the boys' team were junior Cohen Crawford and seniors Zhaad White, Ashton Neely, Jalen Triplin and Evan Alwine. 
"We had to work hard at practices and prepare to play State College," White said
Altoona got the first possession through the jump ball and made a shot 30 seconds into the game.  
"We had to know where their key players were and what they could do on the court," White said. 
With 6:30 left in the first quarter, State College made a three point shot, putting them in the lead. Altoona makes two foul shots, putting them back in the lead with a score of 4 to 3. 
"It felt good to have a close game. I wouldn't say it was a bad game but we fell apart around the third quarter. "White said
Neely made a half court shot as the second quarter ended, making the score 30 to 25. Altoona was losing. 
"Our biggest issue is that we fell apart in the third quarter, we weren't hitting our shots and they were," White said
Altoona lost the game, becoming the District Six runner up. 
Leave a Comment
About the Writer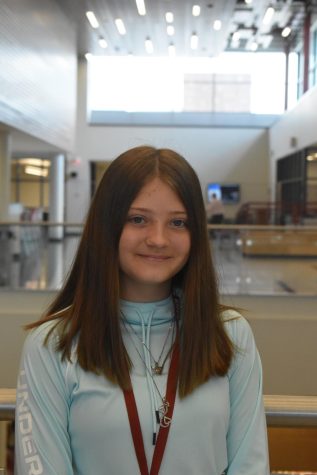 Miley Naugle, Reporter
My name is Miley Naugle, I am a 9th grade reporter on the AAHS Mountain Echo. Last year I was on the Livewire staff at the AAJHS. My favorite thing to...