Hogan's class raises trout
Biology teacher Jessica Hogan has been working with Pennsylvania Trout in the Classroom (TIC) for 15 years. Trout in the Classroom is an education program in which students learn while raising trout in the classroom.
Students participating in TIC learn about past and present impacts, management, protection and enhancement opportunities of Pennsylvania's watersheds and cold water resources.
"Trout in the Classroom is a nationwide project where classrooms are equipped with aquariums to simulate the natural settings. Classrooms are given fertilized trout eggs and care for them as they hatch and develop, then release the fingerling trout in a local stream," Hogan said.
Pennsylvania TIC started in 2006 with 20-40 teachers involved.
"I have been doing this project since 2008. I'm fortunate that the administration and fellow faculty at AAJHS and AAHS have been very supportive of this project," Hogan said.
TIC students and teachers kick off each school year with a shipment of trout eggs from the Pennsylvania Fish and Boat Commission (PFBC).
"The trout are doing exceptionally well this year. The past two years we have lost all our trout, but not this year. They're eating, growing and developing right before our eyes," Hogan said.
Young trout are raised from eggs to fingerlings in a 50-gallon cold water ecosystem, providing a learning experience in topics like watershed health, aquatic adaptations, life cycles and water resource conservation.
"We started with 155 eggs. We lost four eggs, and so far, we've lost three developed fry. If they die, I remove them from the tank and provide them a burial at sea," Hogan said.
As part of the program, students gain hands-on experience caring for trout in their classroom.
"I think the students are interested. A few get into feeding and water testing. I see students walking by and looking in the windows at them," Hogan said.
Field trips to local fish hatcheries are optional educational extensions to creatively engage students in cold water resources and water science careers.
"Tentatively, our trip is May 11, and it is at the Henrietta Sportsmen's Club. First thing is getting the fish in the water. Then we have a few educational stations such as one on macroinvertebrates and their relationship to water quality. We also have a great picnic lunch and time for students to fish in the stocked pond," Hogan said.
At the conclusion of each TIC year, students visit a PFBC-approved stocked trout waterway to release fingerlings into their new forever home.
"My dad is a member of the Blair County Trout Unlimited association. They are our sponsor, and they help with all the setup, maintenance, getting us equipment and providing stations at our field trip. I could not do this project without Trout Unlimited and PA Fish and Boat Commission support," Hogan said.
Pennsylvania's Trout in the classroom program is made possible through partnership between the Pennsylvania Council of Trout Unlimited and the Pennsylvania Fish and Boat Commission.
"I met Jessica Hogan through her dad, a member of Trout Unlimited. She was willing to go outside the box and do extra to support the philosophy of Trout Unlimited to support environment issues and cold water conservation and share them with her students," Trout Unlimited member Jeryl Green said.
Trout in the Classroom can give students a chance to learn about something that interests them outside of school.
"I like this project and that I get to feed the trout. I enjoy fish and fishing in the summer," freshmen Destiny Jones said.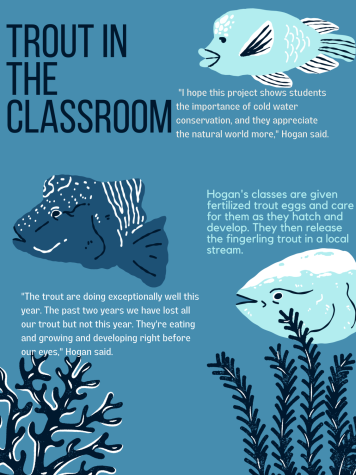 Leave a Comment
About the Contributor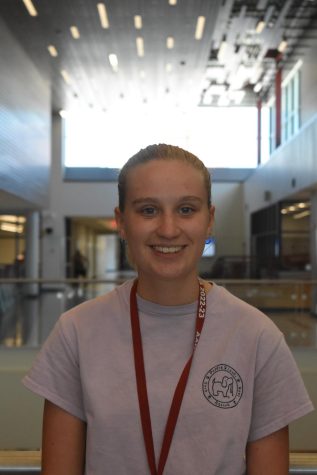 Maddie Cowfer, Reporter


Hi, my name is Maddie Cowfer. I am a senior, and I write for the Mountain Echo. I first started writing my freshmen year for Livewire. One of my favorite...