Rachel's Closet plans updates
Rachel's Closet is a place in the school where students in need can go to get clothing. Rachel's Closet is located in a room on the third floor of the B building, and to visit Rachel's closet, a student should see his or her guidance counselor.
Rachel's Closet offers not only clothes, but also school supplies and occasionally hygiene products for anyone in need.
"Sometimes we have hygiene products, and sometimes we don't," guidance counselor and Friends of Rachel adviser Julie Yahner said. "Sometimes people will donate stuff, and they'll bring bags of new stuff. It just depends on what people donate, but we do usually have school supplies. We try to keep things like notebooks and pencils. If the students run out of that, then they can get some things there."
According to Yahner, the majority of clothes in Rachel's Closet are donated by people within the school.
"A lot of the people that work here, the teachers that have kids, they'll bring in stuff," Yahner said. "A pair of shoes I brought in were a brand new pair of shoes my daughter had. She didn't wear them, so I said, 'Oh, they're going to the closet.' A lot of times we find a lot of clothes, not all of them, but a lot of them have tags on them, so they've never been used."
While most of the donations come from teachers, according to Yahner, Rachel's Closet also gets donations from the community and students.
"The community has been very generous," Yahner said. "People will call and ask, 'I have some prom dresses. Can I donate them?' The issue with putting it out there to the community is we would get way too much. We can't manage it because we don't have enough workers. If we put it out there and say, 'Yes, we're looking for donations,' I'm afraid it would just be too much and we couldn't manage it, because people, especially in this community, want to help. They want to chip in and they want to do what they can."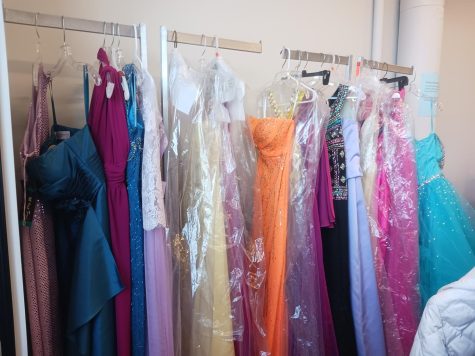 Currently, Rachel's Closet is suffering from a lack of workers. Because of this, the closet doesn't run the way Friends of Rachel wants it to be able to run. In previous years, community service workers with Friends of Rachel would stay in Rachel's closet throughout the day to help anyone who would come up there.
"Mrs. Shope handles community service, but I think they're needed elsewhere," Yahner said. "We have [community services workers] in our office, and they're kept busy running passes. I think the other offices keep them busy. Teachers keep them busy, and there's probably certain periods of the day that the closet might be busier, but I wouldn't want someone to just sit up there and be bored not doing anything waiting for people to come and our offices be really busy and need more people in there."
Freshman Madison Aboud's Genius Hour project is based around Rachel's closet.
"My Genius Hour project is moving and revamping Rachel's Closet," Aboud said. "I will be moving the closet from the third floor of the B-building to the second floor B-building. I will be changing decorations and adding new things."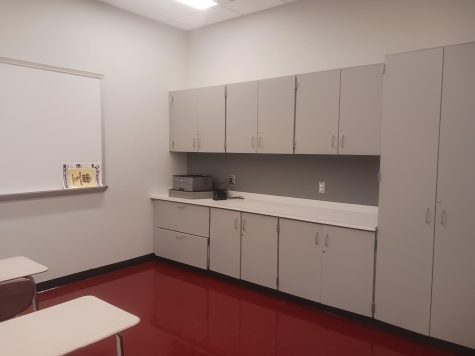 The hanger drive being run by Friends of Rachel is part of the plans to help renovate Rachel's Closet.
"We just talked about brainstorming and how we could make the closet better. One of the ways was to have a more of an actual store look," librarian and Friends of Rachel adviser Tanya Lucas said. "When you go into a store, they don't have miss matched hangers. They have matching hangers, and we want it to be a nice place where kids want to shop and recycle."
Originally, Friends of Rachel wanted to start the hanger drive earlier.
"It was supposed to be for the beginning of February, but we couldn't get the flier posted on the school Facebook until mid February," Lucas said. "…There were a couple of announcements. I think we will probably have to do another hanger drive, but we have enough now to at least get us started."
The racks in Rachel's Closet were bought by Yahner to help make the closet seem more like a store.
"[The Dress Barn] went out of business a couple years ago, so when I heard that, I called them and asked if I could buy their racks," Yahner said. "At that time, we were just getting things up and running. They had nice round racks with the wooden shelving on top, so they're very pretty. They sold them to us at a great discount price."
Different classes in the school will be helping to renovate Rachel's Closet as a class project.
"We've already met with Todd Bennett," Yahner said. "There's a couple of classes helping because Maddie and I are going to talk in May about what Friends of Rachel is all about and about the purpose of the closet in his classes. We are going to come up with a floor plan and design for renovating the closet. We've spoken with Mr. Borst and Mr. Borst's set construction class in the fall is going to help us create any displays that we need for the closet."
Aboud hopes that making these changes to Rachel's Closet will help make it more open to students and it would show the school is always open to helping its students.
"I was asked by Mrs. Lucas, and I couldn't turn it down," Aboud said. "I think it is an amazing opportunity not only for me to gain skills to help others, but also for me to help people feel welcome. I want people and students to feel that they have a safe place with Rachel's closet."
Leave a Comment
About the Contributor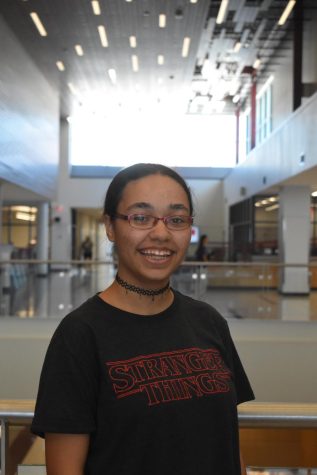 Myah Lear, Media Manager
Hi! I am Myah Lear. I am a senior and I'm the media manager of the AAHS Mountain Echo staff. I have played viola since the fourth grade. After school,...