As the doors open to all students for the first time since June, a stampede of teenagers walk into the A and B building entrances. Chattering fills up the lobbies. Metal detectors beep. Teachers search bags. And some students are still accustomed to their summers as they march in with shorts riding up to their mid thighs and pulling down skirts that flow up a bit too high.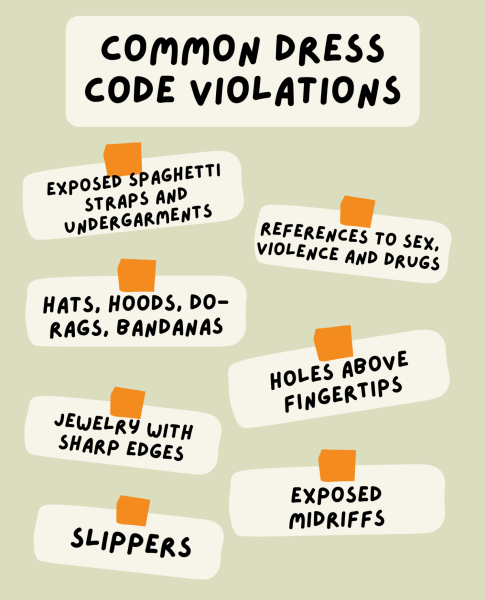 Some students see the first day of school as an impossible day to get dress coded. They take this as an opportunity to wear what they'd like which includes showing off midriffs and legs. However, on August 25, administration made it clear in the class assemblies that the dress code would be enforced the following Monday with discipline. Along with the announcement, administration also revealed new updates to the dress code. 
According to superintendent Brad Hatch, policy modifications, such as the Code of Conduct, go through a process when being changed. There are first recommendations of what should be changed. Once these proposals are made, an attorney looks through all changes to make sure they are legal and will not cause any issues. It is then taken to a policy committee where school board members, administrators and other people that review policies look at the new adaptations. Then, the policy is either approved or denied, and administrations enacts the policies. 
"Throughout the year, we'll monitor what's working, what's not working and then every summer our administrative team will get together," Hatch said. "We keep a summer list. These are things that we want to look at in the summer to review."
Student Bags:
Although the bag policy has been mandated since 2021, faculty has made it a goal to be more strict with clear backpacks. Students were not allowed to bring non-clear bags last year, but the rule wasn't strongly enforced. This year; however, security has been extremely strict about this policy. The code of conduct states the following:
Only backpacks/bookbags/athletic bags that are clear are permitted to be brought into school.

All student bags brought into the school must be placed in the student's locker until the student leaves school. Only backpacks/bookbags/athletic bags that are able to be stored in school lockers are permitted.

Students will not be permitted to use backpacks and bookbags from class to class during the school day. 
With this in mind, security has been enforcing the rules of clear bags every morning. Students seen with non-clear bags will be asked to leave their bags in the main entrance and to take all of their contents out. Bringing in a non-clear bag is classified as insubordination and results in discipline. Small non-clear bags, such as purses, are allowed into the school for personal use. However, these bags must not be able to fit a book inside or they are too large.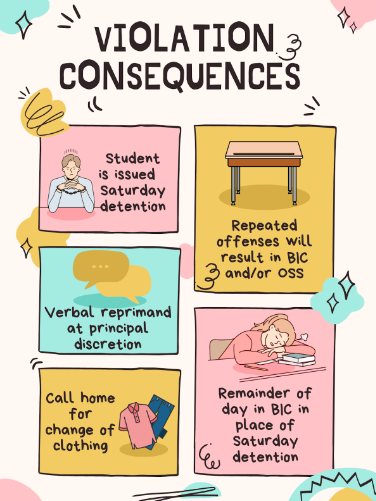 Clothing:
The code of conduct for last year stated that no rips were allowed in clothing, but faculty allowed most rips below the knees to be worn by students. Rips above the knee were in violation of the dress code and could be charged with disciplinary action.
This year, a new change was made in regards to how high rips in clothing can reach. They are now allowed to reach a student's fingertips when they are standing and their arms are relaxed at their sides. Anything above fingertip length is considered to be against the code of conduct. 
A set length for bottoms was enforced last year. It was stated that shorts, skirts, dresses, and other clothing must at least be the length of a student's knee area while standing. This has since changed as the new code of conduct now has two separate policies. Shorts must reach fingertip length when a student is standing and relaxed. Dresses, skirts, and culottes must reach the mid-thigh area when standing.
Footwear:
Footwear has also gone through a change this year. In the previous code of conduct, the footwear section had four parts. One of those parts included the following:
Thongs, clogs, sandals without back straps, shoes with holes, or other such footwear that does not cover the entire foot are prohibited when on school premises.
This section has since then been taken out of the code of conduct. This means it is now permitted to wear footwear that does not cover the entire foot. When the class assemblies were being held, administrations focused on slippers being against the rules. They also highlighted that steel-toe boots and being barefoot are not permitted. 
Hatch's goal is to make sure that school is an environment where students can learn and teachers can educate.
"Teachers policed what students were wearing last year. They should be focused on teaching you guys [students] and directing that focus onto the dress code isn't always necessary. So, let's focus on the important things, which is learning and making sure that kids develop and grow and have what they need to be successful," Hatch said.